Erin & Chris
Planning a destination wedding is one thing, but what if you're the ones travelling to be with your guests?
That was the case with Erin Syrotuik and Chris White. Erin, a Canadian citizen, met Chris, an Australian-Canadian, when Tinder glitched and accidentally set them up. Turns out, they weren't in each other's area, but they decided to meet up anyway. Not to say it was love at first sight, but the two were quickly inseparable.
Life in Australia
When Chris decided to return to Australia for work, he assumed Erin wouldn't have any interest in packing up her life and moving with him. Wrong! She was down for the adventure and the two departed The Great White North, heading for beautiful Australia.
An engagement followed, and Erin knew she wanted to be married at home in Canada (Hamilton, Ont. to be exact). Wedding planning began, but COVID had other ideas.
"Getting married in Hamilton was extremely important to me," says Erin. "It was a tricky process made even more difficult by the COVID-19 pandemic.  We were originally supposed to get married in 2021, but the Australian government closed our borders to the world at the beginning of COVID and didn't re-open them until early 2022, which meant we had to reschedule everything.  Luckily, our venue and vendors were all very understanding of our circumstances, and we were able to book a date exactly 12 months out from our original."
A Canadian wedding
Family and friends were the "boots on the ground" in Canada, helping with the destination wedding planning process and putting in a team effort to help alleviate the stress. Turns out, the biggest issue was the wedding dress!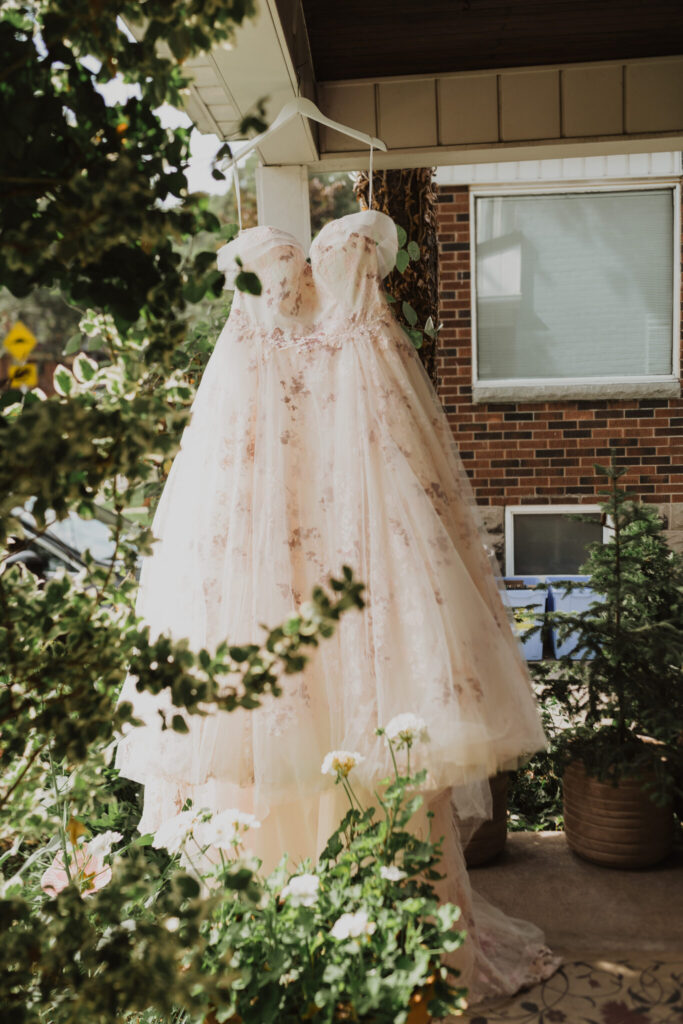 "Getting my wedding dress (designed by Purple Fox) from Australia to Canada was stressful," says Erin. "I'd been hearing all these horror stories about luggage going missing, so I rolled the dress up and vacuum sealed it into a duffel bag, which never left my side. It survived customs, airport jostling and the massive journey over the Pacific. I was worried that the journey would damage it, but when we arrived at my parent's house and unfurled it without so much as a scratch, I knew everything was going to be OK."
The wedding ceremony
The ceremony turned out to be the stand-out moment for the couple. Erin says, "We spent two years living in the mindset of 'It might not happen because of COVID,' so, when I came walking down the aisle and we saw each other from either end, it finally hit home that all the work and heartache was worth it.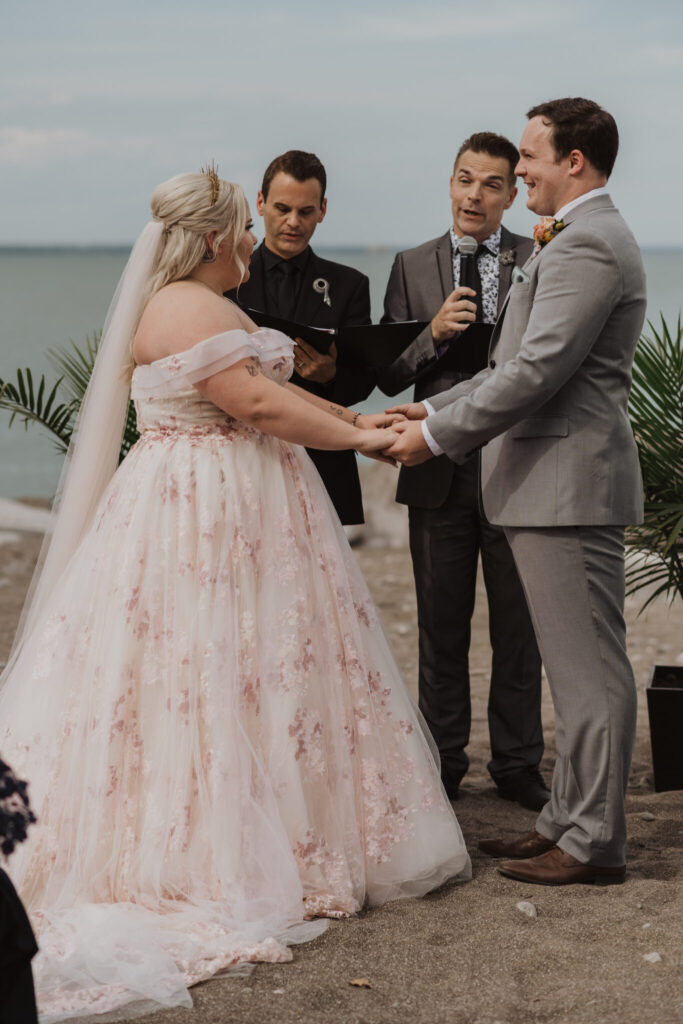 We were also so thrilled with the ceremony itself. Jason and Michael, better known as The Marry Men, built a perfect ceremony for us – a bit cheesy and very funny. It was quite surreal hearing our story told back to us and to everyone else there, but it was a wonderful way of closing one chapter and opening a new one."
Wedding planning advice
So what advice can they pass on to other couples who are marrying away from home? Work with vendors you trust. "We had so much fun working with our venue Barangas on the Beach, our photographer Scarlet Lens Photography and our officiants The Marry Men. They helped give us the exact kind of day we wanted and made sure that we took the time to enjoy ourselves.
We'd also recommend making the most of technology. Chris' parents were unable to make the journey due to illness, but we had a friend video call them from his phone so they could still be part of the ceremony. The world is getting smaller. Remember that a different city isn't a different planet – you can still find ways for everyone to be involved."
Wedding photography: Scarlet Lens Photography
Second shooter: Holly Honour Photography
See more destination weddings here!