Whether you and your partner are romantic traditionalists or style-savvy trendsetters, you'll want your wedding flowers to express your love and personal style. After all, flowers add the romantic finishing touches to your venue and set the day's overall theme. But finding those perfect blooms to create the perfect wedding bouquet of flowers can be tricky! 
With traditional roses, peonies, and lilies often taking center stage on wedding days, where do you turn if you're looking for something unique? We've got you covered.  
Today, we'll take a look at some non-traditional wedding flowers, from glamorous foliage to unexpected blooms. So don't worry about having an uninspired floral display — we can help you choose something as special as your relationship!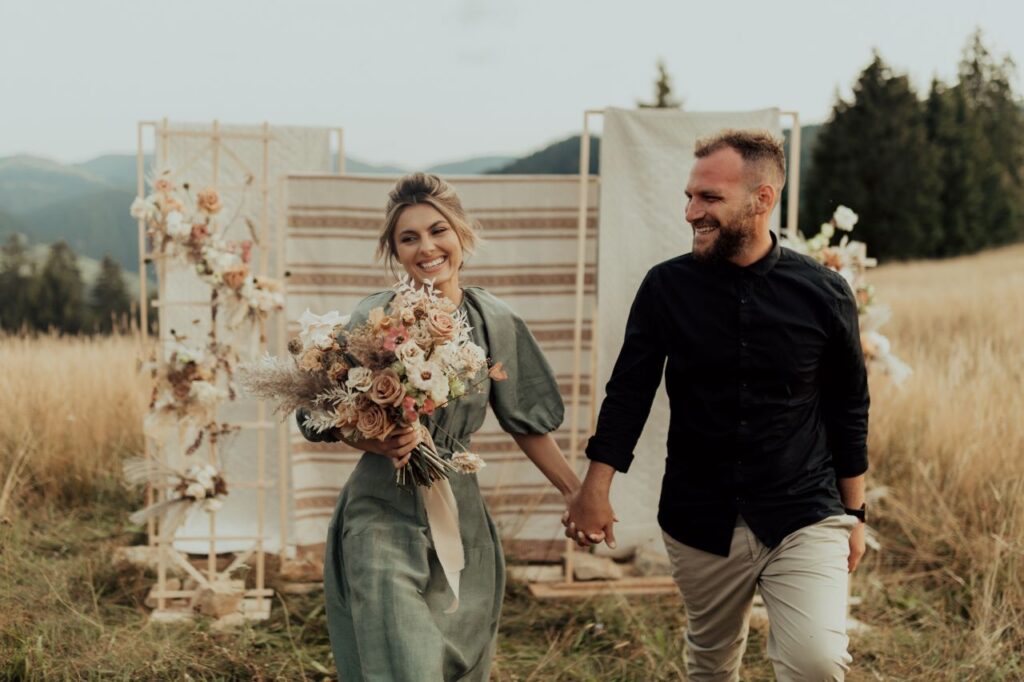 Why choose non-traditional wedding flowers?
Choosing non-traditional wedding flowers is a great way to reflect your personality as a couple. You can choose from a wide range of unexpected colours, textures, and shapes. Think succulents, greenery accents, lavender, pampas grasses, bulbs and pods in every hue imaginable — a dream come true for the creative at heart!
And if you're worried about maintenance and shelf life, fear not! Most non-traditional wedding flowers don't require much care or attention, with some even lasting up to two weeks after being cut. So why not explore all these unique and non-traditional options for your big day?
Tips when selecting
flowers for your big day
There are endless beautiful options when it comes to choosing a unique and non-traditional flower bouquet for a wedding. But before you dive into picking those stunning stems, there are a few tips you'll want to keep in mind.
Here's a list of things to consider:
Consider your wedding theme and colour palette. You'll want your wedding bouquet of flowers to reflect the overall aesthetic of your wedding day, so be sure to keep that in mind when selecting blooms.

Talk to the florist about seasonal availability. Flowers are seasonal, so some may not be available at certain times of the year. Make sure to plan ahead and know what's in season before selecting specific flowers.

Set a realistic budget and stick to it. Your wedding floral arrangements can take up a large part of the overall wedding budget, so it's important to know what you can spend beforehand and stick to it.

Get creative with multi-purpose decor or bouquets. Think about centrepieces that can double as favours, boutonnieres that become cake decorations, or flowers in wedding bouquets that can be added to tabletops during the reception.
With these tips in mind, you can select your unique and non-traditional flowers in wedding bouquets without sacrificing quality or style!
Get creative with seasonal flower arrangements
Seasonal flower arrangements are great for weddings because not only are they easier to obtain and often less expensive, they are also sometimes unexpected choices, which help to make your special day unique.
Here are some tips for how to elevate your flower bouquet for a wedding:
Mixing flower varieties
A great way to create an interesting wedding bouquet of flowers or centrepiece is to mix multiple varieties of flowers. This can create an interesting balance of colour, texture and overall esthetic. You could opt for classic roses or try something more unexpected like hydrangeas, orchids and protea.
Utilizing greenery
Don't overlook the importance of greenery in any floral arrangement or flowers in wedding bouquets; it adds dimension and depth and can hint at your theme or colour palette with its subtle tones. Great options for greenery include eucalyptus, olive branches or even ferns.
Have fun experimenting with different combinations — you may find something totally unique that suits your style perfectly.
Alternative flowers for wedding bouquets to consider
Don't worry, there are plenty of non-traditional options out there to make your event truly unique! Here are just a few of the more unusual wedding flowers you can use in your bouquets:
Succulents
These small plants bring a lot of character to your wedding decor. For couples looking for a more rustic feel, succulents are a perfect choice. Be careful when handling them, though — some varieties have more prickly thorns than others!
Berries
Adding berries to your wedding bouquet can be a creative and unique way to incorporate colour and texture. Berries can add a natural and whimsical touch to your bouquet, making it stand out from traditional flower arrangements.
Artichoke flowers
These pretty white blooms will make any bouquet look like something straight out of a dream. The best part is artichoke flowers last for an incredibly long time if properly taken care of, so it's one less thing to worry about on your big day.
Feathers
Feathers are light and airy and add an element of movement and whimsy to your wedding bouquet. Plus, they come in various colours and textures, allowing for endless possibilities to create a one-of-a-kind bouquet.
Dried flowers
Dried flowers definitely add an interesting twist to any bouquet or centrepiece. From baby's breath to lavender, this unique option is the perfect way to incorporate a dried element to your bouquet. And as a bonus, you can keep these flowers for years as a reminder of your special day!
Top tips for finding affordable wedding blooms 
When it comes to finding affordable blooms for your big day, there are a few top tips you should heed. To get more bang for your buck, here are some of the best ways to decorate your wedding day in style without breaking the bank:
Shop online
Thanks to the internet, you can now access a countless number of florists offering deals and discounts on all sorts of wedding flowers. Check out online bulk retailers or local growers who might be able to offer deals that a traditional florist can't.
Repurpose bouquets
Another great way to save money on flowers is to repurpose them throughout the day. For instance, if you have a bouquet for the ceremony and an arch adorned with flower arrangements, you can use those same blooms as centrepieces during the reception.
Consider artificial blooms
Artificial wedding florals are becoming increasingly popular since they look just as good as real flowers these days, and last much longer than the real thing! Plus, if you're having an outdoor wedding during the summer season, you won't have to worry about artificial blooms wilting in the heat. If you're looking to save some cash without sacrificing on quality, consider artificial over fresh florals, or a combination of the two.