Though we love all things weddings, we have a special affinity for trending wedding dresses. Who can blame us, right? It's hard not to love pretty things made with tulle, ruffles, lace and satin, all of which were on full display at New York Bridal Fashion Week last month.
The annual event, which took New York City by storm in April, highlighted trending wedding dresses for spring and summer 2024. Every bridal collection featured its own spirit and personality, from the bold and untamed designs of Galia Lahav to fresh and modern gowns by Theia, to romantic yet edgy dresses crafted by Justin Alexander. 
So, if you love to swoon over trending wedding dresses like us, you've come to the right place! We've rounded up some of our favourite runway trends that will certainly make a splash this year and beyond.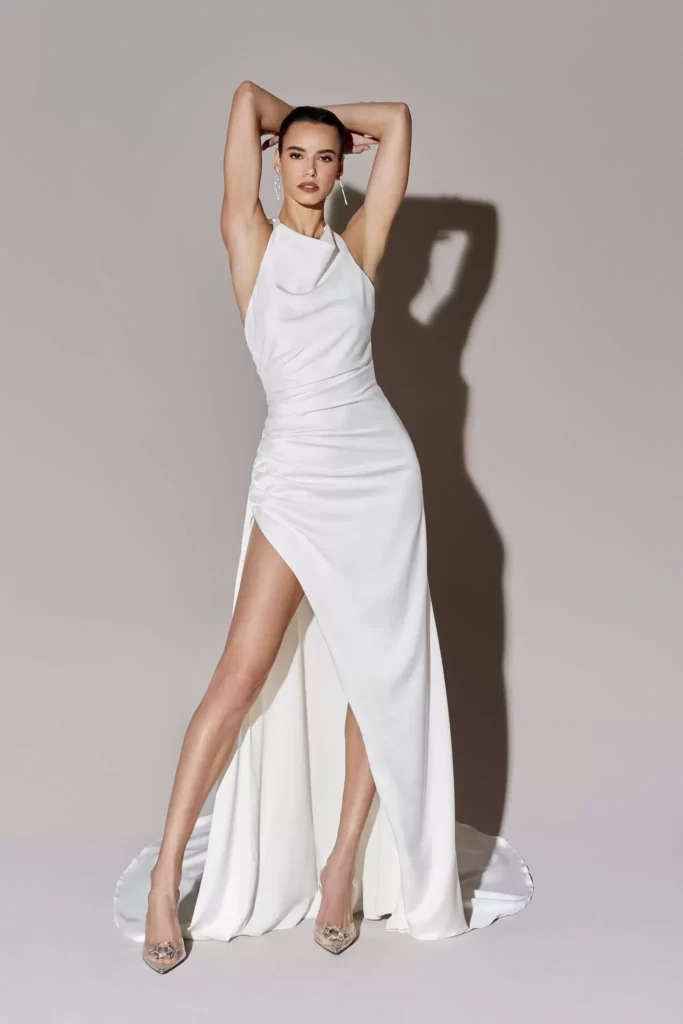 Trending wedding dresses
When it's time to shop for a wedding dress, you'll likely experience a range of emotions. From the excitement of finding the perfect dress for a wedding to the stress of searching through thousands of styles, your emotions will run the gamut. To make the process of choosing the perfect dress for a wedding more enjoyable and less stressful, it's helpful to know the top trending wedding dresses and styles that have emerged from the runway this year. Here are just a few:
Oversized bows
What could be more whimsical than an oversized bow? We love this sophisticated and somewhat unexpected look on a dress for a wedding. Giant bridal gown bows are designed to be worn in the back, front hip, and shoulder. It's a dramatic look that is both modern and chic and among our favourite looks among trending wedding dresses this year.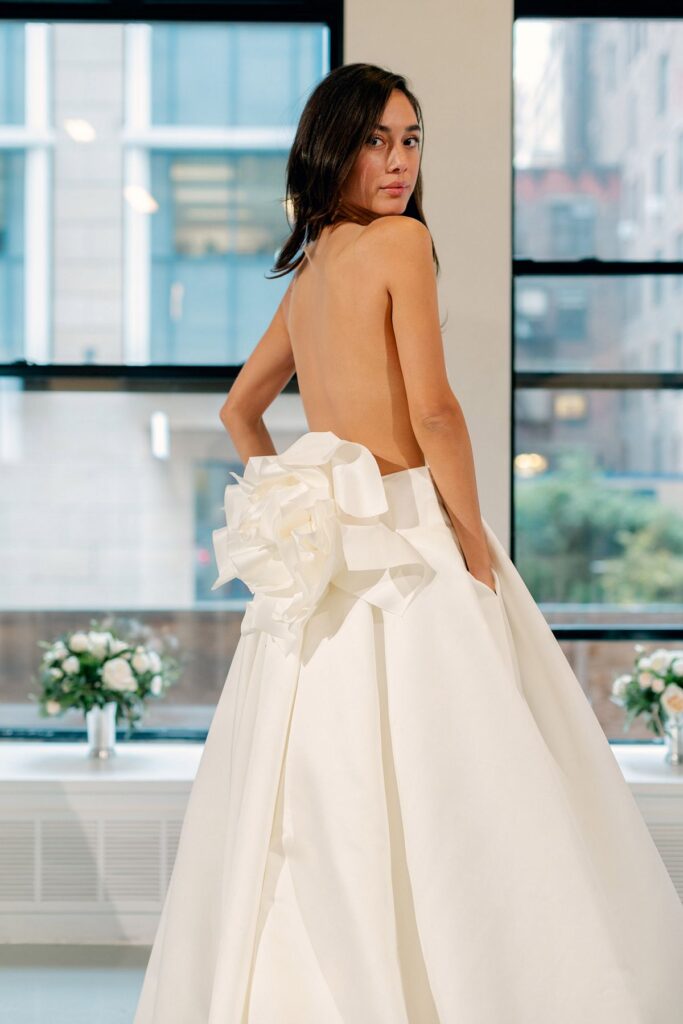 Watteau Train
A trend that we're excited to see return is the Watteau train. This is a beautiful alternative for brides who want a veil's whimsy without actually wearing one. A Watteau train attaches to the gown at the highest point, either in the back or on the shoulder. Doing this allows the train to flow down the bride's back, creating a look similar to a veil. It's not intrusive to the bride's face, making it an excellent option for brides who don't want the fluff of a veil. 
"Like A Virgin" Look
No, we're not suggesting you look like Madonna in the 80s with lace gloves and a ruffled tulle skirt. But we are here to tell you that the sheer corset top is back in full force. Often made with lace and embellished with pearls and sparkles, the corset top makes for a bold and sexy statement without being overly risqué. If you're not that daring, you can opt for a full satin corset that's both elegant and flirty.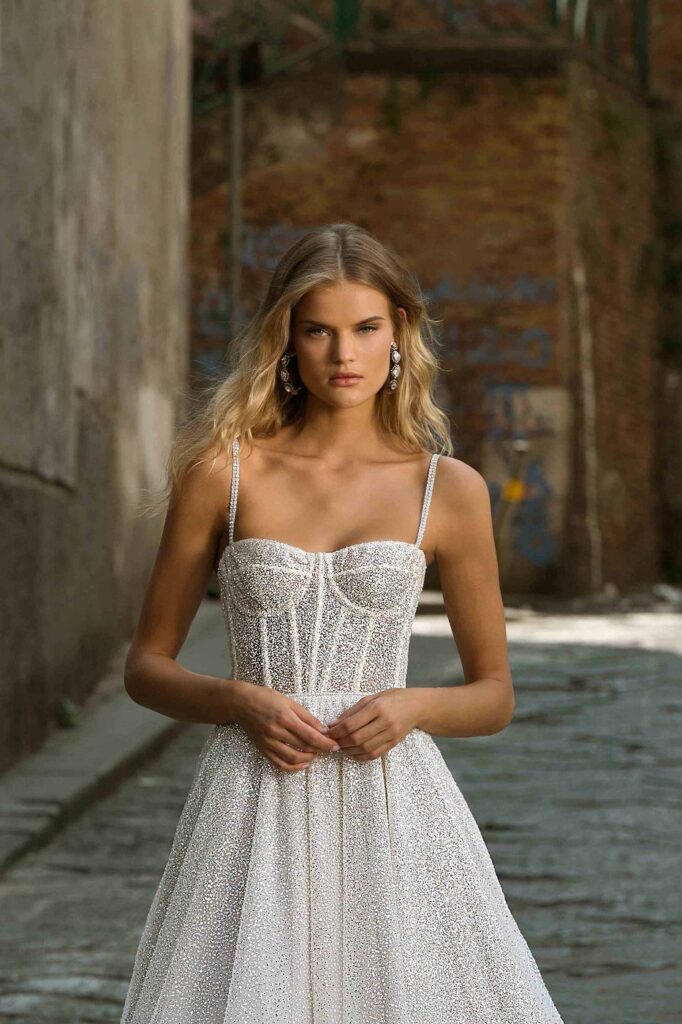 Peaked necklines
A strapless dress for a wedding is a popular choice among many brides. While it's a classic look, it's often accompanied by an ill-fitting, uncomfortable neckline and an unflattering bulge under the arms. Fortunately, the peaked bodice offers a solution by providing extra support that skillfully smooths out these problematic areas, resulting in a more refined and polished appearance.
Check out New York Bridal Fashion Week for inspiration: instagram.com/nybfw
Top wedding dress designer trends: What to expect in 2024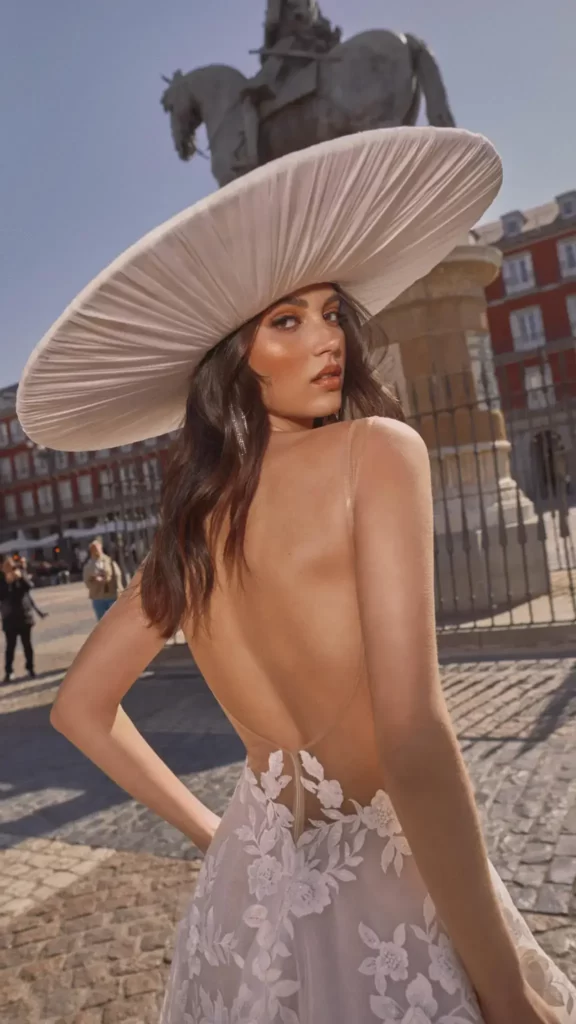 Galia Lahav
Known for always walking on the wild side with sheer fabrics and sexy silhouettes, Galia Lahav presented a new collection that encourages modern brides not to conform to traditional norms. You can expect to see beautiful and unique lace motifs, sleek and contemporary silhouettes, ruffled cuffs, dramatic skirts, long sleeves and, yes, sheer, sexy details. 
Ines Di Santo
One of our favourite wedding dress designers is Ines Di Santo, and if you love a fashion-forward dress for a wedding, you'll love this new collection. Filled with everything from sleek and sophisticated gowns with removable accessories, to romantic pale blue gowns and whimsical fairytale beauties, this collection will blow your mind. 
We love the exaggerated, full ball gown skirt with pieces of cut tulle, laser-cut lace for a romantic look, ostrich feathers and plunging backs that defy gravity, corset bodices, oversized bridal bows, and so much more. We could swoon over the Ines Di Santo Spring 2024 collection all day.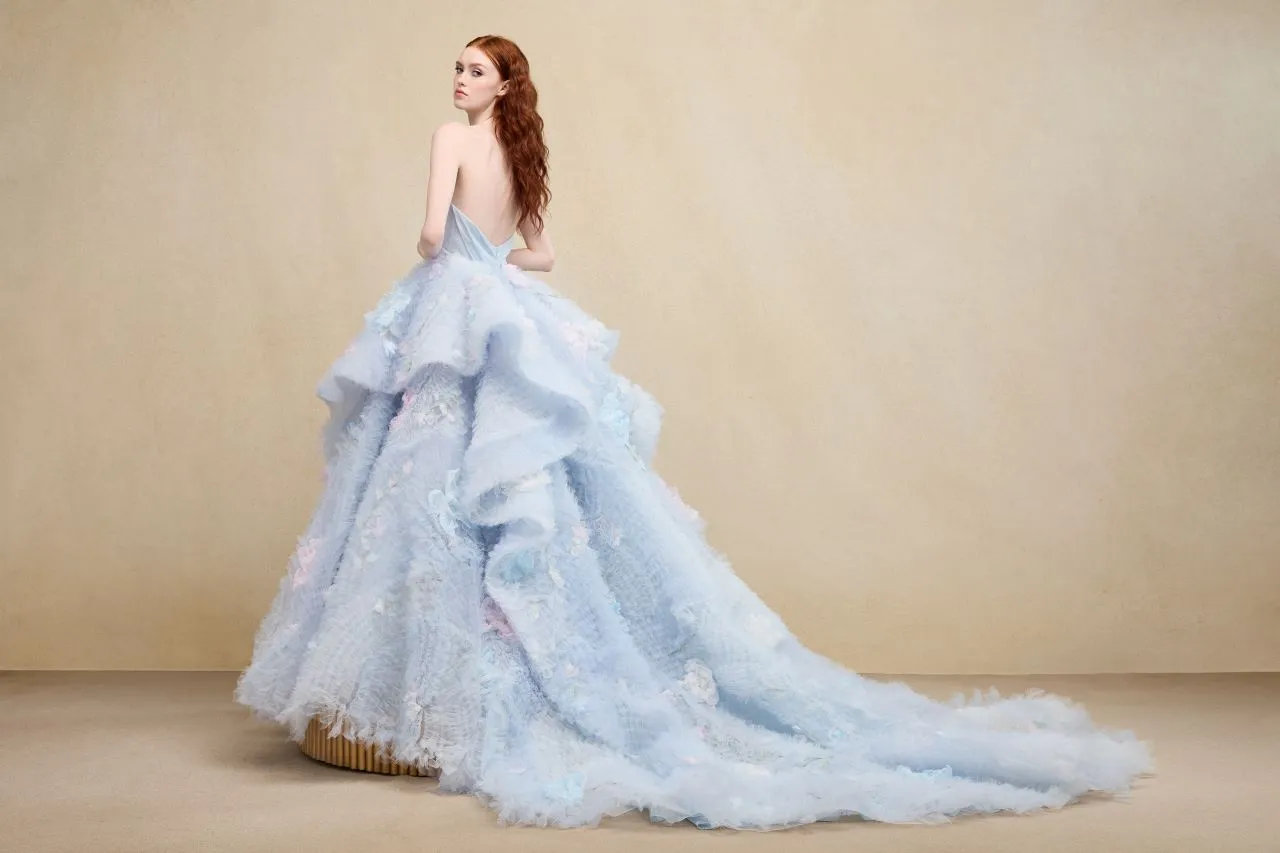 THEIA Bridal 
THEIA Bridal is a label that caters to unconventional brides and is renowned for its boundary-pushing bridal couture featuring fresh, minimalist designs. To cater to the growing demand for transformative styling, the THEIA Bridal Spring 2024 Collection incorporates detachable lace sleeves, satin cowls, mikado trains, a whimsical embroidered tulle cloak, and fairytale liquid-like fabrics that ripple and glow like moonlit water. If you're looking for understated glamour and unexpected twists on the classic silhouette, this collection's for you. 
Check out THEIA Bridal for their collection: instagram.com/theiacouture
Justin Alexander
Filled with romance and whimsy, the Justin Alexander Spring 2024 collection will make you fall in love with dainty off-the-shoulder necklines, tamed-down versions of the iconic 80s sleeves (trust us, they're beautiful), chic necklines with high slits, corset bodices, whimsical sleeves and even some sheer peek-a-boo details.