Spring is traditionally thought of as the most romantic time of year. The sun is shining, the flowers are blooming, the birds are chirping. So who wouldn't want to get married in such a perfect season? Before you go thinking that spring will work its magic and solve all your wedding mishaps, be prepared for the issues that spring can throw at you.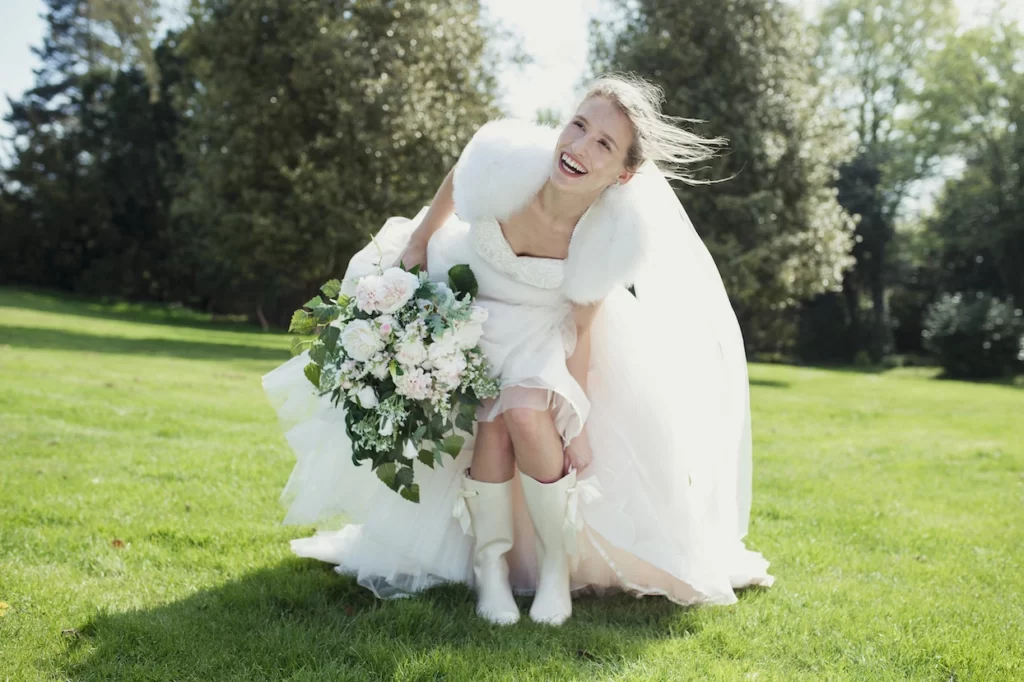 Weather is fickle, at best
Welcome to Canada! Yesterday you were in flip flops and today it is snowing! Did you bring your winter coat when you left the house this morning? Good, because in the late afternoon a scorching heatwave is coming through. You never know what will happen. Nothing is prettier than an outdoor wedding on a lovely spring day, but it's a risk.
Book a venue with flexible outdoor/indoor options for your spring wedding, so weather won't ruin the day.

Come prepared with cooler-weather accessories: a jacket or shawl, pantyhose, close-toed shoes.

Assume it will be windy and style your hair accordingly.
Take your guest's comfort into consideration, providing umbrellas, fans, bug spray, sunscreen, etc.
The power of flowers
A spring wedding means you have the opportunity to choose from a wide array of wedding flowers. So, take advantage! Lilacs and lily of the valley are some faves, but are very strong in scent. Placing them on your reception table can take the focus from your food, so choose your flower placement wisely. And some guests with sensitive noses may not enjoy the décor as much as you. Keep in mind that springtime is also allergy season! Stock up on meds, accordingly.
TIP: Some highly fragrant flowers that do not aggravate allergies can still be irritants with their potent scents. It may be best to enjoy the following flowers outdoors: gardenia, hyacinth, jasmine, and lilacs. Many French hybrid lilacs and the white or yellow varieties are not as highly scented.
Vendors book quickly
Spring is a popular time to exchange vows, which means wedding vendors book up pretty quickly. Don't expect to hire the photographer you love four months out from your wedding date. Great wedding vendors fill their schedules a year (sometimes more) in advance. Understand that because of timing, you may not get the vendors you want.
Things can get pricier
Many venues will cost more for spring weddings than in the fall or winter. If budget is an issue (because it most likely will be) a spring wedding date might break the bank. Spoiler alert: fall and winter weddings are pretty amazing, too.
–By Amy Bielby
Get more spring wedding inspiration from our Spring Wedding Guide.