From the décor to the menu, every aspect of your wedding should reflect your unique style and personality. But many couples overlook seating chart ideas as a way to infuse a bit of fun and personality into their big day. 
An essential aspect of any reception, a wedding seating chart provides structure and organization for the event. Not only does it ensure that guests know where to sit, it also helps to avoid confusion and chaos during the reception.
Additionally, well-planned ideas for seating charts at weddings can facilitate conversation and create a more enjoyable atmosphere for guests by placing them with people they know or those with similar interests. 
But why stick to simple seating chart ideas when the whole point of a wedding is to celebrate you and your unique love story and personality? If you're looking for ways to stand out even more on your big day, we've rounded up 8 creative seating chart ideas that will take simple and traditional signage to the next level.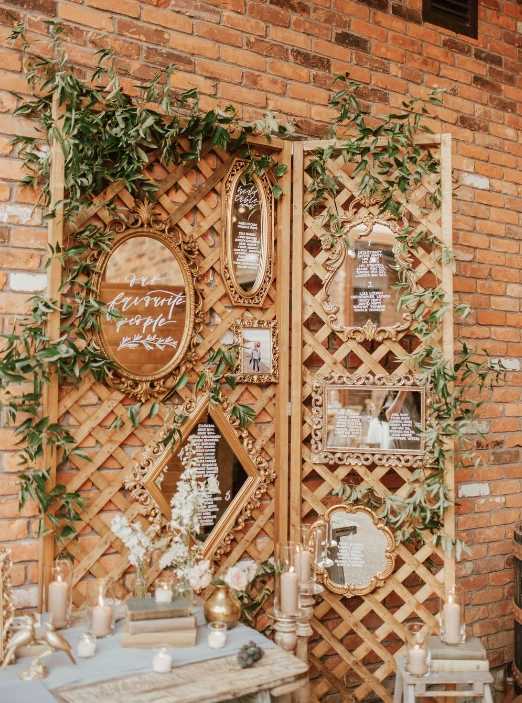 Modern seating chart with geometric shapes
An elegant gold, copper or silver frame can be used to display a beautiful and modern wedding seating chart that features various geometric shapes to represent tables and seats. You can use various colours that match your overall wedding theme. This is one of the best modern wedding seating chart ideas that add to your decor. 
Boho wedding seating chart ideas
For rustic boho ideas for seating charts at weddings, consider using a vintage window frame with hand-painted calligraphy or handwritten names and table numbers on each pane. You can also add some greenery or flowers to the frame to give it a more natural and organic feel. 
Another idea is to use a wooden pallet board with hanging cards or tags, each with a guest's name and assigned table number. You can decorate the pallet board with bohemian-inspired elements such as dreamcatchers, feathers, or macrame. These unique and personalized seating chart displays will perfectly match the rustic and boho vibe of your wedding while also serving as a beautiful and functional decor piece.
Around the world 
Couples who are passionate about exploring the world can incorporate a seating chart with a world map theme. This unique chart allows guests to find their seating assignments and then head to tables named after specific destinations that hold special meaning to the couple. If you're looking for travel-themed ideas for seating charts at weddings, this is a great one. 
Keepsake wedding seating chart
If you're looking for a way to combine a seating chart with a keepsake, we have the perfect idea for you – use a prop as your seating chart. 
For a Hawaii or tropical wedding, for example, using a surfboard with the names of guests and table assignments hand-lettered on it is a fantastic seating chart idea. Throwing a vintage-inspired wedding? Type out seat assignments on letterhead that's been rolled into vintage typewriters. Or if you're saying 'I do' in cottage country, hand paint table and seat numbers on wooden oars hung on the wall. 
Your guests will be amazed by the creative use of props, and at the end of the night, you get to take it home as a cherished souvenir.
A classic sign with floral motifs
A classic wedding seating chart with floral motifs can add a touch of elegance to your reception. You can fix fresh flowers and greenery all around the frame or print decorative flowers directly onto the paper as a beautiful border. The floral motifs are perfect for a spring or summer wedding, and you can customize the sign to match your wedding colours.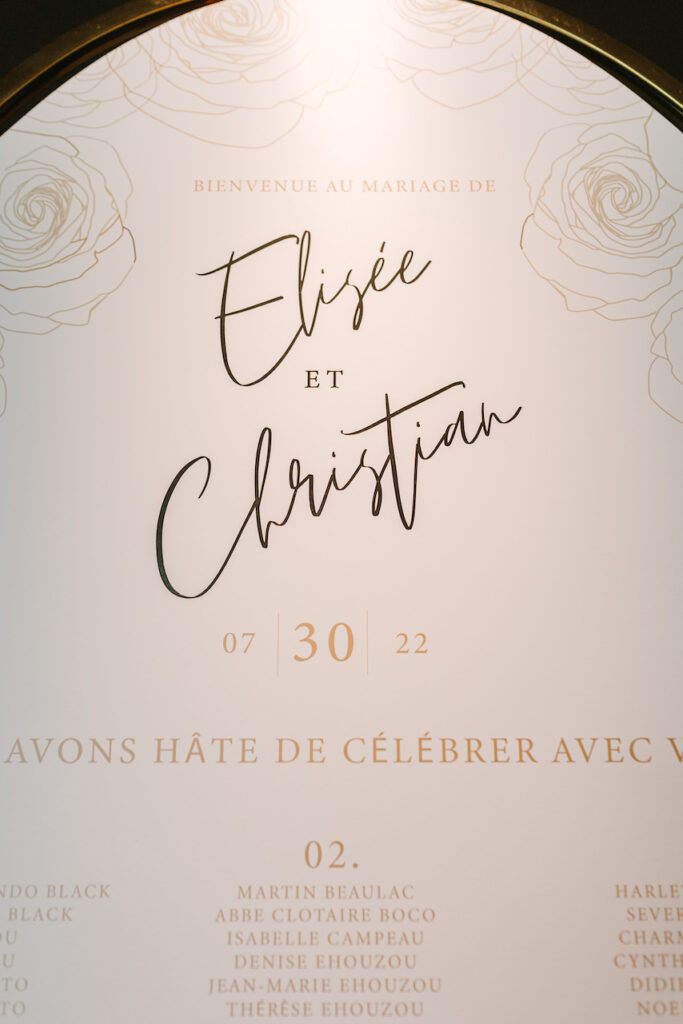 Acrylic seating chart with calligraphy
An acrylic wedding seating chart with calligraphy is an attractive and modern way to display your guests' seating assignments. The transparent acrylic material adds a touch of elegance and sophistication to your wedding decor, while the calligraphy adds a personal and artistic touch. 
The sleek and minimalist design allows the seating chart to blend seamlessly with any wedding theme or colour scheme. Plus, the durable material ensures that the seating chart will last as a cherished keepsake of your special day for years to come.
Double-duty wedding seating chart
We're all for seating chart ideas that serve double duty. So we love the idea of having a lovely display of welcome drinks with your guests' names, and table numbers affixed to each glass. This could serve as both your signature drink (a glass of champagne or your favourite shot or cocktail) and your seating chart, all in one.
Actually, this creative wedding seating chart idea can serve triple duty: welcome drink + table assignment + and wedding favour. Love it!
Tropical wedding seating chart
At weddings, we love seeing nature incorporated into the theme, especially for tropical ceremonies where a nature-inspired seating chart can be an excellent fit.
Tropical ideas for seating charts at weddings can include using leaves such as large palm or banana leaves as the canvas for the seating chart. Names and table numbers can be written directly on the leaves or written on place cards that have been pinned onto the leaves, resulting in a stunning and Pinterest-worthy display.