June Thao & Van Nghiem
June, the gorgeous bride, tells us all about this special day.
Tell us a bit about your love story:
Our story began 13 years ago when we met at Oktoberfest in Kitchener, Ont. Prior to meeting each other Van and I lived in the same neighbourhood, went to the same high school, shared the same family doctor and had mutual friends but never crossed paths. On the occasions where we could have met, something interfered with those chances. Looking back we realized how important timing was for us and in our case it was the right person at the right time. We've had the pleasure of enjoying and experiencing life together for over a decade and we are now happily raising our baby girl.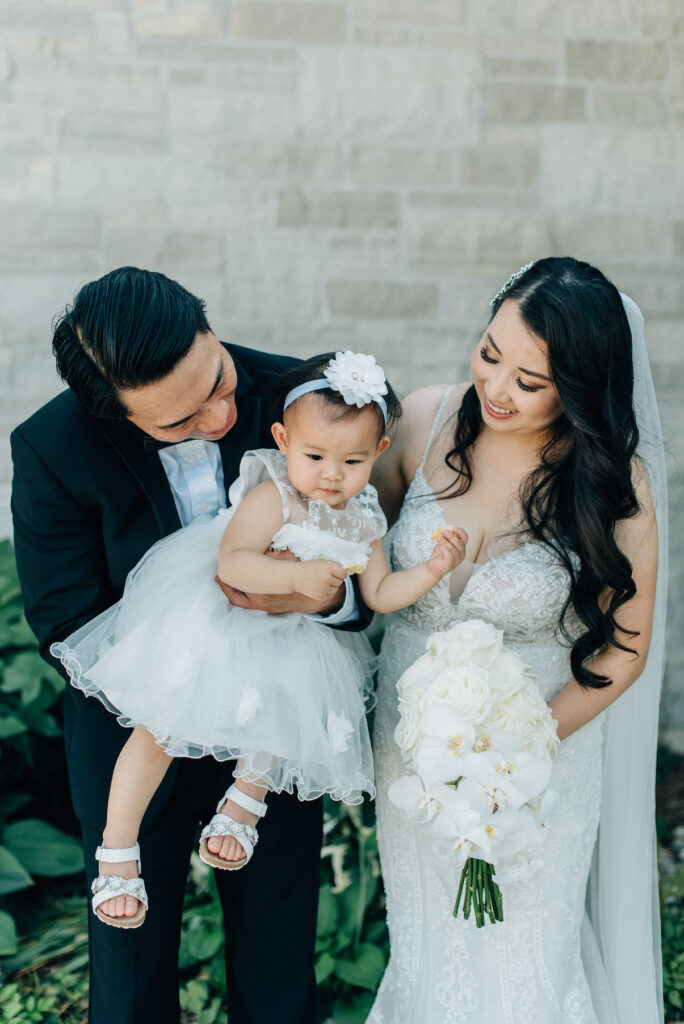 What was your favourite part of the day? 
There were so many but we would have to say our first dance. Four weeks out from our wedding we decided to take dance lessons. We didn't think we would learn an entire choreography so close to our wedding, but we did and had such a blast. This was our alone time together during the wedding planning process and it was so much fun taking a bit of the stress off.
Favourite wedding detail? 
One of our favourite wedding details was the mini cake wall that Van built. After dinner was served we had an open dessert bar with a mini cake wall displaying all the delicious tiny cakes. Our guests were able to choose different flavours for dessert and it was a big hit. Not only did the wall look beautiful but it was an interactive moment for our guests. Van and I did however do an intimate private cake cutting with our single tier cake, which we also served.
What will guests remember most? 
Having delicious food was a must have and our guests had nothing but stellar things to say about our food. En Ville catering brought their fusion of flavours and hit it out of the park. The presentation and taste fulfilled everyone's palate. Another memorable moment was the emotional speeches that left our guests in laughter and tears.
How did you show your personalities in the wedding? 
The wedding day really reflected who we are as a couple. The air was filled with fun, laughter and love, with the celebration continuing into the late night. Our family and friends waited a long time for us to get hitched and when we did we brought our A game to celebrate. We spent a lot of time with our guests and were on the dance floor for the most part. We really danced the night away.
What cultural aspects did you include? 
We had two ceremonies on the day of our wedding and both were very intimate with only close family in attendance. Our first ceremony was the union between Van and I. The second was our traditional Chinese tea ceremony with both sets of parents. It was very important for us to celebrate both customs and acknowledge our heritage and roots.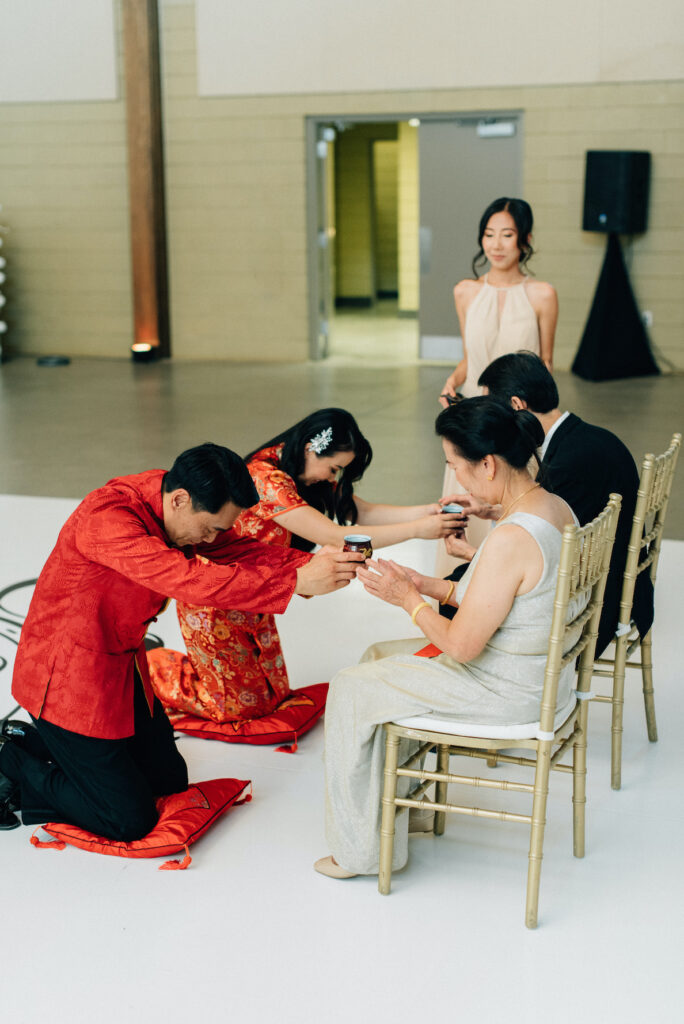 What advice can you give to couples who are planning their wedding? 
To all my DIY/creative brides and grooms, if you are planning your own wedding and doing a lot of DIY projects, give yourself lots of time to complete as many as you can early on. After working so hard on your wedding, hire a month-of or day-of coordinator to assist on your wedding day so that you can just enjoy. Whatever happens just roll with it and have the best time of your life!
Honeymoon? 
We are heading to Greece and will be celebrating our honeymoon in Santorini. We can't wait for our trip and look forward to relaxing and enjoying our time there.
Number of guests: 85
Ceremony/reception venue: Ancaster Fairgrounds, Jerseyville, ON
Planner: J Essence Design
Day of Coordinator: The Gentle Planner
Photographer: Kendra Ruth Photography
Dress designer: Essense of Australia
Suit designer: Calvin Klein
Bridesmaids' dresses: Various
Bridal boutique: Crème Couture Bridal
Videographer: Raw Media
Décor & flowers: J Essence Design
Cake: Sweet Life Cakes KW
Desserts: La Patisserie
Stationery & signs: Zen Paper Co.
Hair/makeup: RosieRose Beauty
Catering: Enville Catering
Catering rentals: Complete Rent-Alls
Late-night station: Chung Chun Hamilton
Bar: R&T Bartending
Draping and furniture rentals: Wedding Dream KW
Dance floor: Boothinthe6
DJ and AV lighting: Something Blue Wedding DJs
Photo booth: Orbit360 photobooth
Flower wall: Fleur Galore Walls GTA
Saxophonist: Stuart Brignell