Stephanie Ng and Jason Tran
Stephanie: Stephanie was bored one day and started checking her dating app. After a few questionable profiles, she saw a typical Asian boy in black rim glasses holding an Uncle Tetsu cake bag. It was not her favourite kind of cake but wondering if there were other food photos, she swiped to see his next photo. To her surprise, the next photo was him in front of her favourite harbour view in Hong Kong. For that Hong Kong backdrop, she clicked connect and the rest is history.
Jason: After browsing multiple profiles one day, Jason spotted one of a girl with many travel and food photos. In particular, he wanted to know more about that foot long ice cream cone. And that raccoon cafe. And that platypus road sign. Intrigued, he clicked Like and the rest is history.
The couple bonded over our mutual love of food, travelling, and playing Pokemon Go in parks. They froze on Mount Royale in Montreal, drank wine in Niagara, and explored Taiwan, Hong Kong, and Japan together. After two years of dating, Jason proposed at their favourite park and Stephanie said yes!
Did you have to change your original wedding plans?
Our original guest list was around 110 and unfortunately due to the pandemic, most, if not all, of our overseas family and friends could not make it. We felt a bit disappointed but we do understand that is why we did a live stream of the ceremony so people could still join us on the day virtually!
What cultural/personal traditions did you include?
We included Chinese traditions of door games where the bride hides while the bridesmaids try to deter the groom and groomsmen from getting to the bride through a series of games. If the groom and groomsmen fail at any of the games, they would be dealt with a punishment or they can pay and bribe their way through. We followed the door games with a traditional tea ceremony where the bride and groom pay respect to their parents. The parents say their well wishes and present gifts and/or red envelopes containing money.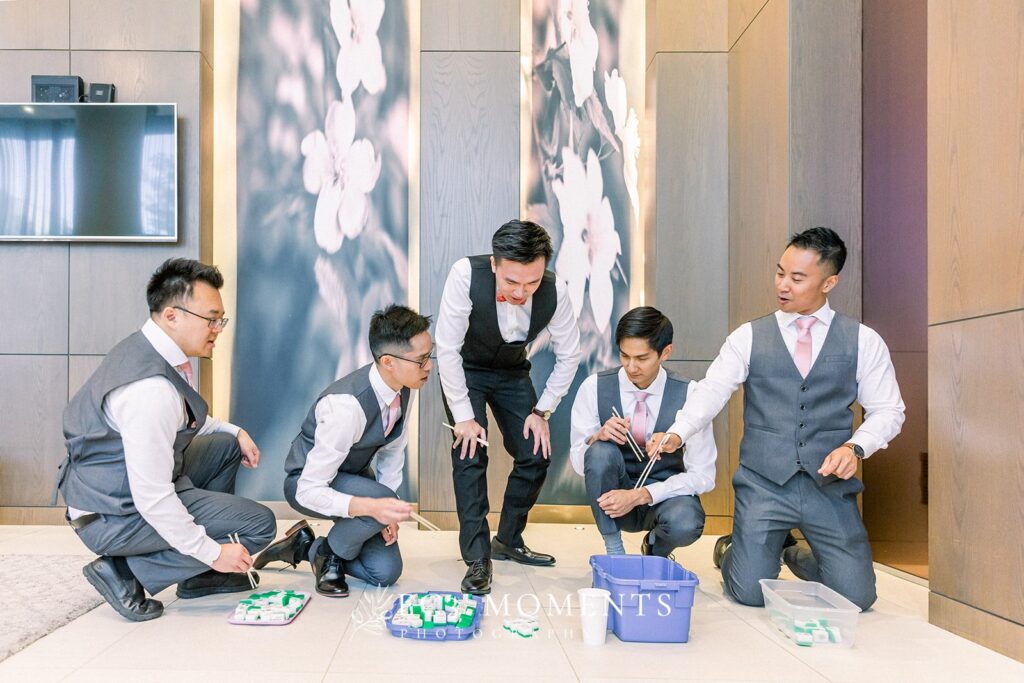 What was your favourite part of the day?
Our favourite part of the day was the morning door games. It helped us to ease up and laugh out our nerves before the ceremony in the afternoon! Also, our first look because it felt like a mini moment just for us. The calm before the storm!
Did anything go wrong?
Our vow books were misplaced during the ceremony! Our ceremony was unplugged but during the time our coordinator ran for the books, our officiant told our guests they were allowed to take their photos of us so the time passed by quickly and the guests and us laughed it off afterwards.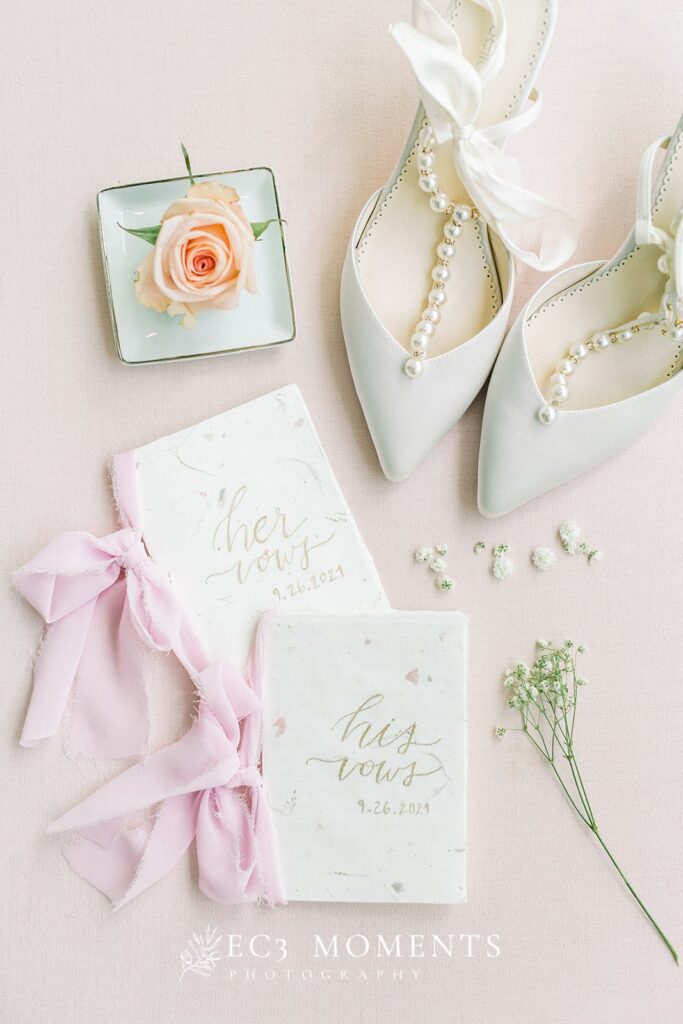 Favourite wedding detail?
My favourite was the bouquets and the name place cards with our personal wax seal featuring our favourite drinks: bubble tea!
What will guests remember most?
Our guests will remember our late night egg waffles the most. It is definitely a snack that represents us 100%. It is a local street snack from Hong Kong and we have it pretty often along with bubble tea. Runner up would be our trivia game during our reception. We still get quoted on some of the answers these days such as how I made Jason watch Olympus Has Fallen over 50 times.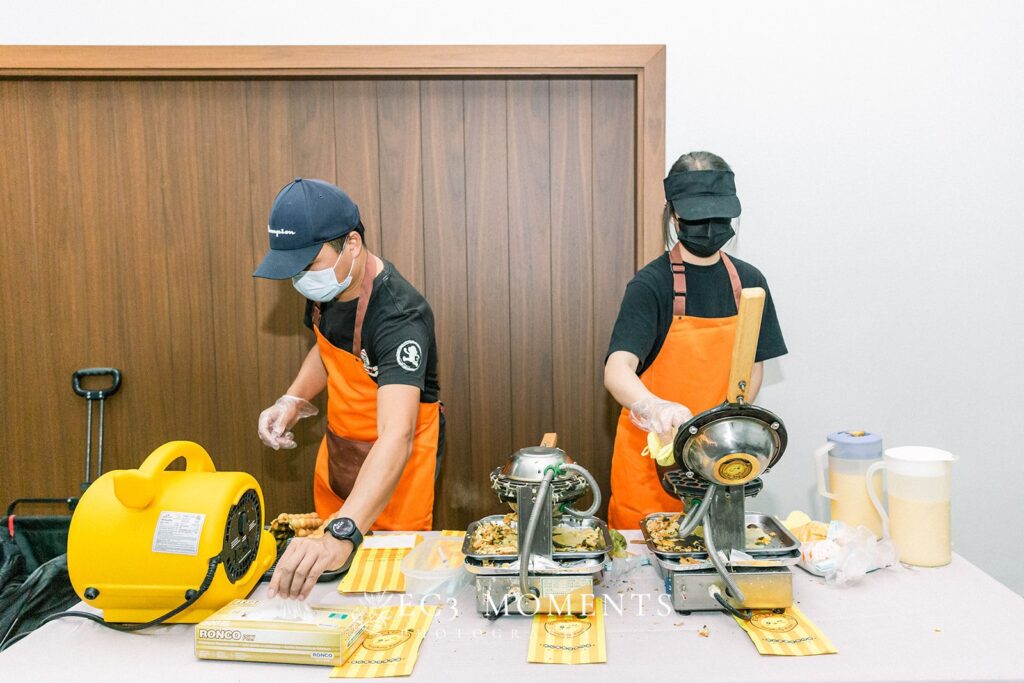 What advice can you give to couples who are planning their wedding?
Relax and remember to have fun with your wedding details and add small personal touches to show your guests who you two are as a couple. Also, make sure you have your vow books!
Number of guests: 51 (including bride and groom)
Ceremony/reception venue (including city): The Guild Inn Estate, Scarborough, ON
Photographer: Michele and Warden from EC3 Moments
Day-of Planner: Talita Miná from TWO Events & Decorations
Dress designer: Stella York
Bridesmaid dresses: Birdy Grey
Reception dress: Needle & Thread
Bridal shoes: Bella Belle
Hair/makeup: Jenny From Miss-J Makeup & Hair Styling
Suit designer: Dikun
Gold bangles: Lukfook Jewellery
Rings: Blue Nile
Décor: TWO Events & Decorations, Fish Designs Co
Bridal bouquets/boutonnieres: Philia Flora
Floral centrepieces, aisle pieces, signing table: Fish Designs Co
Stationery: Fish Designs Co
Cake: Oishiii Sweets
Late-night eats: egg waffles from Eggette Hut
Photobooth: EC3 Moments
Videographer: J Gallagher Productions
Wooden figures: Parn from Wood.youmind
See more real weddings here!