Brittney & Shaun
Shaun and Brittney were set up on a blind date in 2017.  Brittney was asked if she'd be interested in going on a date with a tall, handsome police officer and was immediately interested. They went on a few dates moved in together after 8 months of dating. Below, Brittney shares her thoughts about planning during COVID and having the day of her dreams.
What were your original plans for your wedding day? Something bigger?
Our original wedding plan was going to be at the beautiful Kurtz Orchards in June of 2020. We pushed our date once in 2020 with hopes of celebrating with our original guest list of 100. In early 2021, due the uncertainty of the pandemic, we decided to elope with plans of hosting the reception when we could. In April 2021 with my parents, Shaun's mom and beloved puppy Millie, we married in our backyard. We always knew we wanted to host our family and friends at Kurtz Orchards in Niagara-on-the-Lake for the reception. Then finally after four changed wedding dates and an elopement, we hosted our outdoor cocktail hour, reception and dance on September 18, 2021.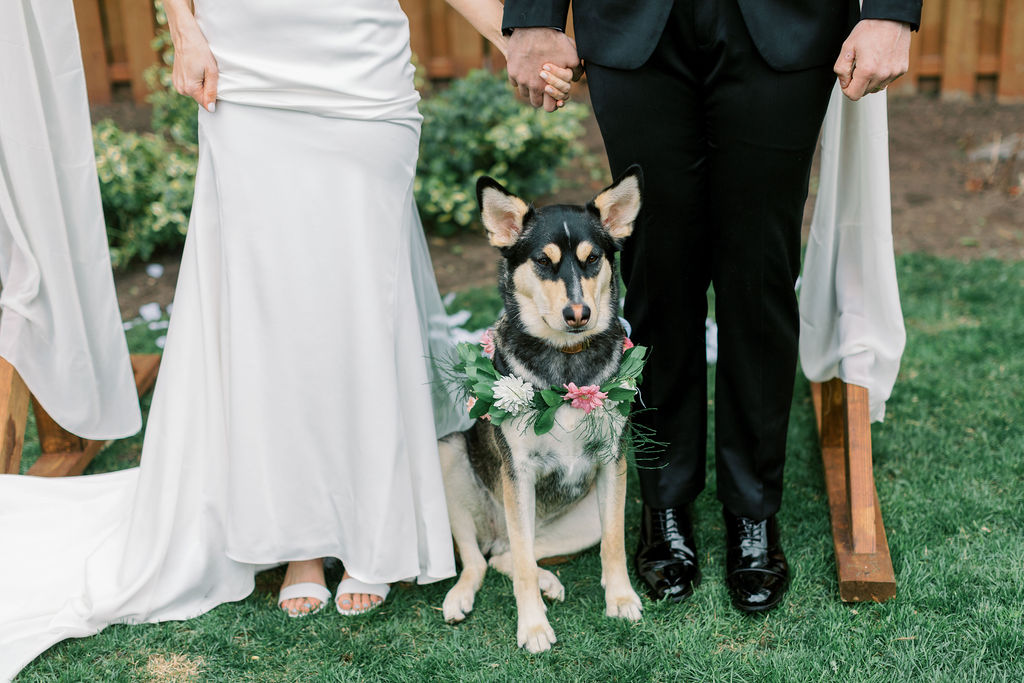 How did you feel before and after the postponements?
The first time we had to move our wedding date was the hardest.  The whole world was experiencing these unprecedented times and with only 3 months until our day we moved it a few months.  Then the other dates that we moved forward it was hard but sometimes I felt relieved. As once the dates started to approach, I'd be obsessing over COVID case counts, what phase of reopening we were in and wedding guest limits. Once we landed on the September 2021 date, I still was unsure if it was going to happen up until a few weeks before. We were married at that point so if that meant moving it, I could handle it.
What was your favourite part of the day?
It's hard to choose a favourite part. I feel very grateful that we truly got our "perfect day". One of my favourite memories was right before dinner and before they announced us to enter the tent.  All of the guests were at their seats. Shaun and I were holding each other outside the tent feeling excited and nervous. We were both just so happy that this day had finally come, everything was beyond our expectations. It also helped that we were fortunate to have a beautiful summery September day.
Did anything go wrong?
Other than the COVID hurdles we endured, everything was perfect on that September day. We were also very fortunate to work with an amazing wedding planner Kari Lywood. She coordinated the whole day and I'm sure she had to deal with a few issues but Shaun and I were blissfully unaware.
Favourite wedding detail?
I loved our table layout. We had two long harvest set up parallel to each other. It was an amazing feeling and experience to look down and across seeing all our family and friends.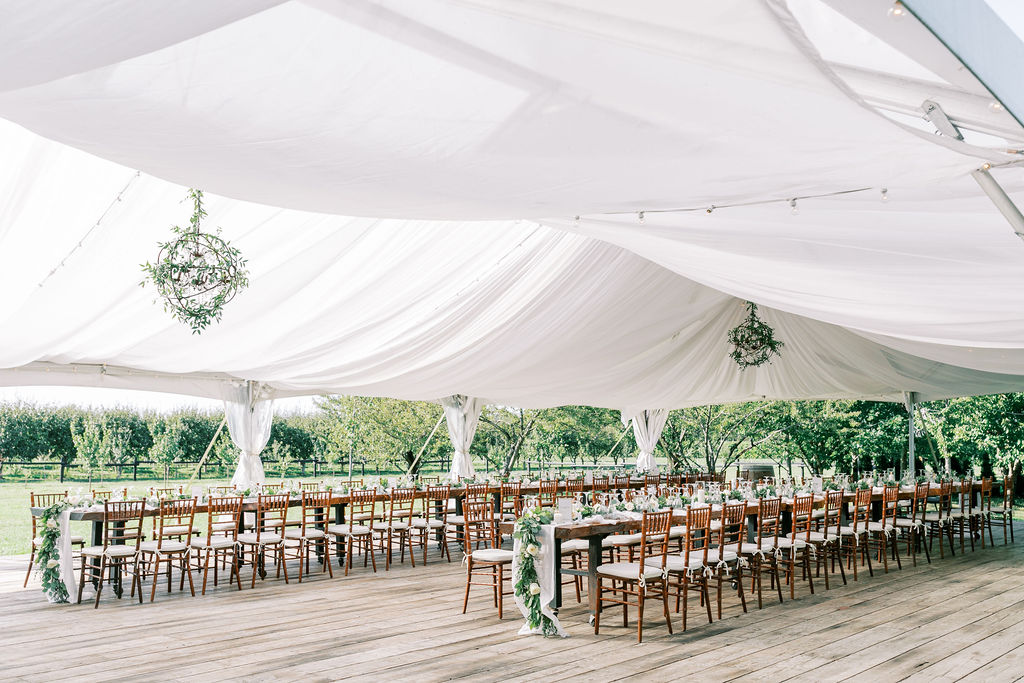 What will guests remember most?
Honestly I think guests were very excited to finally celebrate with us. We were all happy to see our family and friends all together. One wedding detail that I'm sure guest will remember was the cigar roller at the cocktail hour.
 What advice can you give to couples who are planning their wedding?
Hire a wedding planner or at least day-of coordinator if you can. It really allowed us and our families to fully enjoy the experience and the whole day stress-free.
Venue: Kurtz Orchards – Market
Planner: Kari Lywood Events
Photographer: Elizabeth in Love
Ceremony wedding dress: Mona Richie Bridal
Reception wedding dress: Revolve
Suit: Indochino
Hair and makeup: South Coast Beauty Co
Florals: Thread and Blooms
Stationery: Hanan Paikin Stationery
Rentals: Simply Beautiful Décor
Cigar rolling: Correnti Cigars
Officiant: Paul Fletcher
DJ: Del Vinyl Entertainment
Don't forget to check out all our real weddings!