Ashley & Matt
Wedding planner Ashley had a lot of unique ideas for her wedding to Matt, but she knew better than to run the show on the big day. She tells us all about the nuptials, below.
What was your favourite part of the day?
Our favourite part of the day has to be the first dance. Everyone always told us to take dance lessons for our first dance, but seeing as we were both incredibly busy business owners, it didn't fit in our schedule. Little did everyone know, I was watching hours of YouTube trying to learn ballroom dancing so I could choreograph something easy enough to not only teach Matthew, but also convince him it was such a good idea that I could follow up with, "By the way, I also hired dancers to join us mid-dance." Our first dance song was Fall On Me by Andrea Bocelli. We started our dance in the middle of the dance floor swaying back and forth amidst indoor sparklers and dry ice when suddenly – BAM! – it's a choreographed routine. Guests were shocked at the fact that I got Matthew to dance at all, but then, eight dancers from around the room joined us on the dance floor and did the same choreography. Everyone's jaws were on the floor.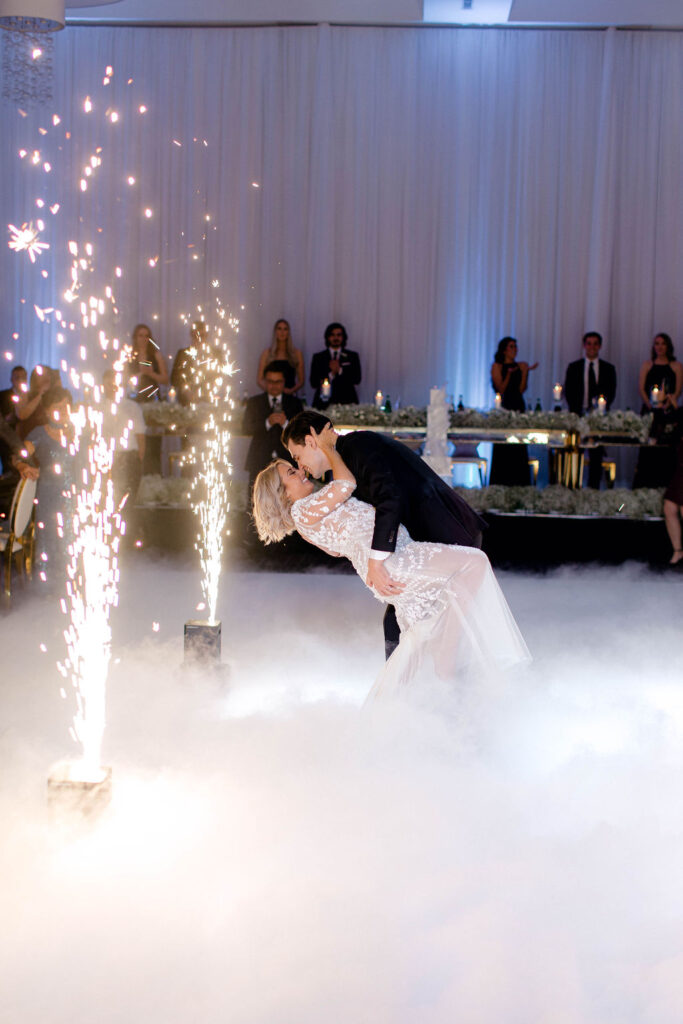 Favourite wedding detail?
Favourite wedding detail has to be our wedding scent. Our main florals were baby's breath and for those unfamiliar, baby's breath does not bear a luscious scent; in fact, it has been said to smell like cat pee. To avoid our wedding being tied to cat pee, I decided to hide gardenia scented candles around the room so that when people walked in they would get a whiff of my favourite candle scent (and think it's coming from our arrangements). Full disclosure: I also did it because I know that sense of smell is the strongest connection to memory so if any of our guests ever smell gardenia again, they will be reminded of us and our special day.
What will guests remember most?
To this day, guests still cannot stop talking about the LED robot that we had open our dance floor. Sometimes the dancing can take awhile to really get started, to avoid the lull, we had a giant light up robot with confetti poppers and smoke guns kick off the night.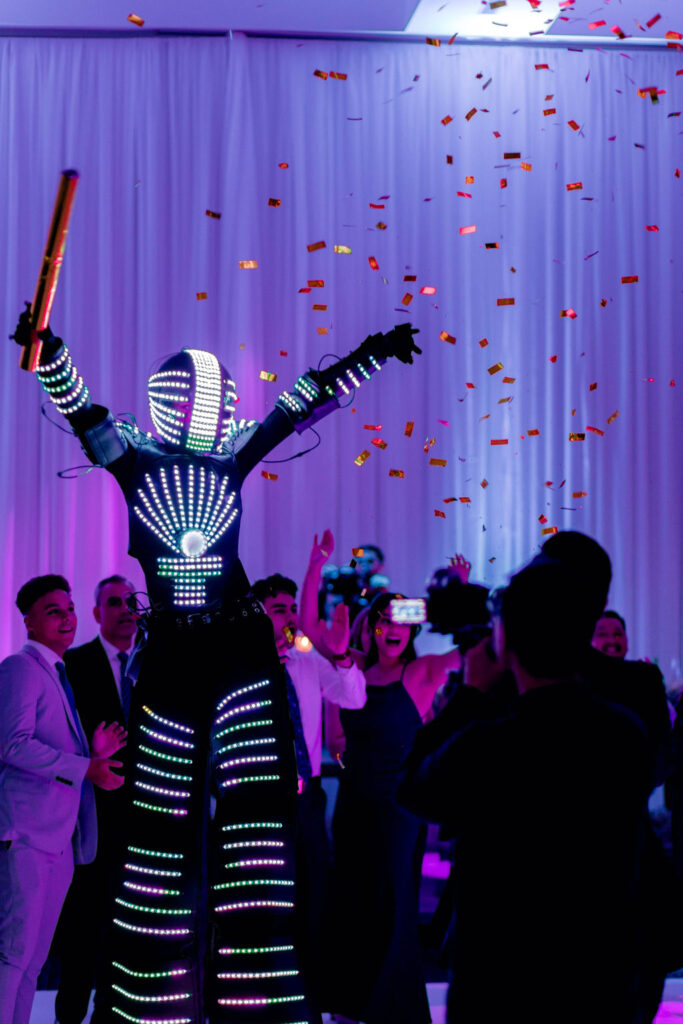 How did you show your personalities in the wedding?
The theatrics played a big role in our day as they do in our everyday lives (we can both be dramatic and emotional) so the fact that no one knew any detail about our day except for the two of us (and our vendors of course) it was like one big production. From the attire, the ceremony music, grand entrances, first dance, cake, robot, etc. Everything was a surprise to everyone and that is totally us – always wanting to surprise our friends and family.
We also incorporated little details like signature drinks, one for each of our dogs because our dogs are a huge part of who we are. We also had a cigar station later in the evening because Matthew loves cigars and even the macaron flavours were a nod to each of us: cappuccino flavour for Matthew and champagne for me.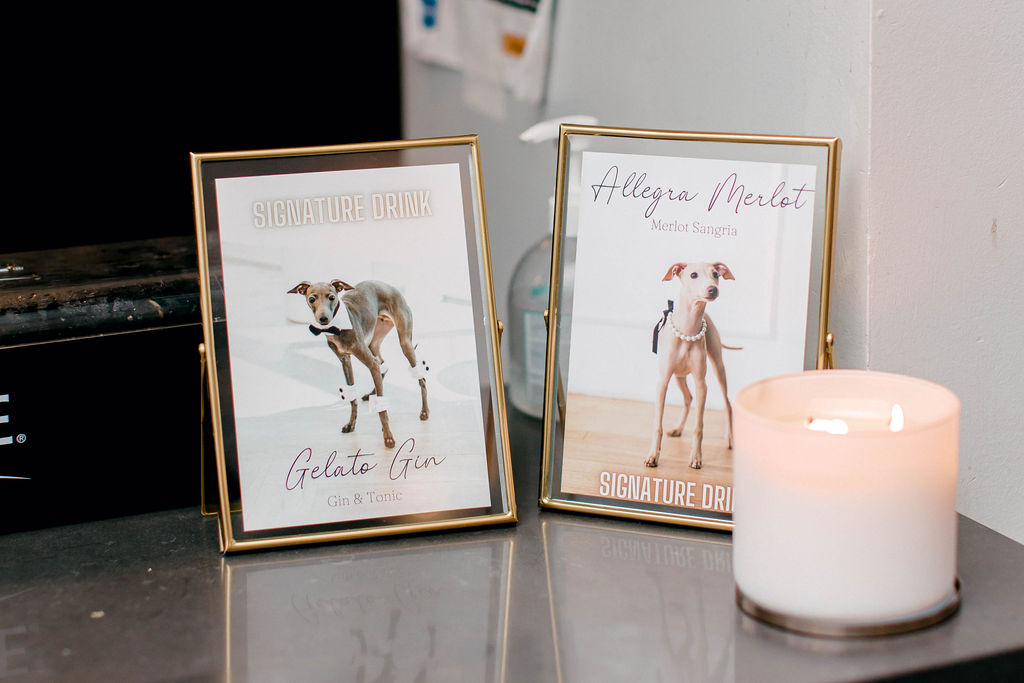 What advice can you give to couples who are planning their wedding?
Remember that it is the two of you. Stay close to one another and travel together around the room.
Hire a coordinator to execute your plans. As a planner myself, I had no problem planning my entire day, but I couldn't be in control on the actual day. I am so thankful for my team. Without my coordinator, nothing would have been on time; as detailed as I was with my itinerary, I was a social butterfly as a bride!
EAT!
If you are doing a first look, get all your wedding party and family portraits in at that time also, so that you can enjoy your cocktail hour.
Honeymoon?
We will be going to El Dorado Spa Resorts by Karisma, Riviera Maya, Mexico.
Planning: Velvet Bordeaux Events
Venue: The Guild Inn Estate
Officiant: I Marry U
Photography: JLP Studio
Photography: SDE
Wedding dress: David's Bridal
Bridesmaids' dresses: Bliss Bridal
Groom's suit: Suit Supply
Groomsmen suits: Signor Angelo
Shoes: Steve Madden
Rings: Peoples Jewellers
Invitations: Papery Canada
Cake: Cake Creations by Michelle
Florals: Sarah Melissa Designs
Décor: Luxe Decor & Designs
Day-of stationery: Paper Heart
Acrylic ceremony arch: Byounique
Macaron favours: Cakes n Bloom
Grazing station: Around the Board
Guest book: After the Tone
Entertainment: G Entertainment, Bongo & B, LED Robot
Transportation: Just for U
Sparklers & dry ice: Sparktacular
See more real weddings here!