The bridal shower has evolved from a traditional tea party into an interactive celebration full of style. But planning a bridal shower is no easy feat. You want a party that honours the bride but is unique and unforgettable without too much effort. We get it! 
Planning any party is a challenge, but when you throw in the expectations of a bride-to-be, things get amped up. Executing a bridal shower that no one will forget starts with the theme, so we've whipped up a list of unique and cute bridal shower theme ideas that we're sure everyone will love. 
She got scooped up (ice cream)
Oh, yes, we love this bridal shower theme because the catchphrase is sooo cute! We can just picture an adorable sign with this slogan as a photo backdrop – perfect for those Instagrammable shots –  or at the main entrance, on the invitations or party favours. To complement signage will be, of course, a delectable selection of ice cream for everyone to enjoy. 
You can create a DIY ice cream station complete with delicious toppings, from sprinkles to chocolate chips to gummy bears and caramel, offer both cones and cups, and even include ice cream floats at a beverage station. To take the party up a notch, you can also hire a chef to teach a class on how to make homemade ice cream. We love that idea!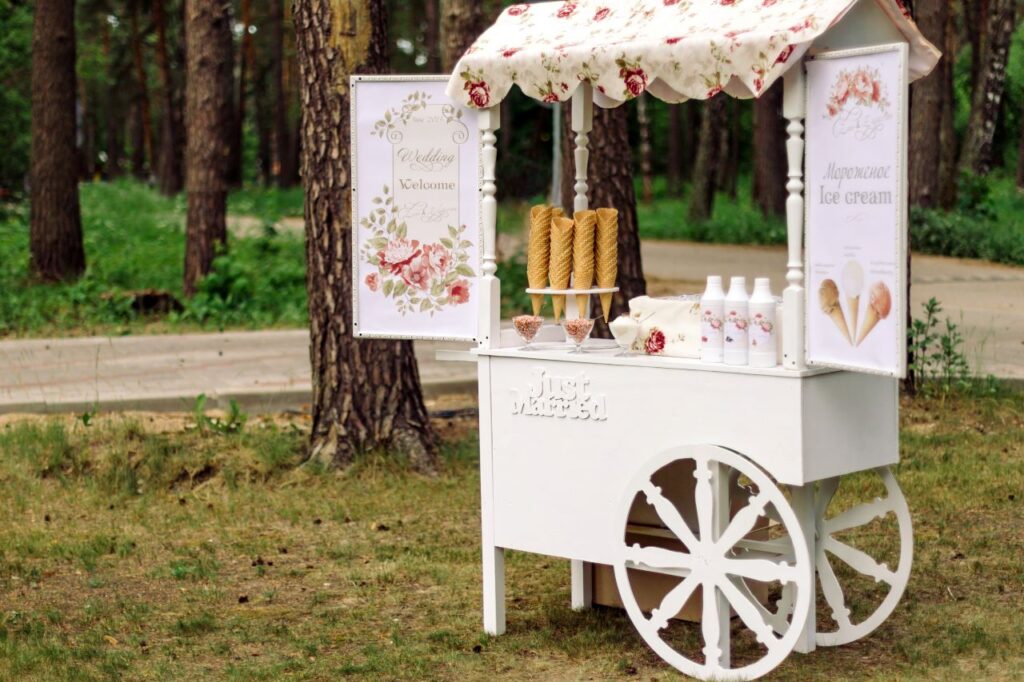 The main squeeze (lemons)
Another cute bridal shower theme we love is centered around the catchy slogan, 'The Main Squeeze,' which in this case, of course, represents the bride-to-be finding her true love. 
Decorate the party with lemons, bright colours, and blue floral print tablecloths for contrast and visual impact. But it doesn't have to stop there – you can also create a yellow and white balloon arch, have lemon-themed invitations and favours, personalized drink cups with the slogan "She found her main squeeze," and so much more.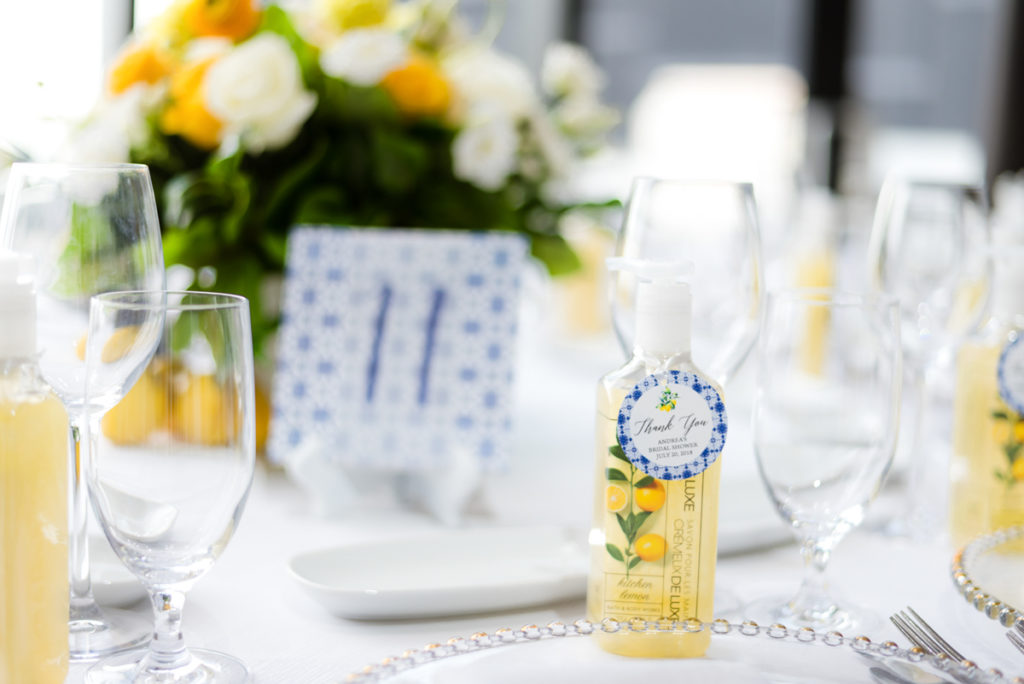 April showers
For something sweet and totally girly, how about an April showers-themed bridal shower? No, we don't mean to make it rain, but you can certainly have fun with pretty umbrellas and parasols in your decor. Suspend them from above the tables, use them as backdrops for photo ops, and set out a spring-filled table display with beautiful flowers and greenery to create a whimsical and unforgettable event. 
Kate Spade 
If the bride "leaves a little sparkle wherever she goes," a Kate Spade-inspired shower will do the trick. Think dramatic black and white striped table linens, gold flatware, black charger plates, and hot pink napkins. Add some bold blooms in hot pink as well as a custom Kate Spade-inspired cake in the shape of a purse and voila! Perfection.
Boho bliss
Oh, you can do so much with a boho-themed bridal shower. Start with a soft, muted palette with traditional neutral colours, add some earthy florals, and finish with floral crowns for guests and woven tapestries on tables and draped on walls. Set up a cozy corner with floor cushions and lanterns for guests to relax and enjoy the festivities. 
Other great boho accessories include mini succulents in bright terracotta pots, hot pink and tangerine flowers with eucalyptus, pampas grass centrepieces, and macrame table runners. The overall look will be warm, cozy and utterly inviting. 
Tropical paradise
A tropical paradise bridal shower may be the perfect theme if you're having a destination wedding or saying "I do" on your hometown beach. You can decorate with palm or banana leaves, ferns, pineapples, coconuts and vibrant flowers. Consider a tiki bar for refreshing drinks with coconut cups and let the tropical tunes set the mood.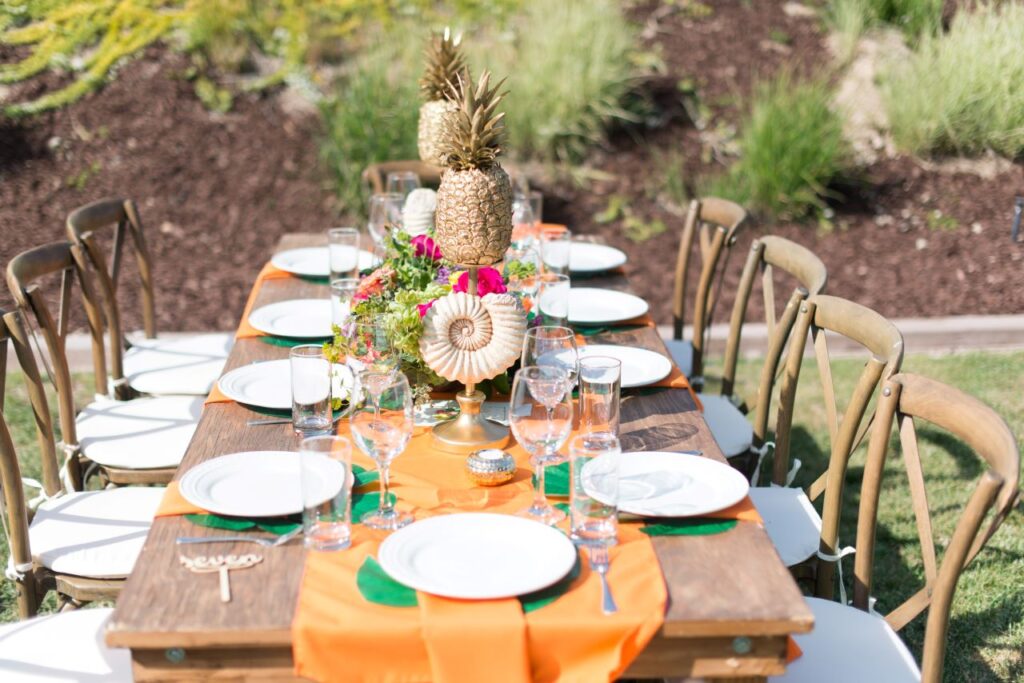 Some bunny is tying the knot
We'll round out our list of bridal shower themes with another cute idea. A bunny-themed party can be decked out in blush pink, mint green, and sky blue, with charming bunny motifs, delicate lace tablecloths, and vintage-inspired tea sets.
To evoke a garden-party atmosphere, you can incorporate fresh flowers like daisies, peonies, and baby's breath, as well as rustic burlap or soft tulle fabrics for table runners and chair accents to add dimension and an earthy vibe. Scatter bunny-shaped confetti on tables with small rabbit figurines as centrepieces. And don't forget to incorporate the catchy slogan, "Some Bunny is Tying The Knot," in your invitations, signage, napkins or personalized drinkware that can double as bridal shower favours. 
80s vogue
Transport everyone back in time with an 80s-themed shower. Bust out the boombox and cassette tapes, scrunchies, and Teen Beat posters, and tell everyone to come dressed in retro attire – complete with shoulder pads and big hair! You can also show your favourite 80s movies on a projection screen and play old school board games and video games.