If you envision a wedding celebration that exudes luxury and grandeur but need help figuring out where to start, fret not! We're here to guide you on an enchanting journey through some of the most extravagant cities in the world that can double as luxurious wedding destinations. 
We've curated a selection of exquisite destinations that will ignite your imagination and set your wedding planning into action. While we won't reveal specific venues or names of specific resorts and villas (there are simply too many to list!), we'll unveil a few enchanting cities that promise unforgettable celebrations for your big day. 
Whether you dream of saying "I do" in a fairy tale castle, exchanging vows on a pristine beach, or hosting a glamorous reception in a lavish ballroom, these luxurious wedding destinations will leave you spellbound. Find one that resonates with your heart, then research suitable wedding venues and local vendors that align with your vision. And if your perfect luxury destination wedding locale isn't on the list, click here for more ideas. 
THE CARIBBEAN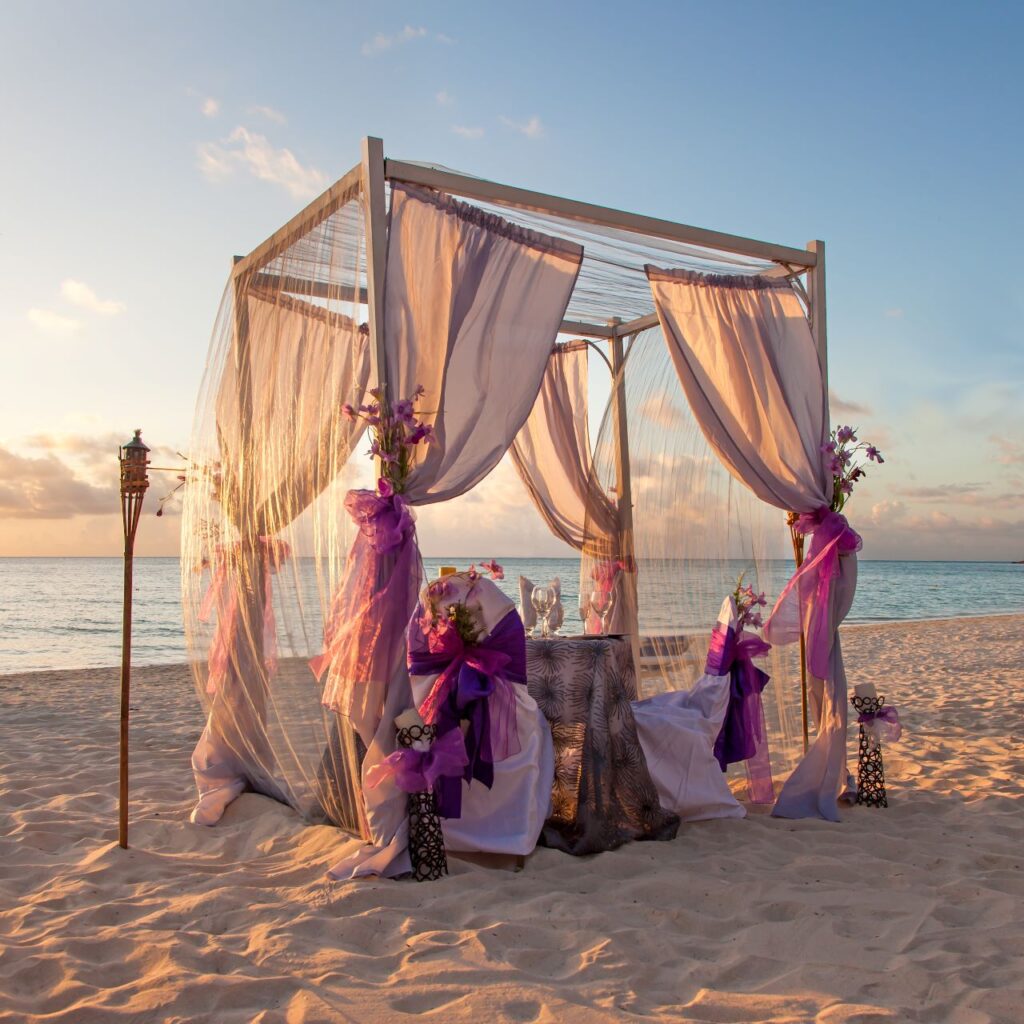 St. Barths: Nestled in the Caribbean, St. Barths is one of the most exquisite and luxurious wedding destinations that you can dream up. This tropical paradise beckons couples with its pristine white-sand beaches, crystal-clear turquoise waters, and exclusive resorts and luxury villas. For couples looking for an opulent beachside wedding, St. Barths will not disappoint.

St. Kitts & Nevis: From the majestic volcanic peaks of St. Kitts to the pristine beaches and coral reefs surrounding Nevis, each island provides a captivating backdrop for an extraordinary wedding. Indulge your guests in the luxury of exclusive beachfront resorts and private villas, unwind in lavish spa retreats, hit the championship golf courses and savour gourmet dining.

British Virgin Islands: With 60 breathtaking islands, the British Virgin Islands offer an unparalleled luxury experience for couples seeking an extraordinary wedding destination. With a plethora of opulent options including all-inclusive resorts, private villas and overwater resorts, you can easily wow your guests. Cap off the celebrations with an exclusive catamaran or yacht excursion to explore hidden coves and private islands. 
EUROPE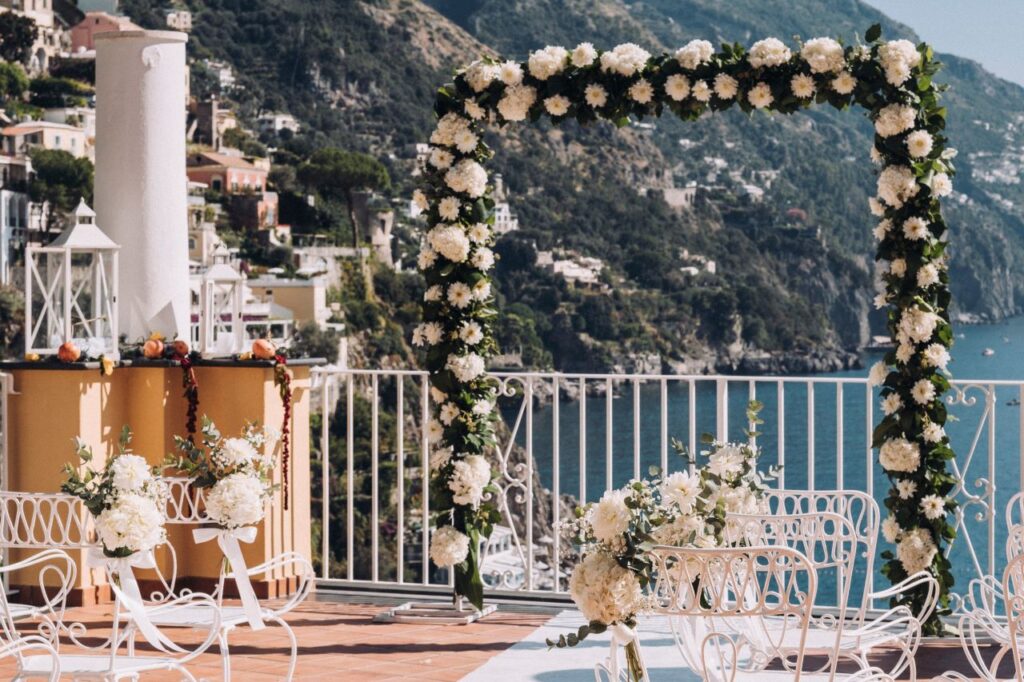 The French Riviera, France: Situated on the picturesque coast of France, this renowned stretch of coastline includes such celebrity hotspots as Cannes, Antibes and Saint-Tropez, all of which feature a perfect blend of glamour, opulence, and natural beauty. The region offers a plethora of upscale venues, from grand châteaus perched on hillsides to luxurious beachfront villas, all providing impeccable service and breathtaking vistas.

Amalfi Coast, Italy: Another exceptional location for a dream wedding that epitomizes luxury and indulgence is the breathtaking Amalfi Coast. With various stunning venues to choose from, including grand clifftop villas, elegant seaside resorts, and charming historic estates, there is an opulent setting to suit every couple's taste. To add an extra touch of luxury, consider indulging in luxury transportation options such as private yacht charters or classic vintage car rentals.

Monte Carlo, Monaco: Straight out of a cinematic dream, Monte Carlo is a glamorous city-state on the French Riviera that enchants with its iconic casino, legendary grand prix circuit, and world-class hotels. Picture exchanging vows in a historic palace or hosting a lavish reception overlooking the Mediterranean. Indulge in exclusive yacht cruises, Michelin-starred dining, and a captivating blend of glamour and romance that turns your wedding into an unforgettable movie-like experience.
NORTH AMERICA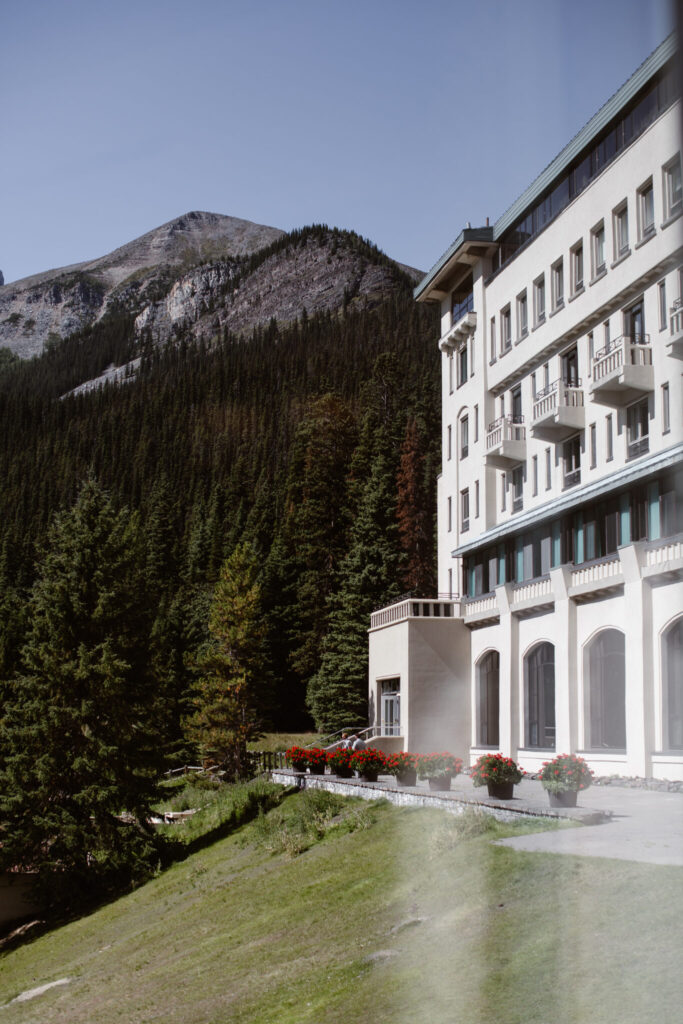 Aspen, Colorado: For adventurous souls, Aspen offers a unique blend of sophistication, natural beauty and outdoor activities. Nestled amidst the majestic peaks of the Rocky Mountains, this mountain retreat boasts world-class ski slopes, luxurious resorts, and a vibrant cultural scene, making it a luxurious wedding destination for refined couples seeking a distinctive wedding experience. Couples can exchange vows against a backdrop of snow-capped peaks, indulge in exquisite cuisine at upscale restaurants, and pamper themselves with lavish spa treatments.

Lake Louise, Alberta: Surrounded by towering snow-capped peaks and turquoise glacial waters, this iconic Canadian destination exudes romance and grandeur. Choose from elegant mountain lodges or luxury resorts with breathtaking views for your celebrations. Whether it's an intimate ceremony or a lavish affair, Lake Louise promises an unforgettable experience, immersing you and your guests in a world of refined elegance and enchantment.

Napa Valley, California: Napa is known for its world-class vineyards and breathtaking landscapes, offering a luxurious setting that captivates the senses. Say your "I do's" amidst lush vineyards, followed by a reception at a prestigious winery or lavish estate. With its exquisite wines and serene countryside, Napa creates an unforgettable backdrop for a wedding that exudes luxury and romance.