Lindsay McBurney & Rachael Seyler
Lindsay and Rachael had an ultra unique wedding and we are here for it. Read below to find out why Bugs Bunny was invited.
Tell us a bit about your love story: 
Rachael: Lindsay and I met at a mutual friend's show on November 18, 2018. I had left another party and decided to go to the show on a whim. Lindsay was wearing a ridiculous fur coat and I noticed her immediately. She was shy, quiet and nervous, so I made the first move. We ended up at Buddies, a local queer event space, and the rest is history!
Lindsay: I never thought I'd end up married one day. When Rachael fell into my life it was as if she was always meant to be by my side. She's my perfect match and I knew I wanted to spend my life with her.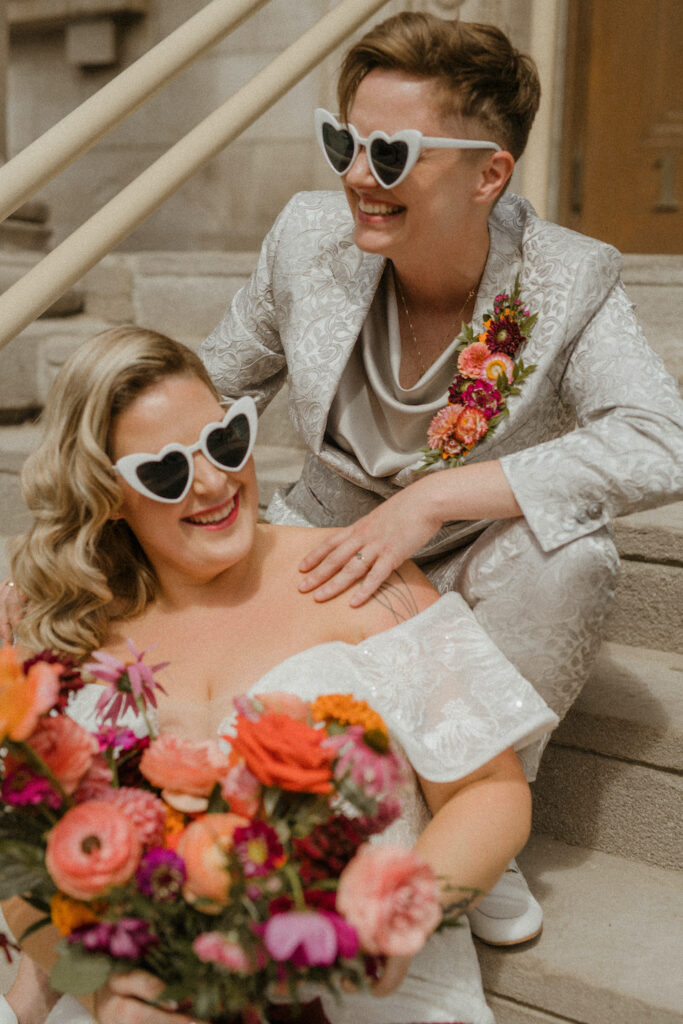 What was your favourite part of the wedding day? 
Lindsay:  My favourite part was getting to marry my best friend in front of all our family and friends. I also really enjoyed our one-on-one photography session prior to the ceremony with Matt and Jess from Whim & Willow. I got to shake some of my pre-wedding jitters and frolic around the city on an adventure with my soon to be wife. 
Rachael: My favourite part of the day was getting to share our love story with all of the important people in our lives, and celebrate with an all night dance party. We also had our dog at our first look and Whim and Willow got some amazing moments of our little family having the best day ever.
Favourite wedding detail?
Lindsay: Neon "Til Death" sign, miniature paintings my mother created for guest gifts, our Bugs Bunny acrylic box. When we first started dating we realized we both had an old bugs bunny stuffed toy that we both cherished from when we were kids, and could not believe the chance of that happening and wanted to share that kismet moment with our guests.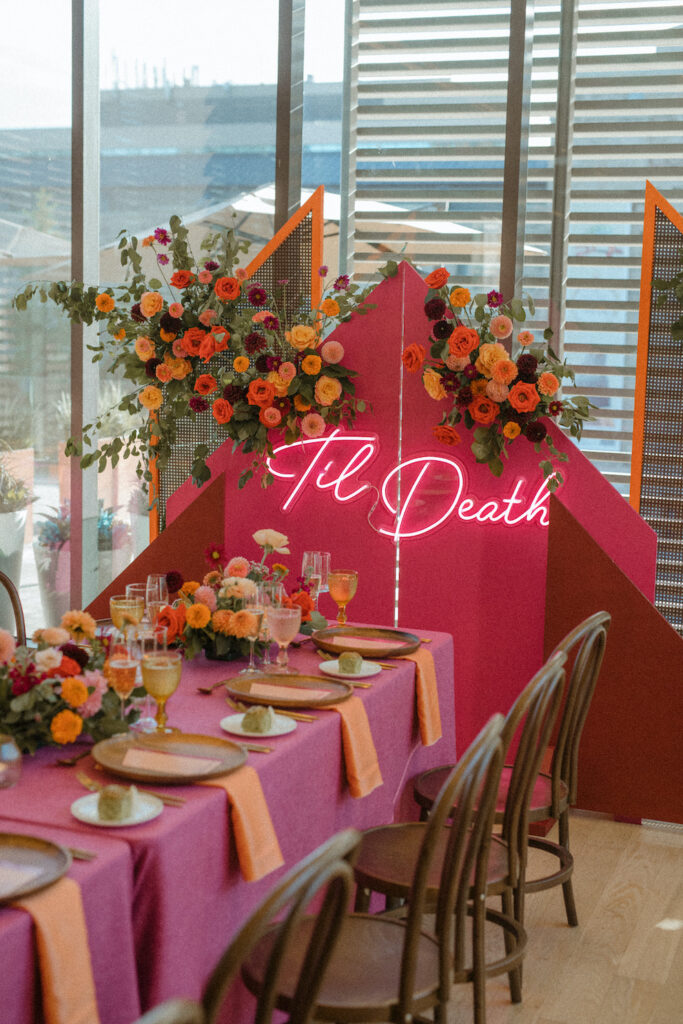 What will guests remember most?
Rachael: The non stop dance party. We asked our guest for a song request on our invitations and our DJ incorporated the list into the night's playlist. It resulted in a fantastic mix of genres that everyone seemed to get down to; these played during dinner and got people on the dance floor before the salad even hit the table!
Lindsay: Civil liberties bartending. We love cocktails and wanted to provide a special cocktail experience for our guests. There was no menu, so you tell them what flavour profile you like and they created a cocktail specifically to your preference.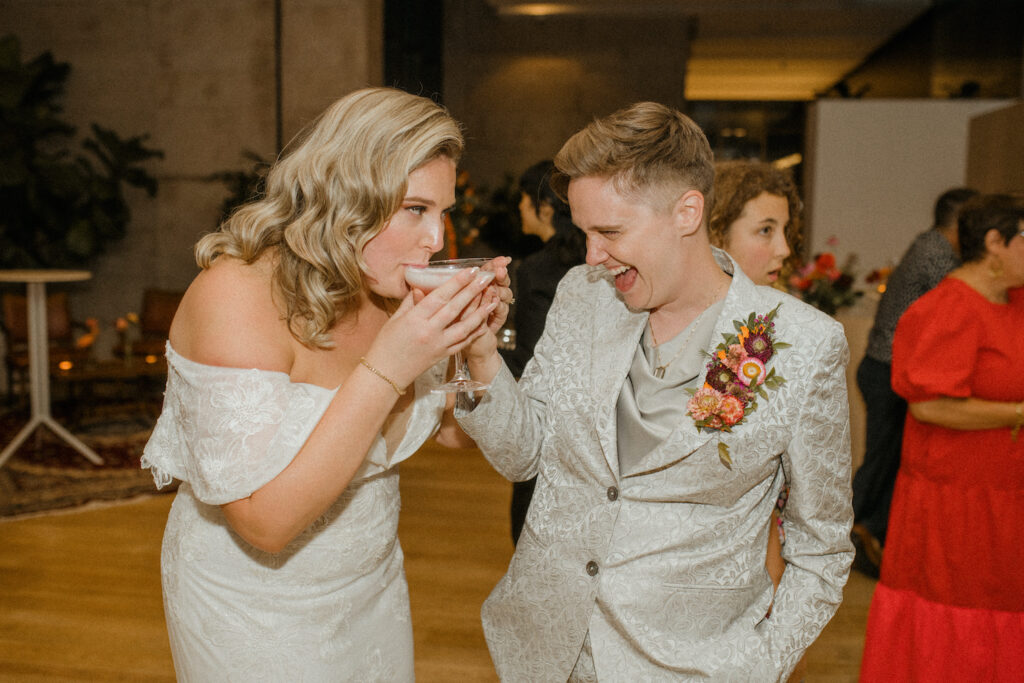 How did you show your personalities in the wedding?
We love miniature items, and have many. Mad Bash created a seating chart, featuring tiny shelves that held some of our favourite minis from our collection. We wanted bold colours, and a maximalist vibe and wanted this incorporated into the wedding. We had a ton of personal touches and made sure to make each detail have a bit of us in it.
What advice can you give to couples who are planning their wedding?
Take time to enjoy the process and think about what is most important to you. Take inspiration from other sources but make it you own so the day feels truly one of a kind. Rachael's friend gave us the best advice before the day and that was to spend time together at the reception so you have many opportunities to make shared memories,  this way the inside jokes and the special moments will be shared by both of you.
Number of guests: 70
Ceremony/reception venue: Gardiner Museum, Toronto
Planner: Jessica Wies from Mad Bash Group
Wedding photographer: Whim & Willow Photography
Wedding dress designer: Rachel Rose, Sash + Bustle
Suit designer: Natasha Espinoza, Gotstyle
Bridesmaids' dresses: Revelry
Décor: Mad Bash Group
Flowers: Deanna Balmer, The Wild Pansy
Cake: SanRemo Bakery
Stationery: Mad Bash Group signage; Invitations were designed by Lindsay
Hair/makeup: Milena Iaizzo (Make-up), Melodie Fralick (Make-up), Cat Morales (Hair)
Neon sign:  Fuse Neon
Catering: Food Dudes
DJ: Eric Ling
Bridal suite location: Hazelton Hotel
Bar: Civil Liberties
Read more from our Spring/Summer issue of Today's Bride.