How much time is needed for photography, anyway?
While there are big portions of the day that don't require a specific photography timeline (most photographers switch to a documentary approach for the reception, for example), there are definitely key moments throughout your day where having the appropriate amount of time set aside for your photographer can make for chill vibes and amazing images for you to look back on. Here's the breakdown.
Getting Ready 
1.5–2 hours
This gives time to take photos of your dress/suit and any other sentimental or just super rad details you've incorporated (think heirlooms, vows, fragrances, accessories, anything that you'll be carrying on your person). It gives photogs (and you) the opportunity for moments to naturally unfold, whether it's hanging out on the couch and poppin' champers with your fave people, or even if it's those quiet moments alone, breathing, taking it all in. Having that time and space in the morning is key if you love a documentary style to photography and appreciate having the realness captured.
This time also allows photographers the time to capture the moments when you put your gear on for the day in a calm and natural fashion. You should feel calm, comfortable and special while this is happening, not pressured to get the perfect shot. You will also want to have the opportunity to squeeze in any reveals and be present if you're sharing this experience with loved ones (Thanks for helping with the bow tie, Dad!). This is typically one of the last steps before you head out the door and oftentimes things might run behind, with everyone frantically rushing to get their stuff on – and those moments and up being rushed when documented. Make sure to plan ahead so your photographer has the time to find the best light and composition, and have those real moments emerge and documented.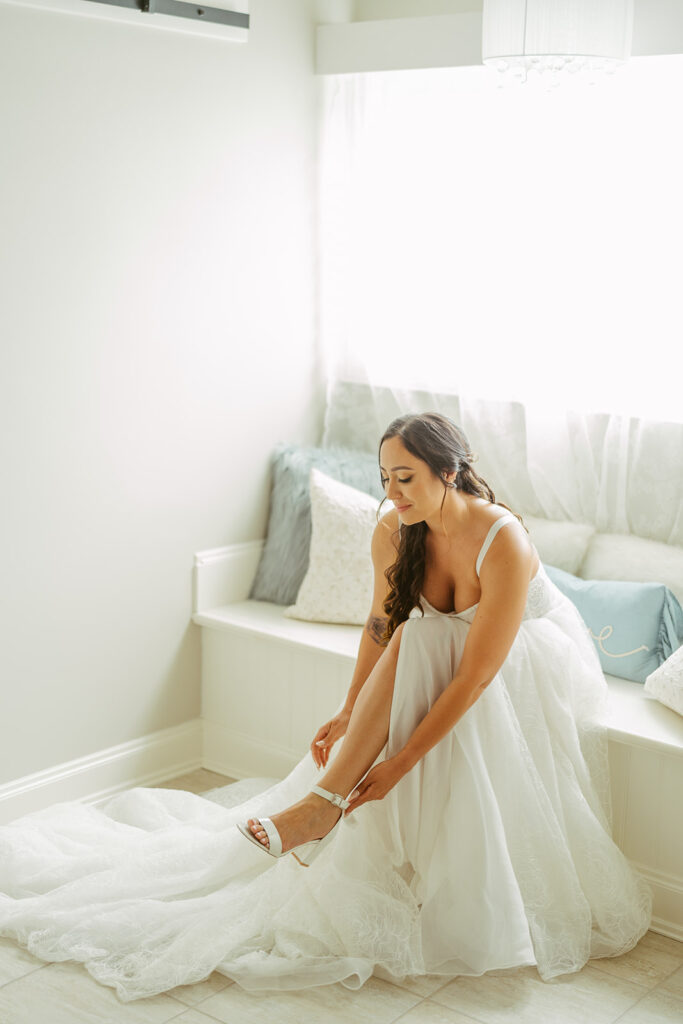 First Look
10–15 minutes   
Moments like a first look deserve space to breathe. You won't want anything on your timeline to feel like a checklist of things to get out of the way – it's about being present. So while the physical reveal might only take a split second, your photographer still needs time to get you to your respective spots, to hit play on "your song" and set the mood for ultimate eye leakage, to document the moment happening and time to step back so that you two have the space to embrace the moment, check each other out and sneak in all the hugs and kisses (while the camera clicks furiously from a distance)!
Couple session 
1 – 1.5 hours
You finally get to connect with and be alone with your partner! Woohoo! When couples hear that this session should be over an hour long, they'll often comment that it seems like a long time! But when the day comes, and it's a wrap on their couple session, they realize how quickly the time flew by (seriously, where does the time go?!). Here's why 1-1.5 hours is a great amount of time to set aside for your couples sesh:
As professionals, photographers don't want to send you off with just a handful of photos that resemble prom. It's important for your photographer to have the time to cultivate and create natural moments as well as time to get you comfy with some posing that makes you look super cool & showcases your beautiful energy.
A lot of the magic happens in the in-between moments, and that's where prompts and a relaxed vibe comes into play.
It can take couples (and even photographers) 10 to 15 minutes to warm up to the camera or get into a creative groove!
Wedding Party Photos  
45 minutes – 1 hour   
If your photographer knows what's what, they won't want you to have boring, generic, copy/paste photos of you and your ride or dies. Make it a party! Have space to get creative when you're with your crew so that you have a more dynamic gallery and a fun experience hanging out with your besties. Setting aside 45 minutes to 1 hour really allows for that balance, and gives photographers the time to get all those traditional group shots as well. Another thing to keep in mind: wrangling large groups of people together for photos and getting everyone on the same page can eat up some time, too.
Family Photos
15–30 minutes
In most cases, to be efficient, photographers will call family members in and out of shots. Make sure your family members know ahead of time that they will be required for photos so they don't go running off to cocktail hour.
These photos can feel a lot more formal, but don't refrain from being yourselves when you're with your fam jam. Ultimately, these are your photos, so if it feels right, go in for that extra hug with mom, or get close and relax for those large group shots. Always do you!
HOT TIP: Set aside 30 minutes before your ceremony. This gives your photographer the opportunity to take care of detail shots (flowers, décor, etc.), document guests arriving and plan out where they'll be standing when you finally strut down that aisle and exchange those vows!
By Jessica Salemme, Whim and Willow Photography