Ezra McCaveney & Simon Beeksma 
Tell us a bit about your love story:
We met at church one Sunday morning, my best friend casually introduced us. And little did we both know, a five-minute conversation would turn into our love story. Funny enough, Simon knew at that moment that there was something about me, something that captured his attention. Whereas I grew to know him, over the countless hours we would spend volunteering and in conversation together. I began to fall for him, and it was all over. We became best friends over the span of three months and under two years later were married. When you know, you know. And we knew.
What was your favourite part of the day? 
Our favourite part of the day was our first time glancing at each other as I walked down the aisle. It was as if time had stopped, and nothing else mattered but looking into each other's eyes. It was a moment we will never forget. 
Favourite wedding detail (décor)?
We did most of our decor DIY as we wanted to be as sustainable as possible. We wanted to simply accent the venues we were using. But ultimately our favourite aspect of our wedding decor was nature itself. Where we had planned our ceremony, was outside behind a wall of trees, rocks, moss, etc. The natural backdrop of the ceremony was stunning and all our decor accented the natural colour notes already present.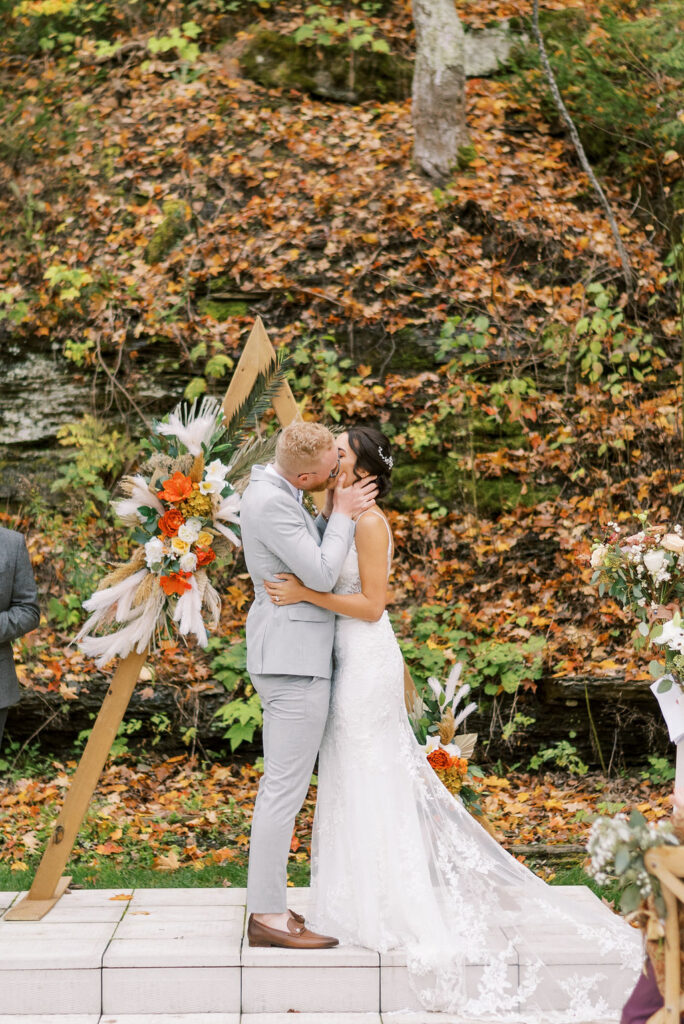 What will guests remember most?
Guests will likely remember our custom vows the most. We had many moments of laughter and triumph, yet we decided to share our hearts raw and real. There was not one dry eye in the crowd. Or the pizza from dinner.
How did you show your personalities in the wedding?
We LOVE pizza and decided to do an unconventional wood-fired pizza dinner for our guests. Each guest got to select their own custom pizza. Casual, but so much fun! We booked a pizza shop and turned it into an intimate and fun way to celebrate together. It challenged the norms of a wedding reception while making the night us. No dry chicken here!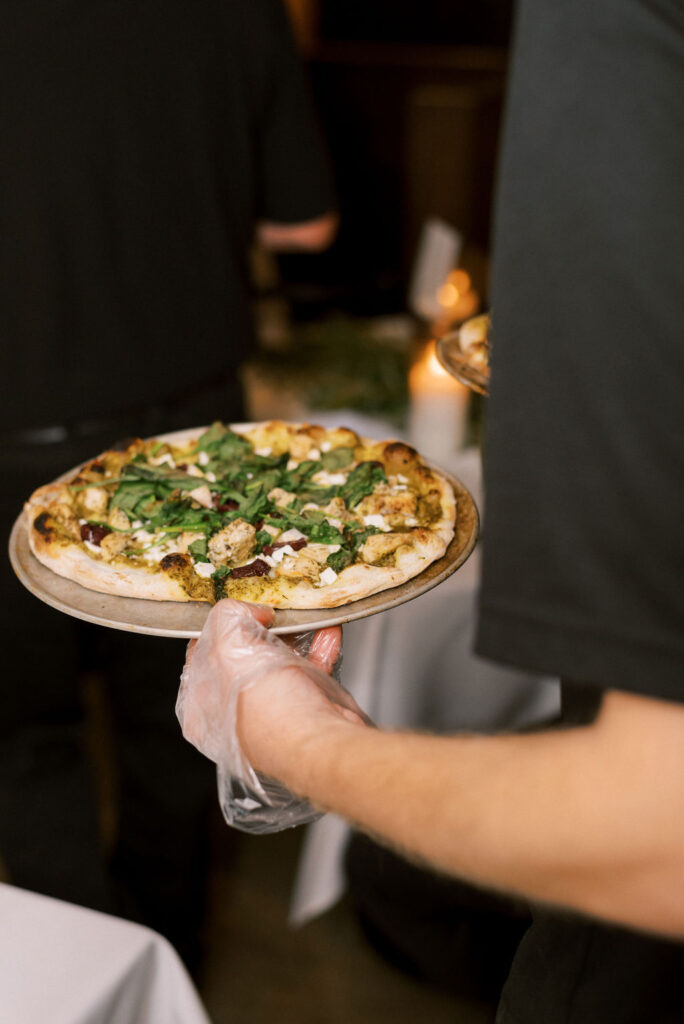 What advice can you give to couples who are planning their wedding?
Plan your wedding according to what you and your partner want. Don't feel pressured to do what your friends/family want. It is your day and you deserve to enjoy it. And at the end of the day, you won't remember if the whole thing was completely in order or perfect. All that matters is you are with your partner. Focus on that.
Honeymoon?
After our wedding day, we departed for a COVID version of Europe, going to Quebec City. Staying in a glass cabin on the top of a mountain, booked through Airbnb, was an amazing way to explore, relax and settle into our new marriage.
Number of guests: 50
Ceremony: Cumberland Belle,  Cumberland, Ont.
Reception: Fiazza Fresh Fired, Ottawa
Planner: Lorena Cruz
Photographer: Elysha Russell
Dress designer: Stella York, Hannamars Bridal
Suit designer: TipTop Tailors
Bridesmaids' dresses: Davids Bridal
Flowers: Wear Pollen Nation
Triangle arch: The Craft Lady
Hair: Studio Five Twenty One
Makeup: May (Instagram: zawoomua)
See more real weddings here!