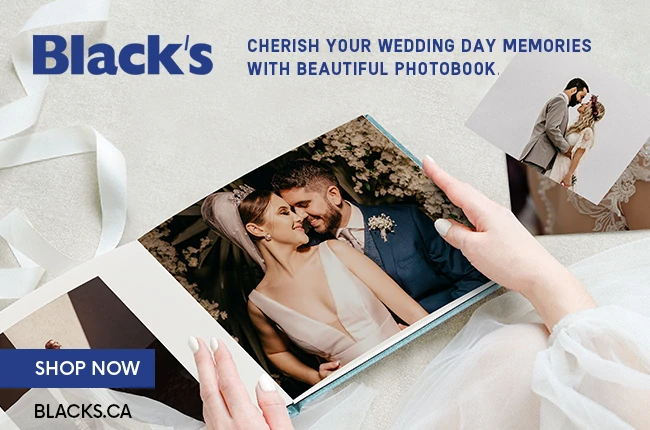 Congratulations on your special day! Reliving those beautiful wedding moments is priceless, and we've got just the thing to help you preserve them forever – a stunning wedding album! At Blacks, we know how important this keepsake is, so we're here to walk you through creating your own custom wedding album.
Step 1 – Curating your Photos
As you begin, the first step is to select photos.
Your wedding album is more than just gathered photos; it should unfold like a story. Organize everything chronologically to naturally progress throughout the day, but don't be afraid to play with the sequence for emotional impact.
Start by reliving your wedding day in your mind. What stands out? What emotions do you want to capture? Whether it's teary-eyed vows, joyous dancing, or quiet moments of reflection, your album should reflect the day.
The Art of Selection
Less can be more. While you may have numerous photos, a curated collection allows each image to be significant. Aim for an album that showcases key moments without overwhelming the viewer. (You can always create secondary photobooks to highlight specific aspects of your special day!).

---

Honor the Details
Those little details that made your day special – intricate lace on your dress, table settings, floral arrangements – they add depth and atmosphere to your album.

---

Include Candid Moments
Some of the most genuine and emotional shots are often candid – laughter, tears, stolen glances. These images capture the day's essence.

---

Seek a Second Opinion
A fresh perspective can be invaluable when you're trying to pick photos. Ask a trusted friend or family member for their input.

---

Consider Format and Layout
Emotions drive the narrative but you also want to incorporate technical aspects. A mix of close-ups, candid shots, and wider angles creates a well-rounded visual experience. Also, consider the lighting – well-lit images tend to translate beautifully onto print.
At the end of the day, trust your gut feeling. If an image stirs emotions or memories, it's a strong candidate.
Step 2 – Choosing the Perfect Wedding Album
Crafting Your Love Story on the Perfect Canvas
Ready to showcase your unique love story? It all starts with the perfect canvas that reflects your style and personality. From classic leather-bound albums to modern lay-flat designs, our options match your taste and style, making this album truly yours. Lay-flat photobooks tend to be more popular, but you can't go wrong with a timeless classic album. Passionate about the environment? We have something for you too—consider our eco-friendly photobook. Shop Blacks photobooks today.
Step 3 – Designing the Layout
Piecing Together Your Magical Memories
Now's the time to create a narrative that takes you back to those beautiful moments – from getting ready and having butterflies in your stomach to dancing the night away. With the right preparation, this part should be seamless. Don't worry, our easy-to-use tools will help you effortlessly arrange your photos into a cherished keepsake.
Step 4 – Personalization and Customization
Making Your Album Uniquely Yours
Your wedding album, like your love story, should be one-of-a-kind! Add that personal touch with your names, wedding date, and heartfelt messages. Customize your cover, play with fonts, and pick colors that you adore (or match your wedding colors)– it's all about capturing your love on those pages.
Step 5 – Choosing the Right Paper and Print Quality
Timeless Elegance That Lasts
Your wedding album should stand the test of time, just like your love. That's why we only use top-notch materials for printing at Blacks. Make sure your photobook printer offers premium paper options, guaranteeing every photo's elegance and capturing the emotions behind your unforgettable day.
Step 6 – Adding Special Touches
Let Your Love Shine Through Every Page
Go the extra mile to make your wedding album truly enchanting – pour your heart out with expressive captions. Don't forget to include embellishments like borders, backgrounds, and clip art to add extra sparkle!
Because the thing is, it's not just about photos. It's capturing all your memories so you can carry them with you through time. At Blacks, we're excited to be part of your journey to craft something truly extraordinary, something you can look back on in the years ahead.