Wedding photography has come a long way from traditional posed shots to more candid and creative styles that capture the essence of the couple and their big day. With new technology and changing social trends, wedding photography trends are constantly evolving. 
To help you stay up to date on what's new and exciting in the world of wedding photography, we're exploring some of our favourite trends, from incorporating unique settings and lighting, to capturing emotional and candid moments that truly reflect the couple's love story. If you're looking for inspiration, this post will provide plenty of ideas for capturing those unforgettable moments on your special day.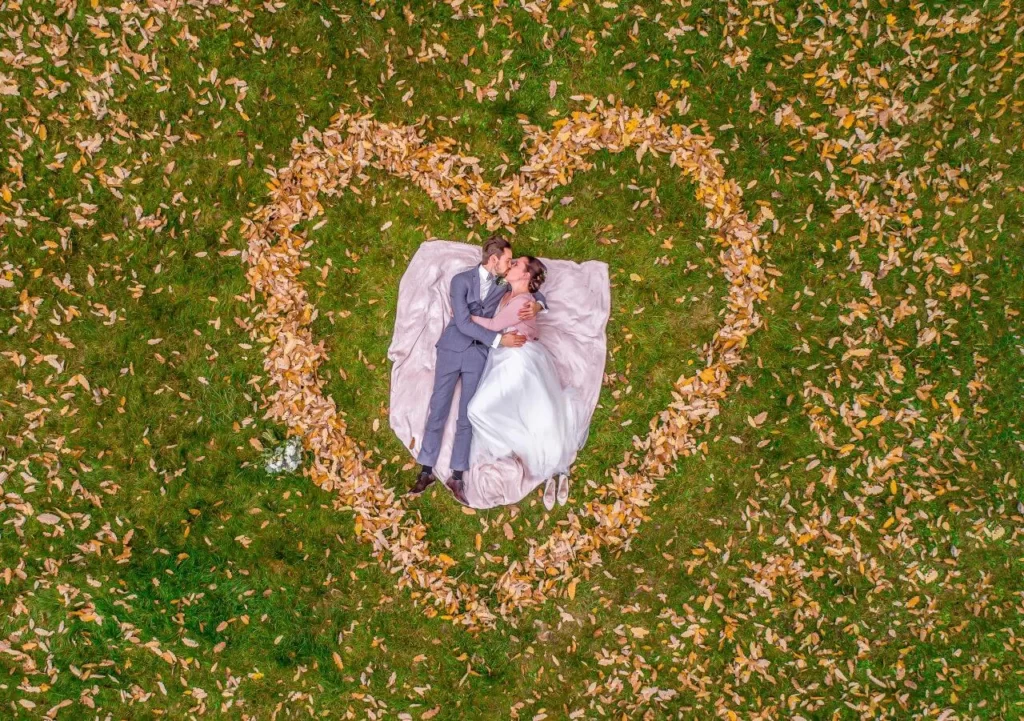 Drone wedding photography
Drone photography is becoming increasingly popular in the world of weddings, and for good reason. They allow photographers to capture unique and breathtaking aerial shots for you. These include photos that have otherwise been impossible to achieve in the past, such as an overhead view of the wedding venue and surrounding landscape; it's an incredible way to provide a new perspective and dimension to the photos and wedding album. 
With advancements in technology, drones are now more accessible and easier to use than ever before, allowing your photographer to achieve stunning results. For example, popular drone shots at weddings can include overhead pictures of the ceremony or reception, aerial views of the wedding party and guests, and sweeping shots of the venue or natural surroundings. 
Drone photography adds a touch of modernity and adventure to your wedding photography, making it a trend that will likely continue for years.
Hot trend alert: Blurred wedding photos
Hard to believe that anyone would want blurred wedding photos, right? But this trend has taken off, and we must say it's pretty cool. 
This technique involves having your wedding photographer intentionally blur parts of the image to create a dreamy and romantic effect. This technique can be used to add a sense of movement and energy to your photos, making them more dynamic and visually attractive. 
This trend is ideal for couple who want to elevate their wedding album with a mix of unique images.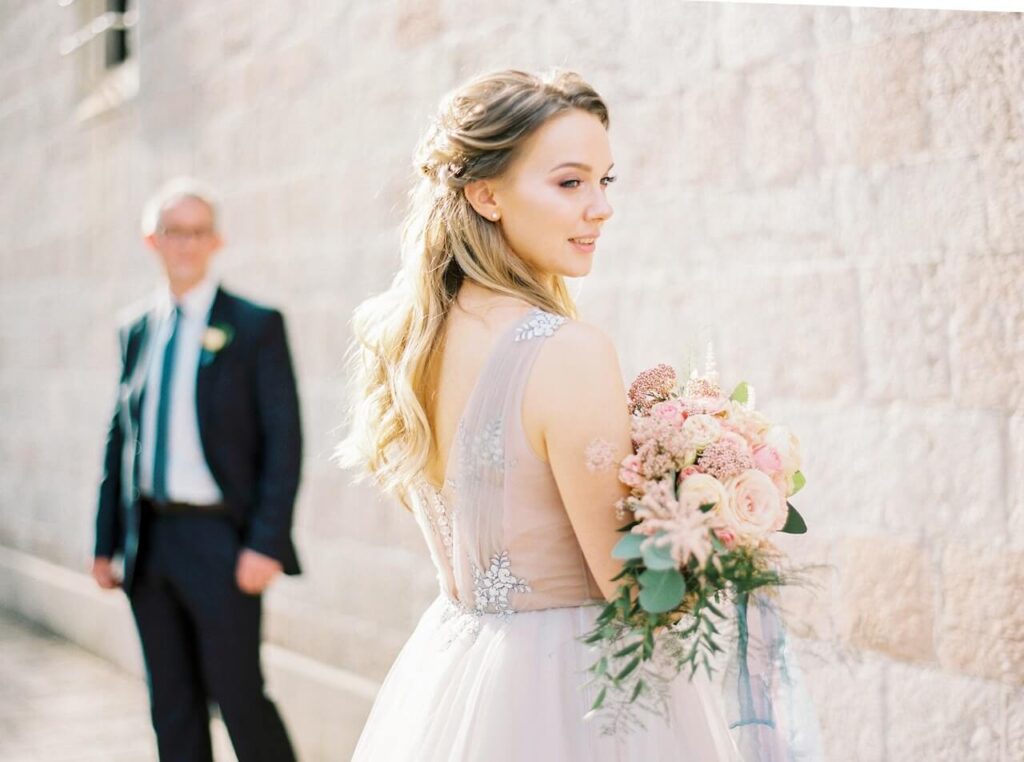 Get to the heart of it all: Emotive portraits
Are you looking for ways to capture those special, emotion-filled moments on your wedding day? Emotive portraits get to the heart of who you are as a couple and why you love each other so much. The shots should be romantic and intimate, true works of art that will hang in your home for years to come.
To make it happen, enlist the help of a wedding photographer well-versed in shooting this kind of portrait. They'll know how to capture all those intimate, emotional moments, like the first time your eyes meet or when you sharing your vows.
The poses can range from traditional (a classic embrace with light streaming through a window) to more creative shots like an underwater photo. A good photographer will be able to help create gorgeous images that go beyond the ordinary and capture your raw emotion in tangible form.
Wedding photography: Classic black and white with a modern twist 
Opting for black-and-white wedding photography is an exquisite choice that adds a touch of elegance and sophistication to your wedding album. These monochromatic images have a magical quality that transcends time, capturing your special day's raw emotions, intimate moments, and intricate details with a sense of artistry and grace.
By removing the distraction of colour, black and white photos allow the true essence of each moment to shine through, emphasizing genuine emotions and creating a sense of nostalgia. They bring a timeless quality to your memories, ensuring that they remain as captivating and cherished as the day they were captured.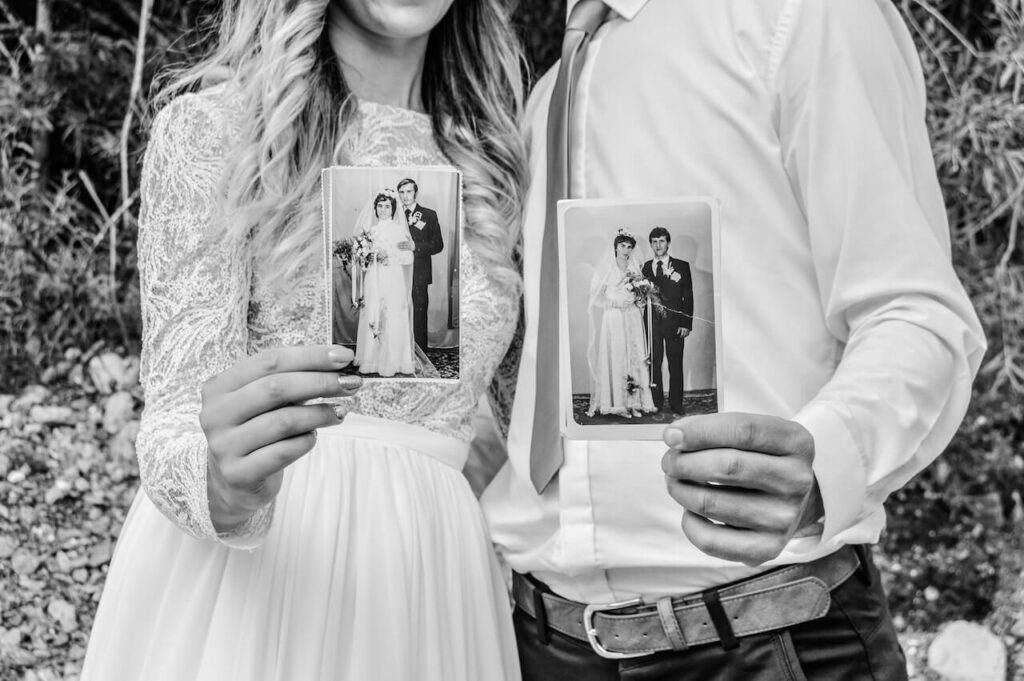 Photography at weddings: Capturing movement and momentum in slow motion 
One of the most popular trends in wedding photography today is to capture slow motion. Slow-mo photography has become increasingly popular in recent years, and it's a great way to show off the energy and emotion of your day.
Incorporating slow-motion shots into your wedding photos can create images you'll never forget. With slow-motion photography, photographers use high-speed cameras to capture movement and momentum from special moments like your first kiss as a married couple or performing a choreographed dance with your bridal party.
Fun at the reception: Photo booths and props for memorable wedding photos
Your wedding reception is all about letting your guests have fun and join in the celebration. Photo booths and props are a great way to keep the party going and capture some memorable moments.
If you're looking for unique ways to create lasting memories at your wedding, consider incorporating a photo booth with fun props. From mustaches and hats to feather boas and glasses, you can choose props that genuinely reflect the personalities of you and your guests. Not only will they provide hours of fun, but they'll also generate some hilarious photos that you can keep forever.
For an extra special touch, consider customizing your photo booth props with signs that say things like "just married" or "happily ever after," or have the photos branded with your wedding logo or monogram.
And remember to include hashtag ideas on the signs! That way, you can effortlessly search through social media later on to see all the hilarious photos from your booth — it's the perfect way to look back on the night in years to come.