The past two years has maybe changed your entire perspective on weddings and the direction of planning your own wedding, but don't fret because a small intimate elopement even in your home town may be just what your heart desires after the crazy two years that you have survived.
In this styled elopement shoot, we wanted to dive into the hearts of a couple who envision their wedding as intimate and personal as possible, and the small town of Chatham, Ont. has the perfect nostalgia to do so. Subtle hues of lavender and toffee pop through creams and nudes in the florals with a mix of fresh and dried blooms. Flora & Forage put her unique touch on the bouquet. The ceremony piece and tablescape that was provided by To Suit Your Fancy, Chatham, made sure the details were easy to capture and captivating in a modern bohemian studio at The Studio Sisters.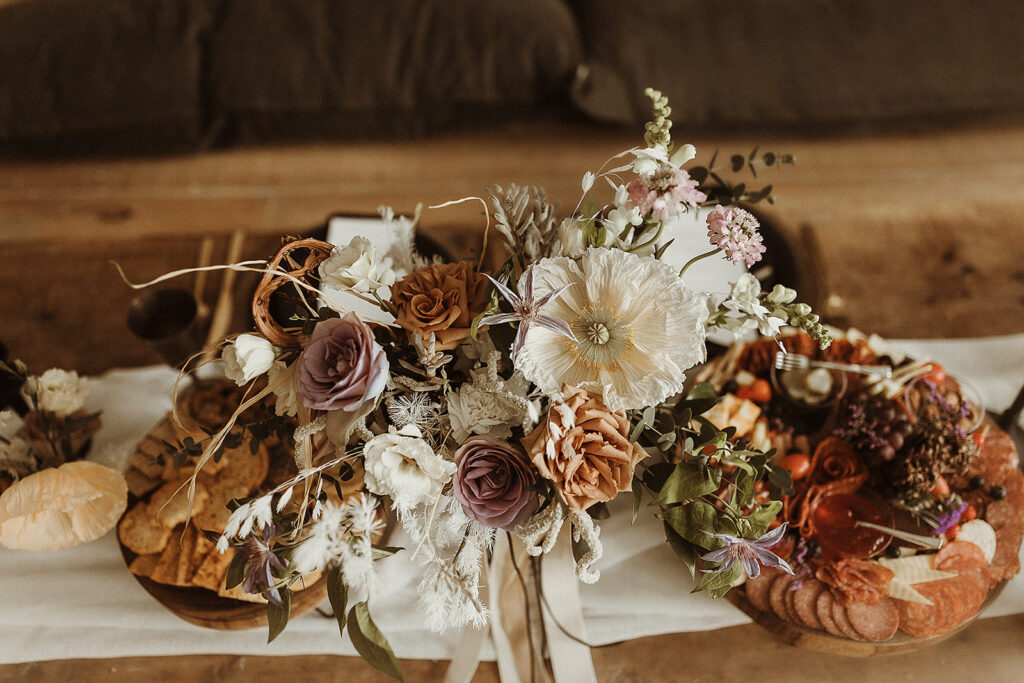 The bride's makeup was beautifully crafted by Dani Lynn Artistry and to add to the carefree aspect of an elopement paired with the perfect light curl by Jenn and Co Beauty Bar. She is wearing a dress by Private Collection (sleeves by Casablanca Bridal) from His or Her Bridal and it is the perfect touch of bohemian whimsy to make you feel like you're in Arizona, not southern Ontario. Toss on a Jean jacket from Something Blue Denim co and you're transported to the back of a motorcycle travelling on the highway. Her earrings are provided by Ashton Lane Bridal and add elegance while catering to your more sensitive skin types. Her ring compliments the earrings as the light dances in the diamonds from Shop Venvs beautifully displayed in The Little Rock Box to keep that diamond safe. You know she'll be dancing into the night in the boots provided by Shop Prem.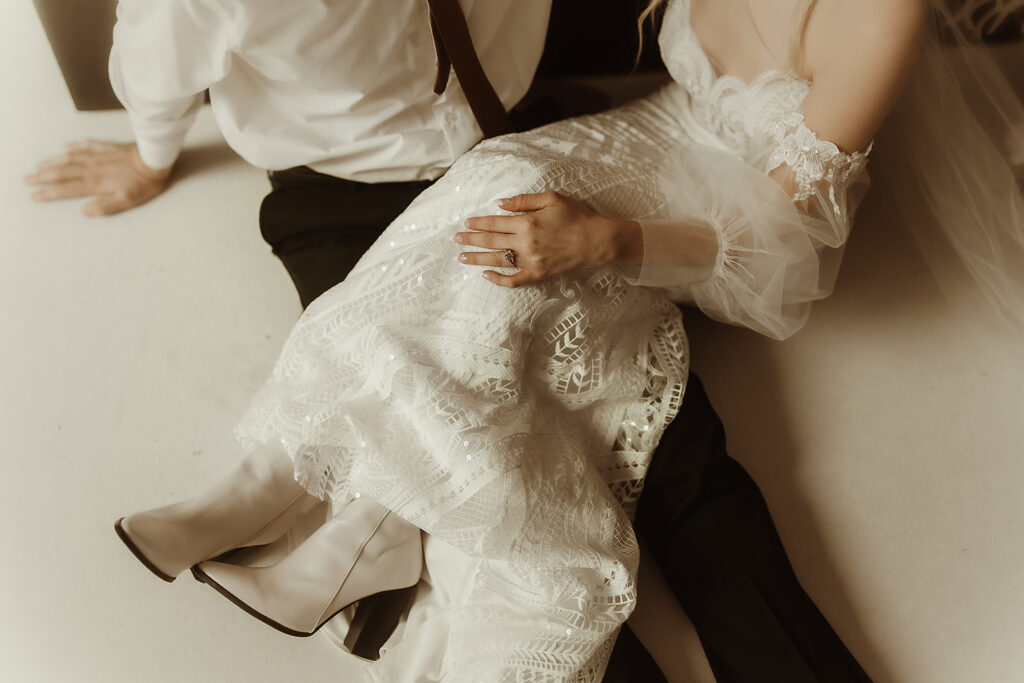 You don't have to follow the grain with the elopement tradition of leaving the country and saying "I do". Perhaps saying "I do" even in your small town could look more enticing than you may think. Especially if travelling is out of the question, or the thought of all of the travel restrictions has made your planning process daunting.
Want to ditch the tradition, you know the reception head table and all of the wedding fluff? Instead cozy up with a bohemian floor picnic like the one provided by Charcuterie On The Go.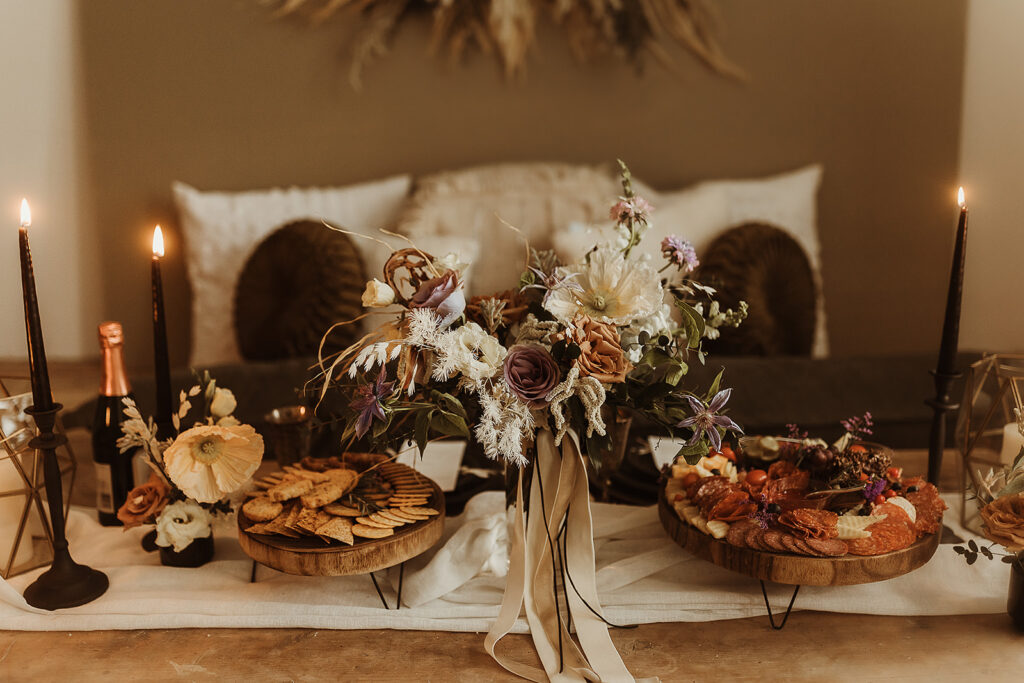 This modern, urban, bohemian, romantic and whimsical elopement checks all of the boxes In the heart of a 45,000 populated town it will surely make you think twice about travelling abroad to get the look you crave.
With over 23 local vendors creating and perfecting their own art for this elopement shoot giving it their all, its safe to say that you can indeed plan an elopement in your own small town and it can be beautifully captivating.
We want to take you on this journey, perhaps the one your heart longs for, when you romanticize your elopement day.
Come along this visual story, from the location, modern bohemian stationary by Wild Muse Weddings and all of the details to see what your home town, urban studio elopement could look like.
–Nicole Ostropolec, Nicole Leigh Photography
Host & planner, photography: Nicole Leigh Photography
Studio: The Studio Sisters
Engagement ring: Shop Venvs
Tablescape décor: To Suit Your Fancy
Florals: Flora + Forage
Stationery: Wild Muse Weddings
Models: Kaylie Crawford & Marshall Fritsch
Bridal boutique: His and Hers Bridal 
Wedding gown: Private Collection (sleeves by Casablanca Bridal)
Bride's jean jacket: Something Blue Denim Co.
Velvet ring box: The Little Rock Box
Earrings: Ashton Lane Bridal 
Serpent earrings: Bluboho Jewlery 
White boots & fedora: Shop Prem
Hair: Jenn and Co Beauty Bar
Makeup: Dani Lynn Artistry
Charcuterie boards: Charcuterie on the go 
Nails: Annie Penner The Nail Place 
Groom's tie: H&M 
Groom's pants: Denver Hayes
Groom's shirt: Soul of London from Freeds
Grooms shoes: Florsheim Shoes
Groom's jean jacket: Levis
Grooms tattoos: Dean Sleiman
Vow books: Michaels
Have you read our Reception Planning Guide yet? Check it out!