Are you dreaming of a Canadian wedding? With its majestic landscapes, vibrant culinary scene, diverse cultures and warm and friendly people, Canada makes for an incredible backdrop to your big day, whether you've grown up here, live here or just simply love all things 'Canadiana.'
From the majestic Rocky Mountains to charming coastal towns and cosmopolitan cities, Canada offers a range of stunning wedding venues. But we know that with so many options and details to consider, planning a Canadian wedding can also be overwhelming.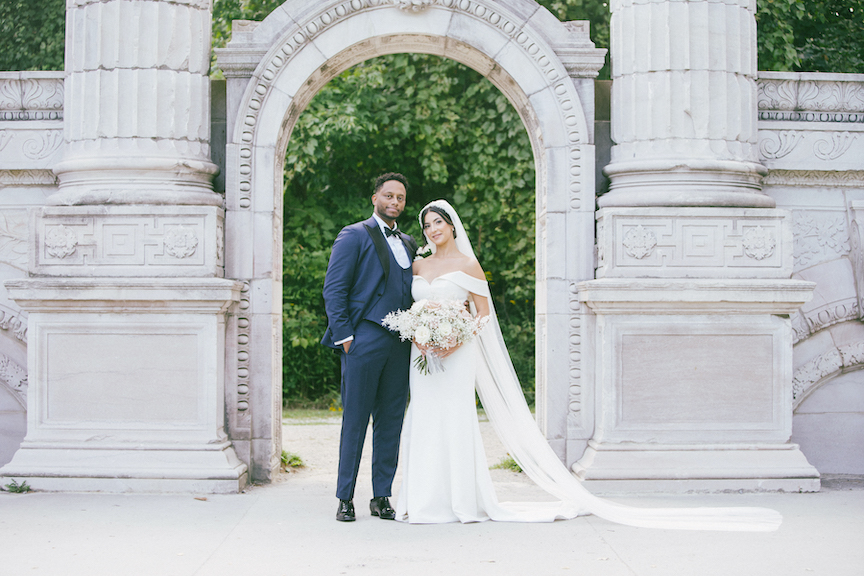 We want to help make your dream wedding in Canada a reality! This guide is full of helpful tips to help you plan a wedding in true Canadian style. 
Say 'I Do' to organization: Create a wedding planning checklist
A Wedding Planning Checklist is an essential tool for anyone getting married. A Wedding Planning Checklist is like having a personal assistant to keep you on track and organized. It's a lifesaver during the planning process, helping to reduce stress and anxiety by breaking everything down into manageable steps. 
With your trusty checklist by your side, you can easily track what needs to be done and measure your progress along the way. No more feeling overwhelmed or forgetting important details! This will help you stay on top of deadlines and ensure that nothing gets overlooked on your big day.
Canadian wedding venues to wow your guests
Choosing a venue is part of the fun of planning a wedding. And when planning a Canadian wedding, there is no shortage of breathtaking and awe-inspiring venues to choose from. From wilderness settings to modern and luxury venues to rustic barns and historic locations, Canada has it all. 
Local, provincial and national parks
Canada is known for its wide open spaces and beautiful landscapes, including 38 national parks and 10 national park reserves. Saying 'I do' amid lush greenery, rocky outcrops and serene lakes will make for awe-inspiring wedding photos, with Mother Nature herself setting the stage for love. Although there's no formal approval process or permission required to host a wedding in a public park, there may be different rules in place for each one. Capacities will vary, permits may be required, and seasonal dates may be enforced, so make sure to check the Parks Canada website for details. 
Powerful waterfalls
Nothing could be more scenic than hosting a wedding near a waterfall. Not only would a waterfall make for excellent wedding photos, it would provide plenty of drama and grandeur to your wedding ceremony or reception. Homesite Creek Falls and Chatterbox Falls in British Columbia and Bridal Veil Falls near the town of Kagawong on Lake Huron's Manitoulin Island in Ontario are three awe-inspiring wedding venues to consider.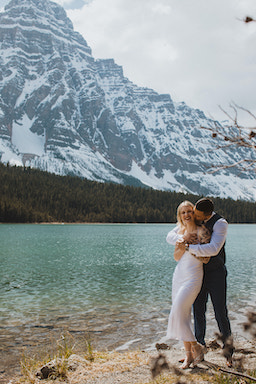 Lakefront weddings
Canada is home to 14% of the world's lakes, so there are plenty of beautiful lakefront locations for a wedding.  Forest & Stream in Dorval, Quebec, for example, provides stunning views of Lake St. Louis, while the iconic Fairmont Chateau Lake Louise in Alberta is incomparable for its jaw-dropping glacier setting. 
Historic wedding venues
For an over-the-top fairytale wedding, why not say 'I do' at a historic castle? Canada is filled with majestic castles that serve a variety of functions today, from courthouses to hotels. Grandiose hotel castles include Château Frontenac in Quebec City and Fairmont Empress in Victoria, both of which will make any bride feel like a true princess on her wedding day.
But there are also many other types of historic wedding venues in Canada, from rustic ranches to an enchanting 1884 church, manor houses and more. Here are just a few historic wedding venues in Canada: 
Fort Chambly National Historic Site

in the Montérégie region

Casa Loma

in Toronto

Bar U Ranch National Historic Site

in the foothills of southern Alberta

Manoir-Papineau National Historic Site

in Quebec

Batoche National Historic Site

in Saskatchewan
Urban industrial wedding
For a unique and modern wedding venue, consider an urban industrial space. Canada has plenty of converted warehouses, factories, and lofts that offer a chic industrial atmosphere for a wedding celebration. Try The Wedding Space @ Studio V in Toronto's Junction neighbourhood for an intimate wedding, or the Prince Edward Island Brewing Co. in Charlottetown, home to 25-foot ceilings and exposed brick backdrops.
The Rocky Mountaineer Station
There are few travel experiences in Canada that are more iconic than the Rocky Mountaineer. The Canadian rail tour company has been offering luxury rail journeys through the Canadian Rockies for over 30 years. But did you know it also offers a unique wedding venue – the Rocky Mountaineer Station – in Vancouver? This classic building remodelled for use as the Rocky Mountaineer Train Station, will wow your guests with its 35-foot vaulted ceilings. And if your budget allows, taking your guests onboard the Rocky Mountaineer for a post-wedding rail journey would be a quintessential Canadian experience that you'll remember forever. 
Managing your wedding budget: Tips for success
One of the biggest challenges while wedding planning is managing your budget. The expenses can add up quickly, from venue rentals to catering costs, leaving you stressed and overwhelmed. However, with careful planning and a few helpful tools, you can successfully manage your wedding budget and create the Canadian wedding of your dreams.
Set your budget
Before your wedding plan consumes you, it's important to establish your budget and who will contribute to the wedding fund. Consider all your expenses, including venue rental, catering, photography, entertainment, flowers, and transportation. Be sure to also account for unexpected expenses that may arise.
Prioritize your spending
Now that you've set your wedding budget, it's time to start thinking about what's really important to you on your big day. What are the things that will make your Canadian wedding feel like it's truly "yours"? Maybe you've envisioned a rustic barn by a lake for your venue or serving farm-to-table cuisine and a midnight poutine bar, or perhaps you have your heart set on a winter wedding with cozy Canadian decor. 
For example, if you're a foodie, allocate more of your budget towards catering. If music is your passion, save a few extra bucks for entertainment. By prioritizing your spending, you can ensure that your budget is used more meaningfully and efficiently.
Negotiate with vendors
It's totally okay to negotiate with your vendors to get the best deal possible. In fact, many vendors are happy to work with you to create a customized package that meets your needs and budget. Don't be afraid to ask about any discounts or promotions that may be available – every bit of savings helps!
Selecting your dream team: Find the right vendors for your Canadian wedding.
Your wedding vendors are the backbone of your special day. They are responsible for making your vision come to life, so finding the right team for your Canadian wedding is essential. Here are some tips for finding and selecting the right vendors for your big day. And don't forget to use your wedding planning checklist – it will help you remember when to book each vendor. 
Start early

Do your research

Set up consultations

Consider your budget

Review contracts carefully

Communicate clearly
Crafting your wedding theme: Tips and inspiration
Choosing a theme is one of the most fun and exciting parts of planning a wedding. This is the perfect opportunity for couples to express their unique personalities and style and make their wedding day truly theirs. 
The theme sets the tone for the event, from the invitations to the decor and attire. To choose the perfect wedding theme, start by considering your interests, cultural background, and shared experiences as a couple. Then, think about what colours, textures, and patterns you're drawn to and what overall vibe you want your wedding to have.
Anything goes for a Canadian wedding, including themes like Winter, Cottage Country, East Coast Charm, The Rockies, and The Great Outdoors. For the couple who's into sports, what about a hockey-themed wedding complete with hockey jerseys for the bridal party, or for the foodie-focused couple, serve a menu featuring all-Canadian classics and ingredients like poutine and butter tarts. Just have fun with it and pick a theme that means something to you.
The perfect wedding day fashion
Shopping for and deciding on wedding fashion is a significant part of wedding planning for couples. Finding the perfect wedding dress or pantsuit is often the focus for brides. It's important to start shopping early and set a budget. Consider your style, body type, and the overall theme of your wedding when choosing a dress. Remember to also think about accessories such as shoes, jewelry, and a veil.
For grooms, the options for wedding fashion include suits, tuxedos, and less formal options like dress shirts and pants. Consider the formality of your wedding, the style and colour of the bridesmaid dresses, and your style when choosing your wedding attire. Remember to also consider accessories such as shoes, ties, and cufflinks. 
If you want to infuse a bit of 'Canadiana' to your wedding by way of fashion, consider little touches like red socks for the groomsmen, red heels for the bride, delicate maple leaf pins and pendants, or plaid pocket squares and wedding boutique ribbons to tie in a Cottage Country vibe.
Crafting your wedding menu: From poutine to Pacific salmon
From classic comfort foods like poutine to elegant dishes like Pacific salmon, there are endless options when it comes to your Canadian wedding menu. The key is to balance indulgent treats and crowd-pleasing favourites while considering your guests' dietary restrictions. 
Deciding on a wedding menu is also an opportunity for the wedding couple to have a bit of fun and make choices that reflect their personality. Born on the east coast? Why not serve Nova Scotian lobster rolls? Really into breakfast? Roll out a midnight breakfast buffet with peameal bacon and authentic Canadian maple syrup. 
Or hire a food truck to dish out other Canadian classics like bannock, Montreal-style bagels or the oh-so-controversial Hawaiian Pizza. The options are endless and delicious, whether you opt for a formal sit-down dinner or a more casual buffet-style spread.