Sara Allan & Mo Nasar
Tell us a bit about your love story:
At first, we started as friends who've met online and wanted to take it slow, but it soon became clear that we were meant to be so much more than that. We realized that our worlds collided with a stroke of luck for a reason and decided a change of pace is exactly what we needed. We quickly got to a place where we could fully be ourselves together and found that we actually balance each other out in all the right ways.
Our first, undeniable spark turned into a unique and precious bond that only life-long partners have. We're so thankful that we found each other, and that we'll get to spend our future together. You can read more about our story in our own words on our website.
What was your favourite part of the day?
I can't choose between our first look or the reception hall private reveal. But seeing Mo just after getting ready at the hotel looking fresh and handsome brought out a lot of emotions in me. It was the moment I realized he's my husband now and I will get to spend the rest of my life with my best friend. It was private, it was glamorous, it was indescribable.
Favourite wedding detail?
The dazzling starry reception hall; dimmed lights, candles everywhere, our head table and backdrop. My favourite part has to be all the celestial details on the invitations, the seating charts/ table numbers, and our head table.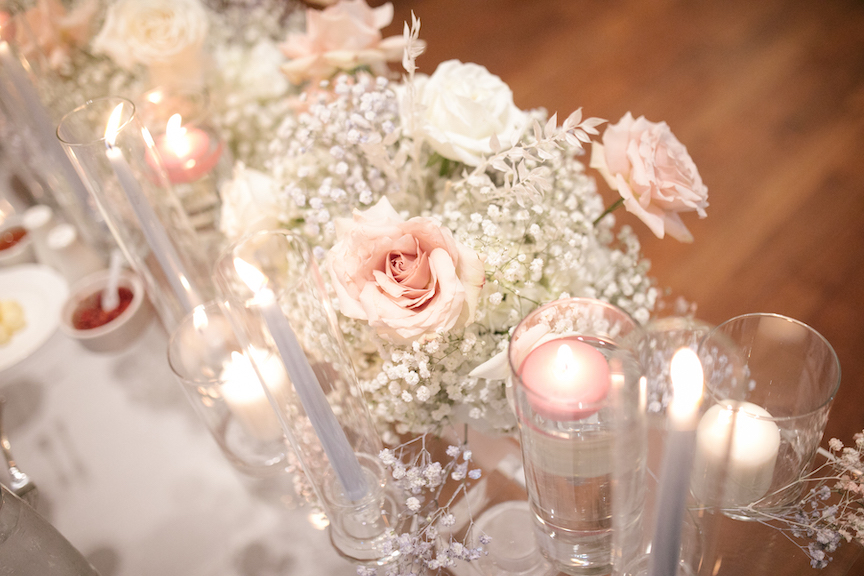 What will guests remember most?
They will remember glittery reception drinks, an unforgettable grand entrance, a wonderful mesh mash of our cultures, and great music taste!

How did you show your personalities in the wedding?
There were lots of details that brought out both of our personalities. You would see a lot of my planning, vision, and organization reflected in the hall, flowers, the seating charts, etc. And a lot of the fun details that were Mo's touch in the music, the drinks, and dance moves! We also played the shoe game in front of our guests during the beginning of dinner. That was a great way of sharing bits and pieces of ourselves with our guests, especially ones that came from abroad and may not necessarily know us much.
What cultural aspects did you include, if any?
We brought in performers that put on a full display of Palestinian and Sudanese cultures. I was hesitant about it at first but it was the best decision I have made because it really made the wedding unforgettable.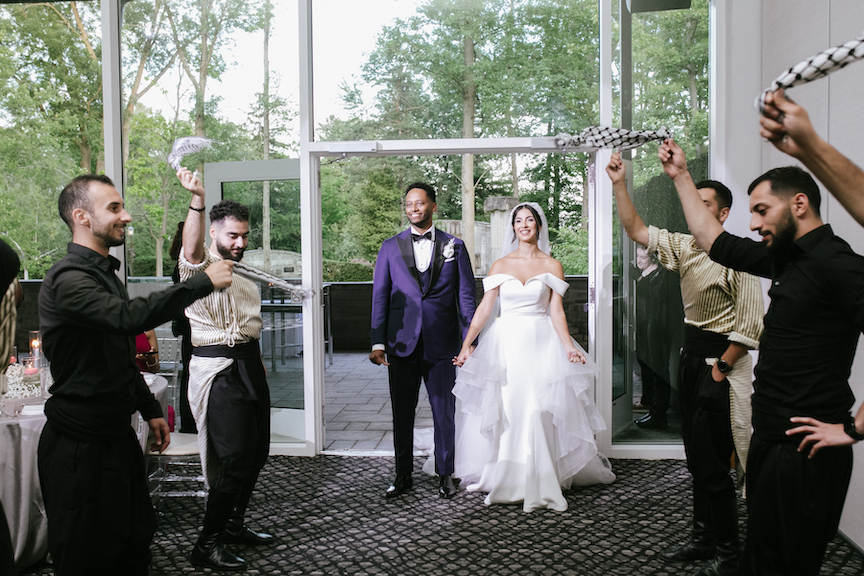 What advice can you give to couples who are planning their wedding?
Start early, have a plan, and take your time. Trust that your partner is on your side and wants you to succeed. Compromise where possible, offer solutions and not problems when things change suddenly. Changes are not ideal but the biggest lesson for us was learning that not everything goes according to plan and that's okay! You will get through it together.
Honeymoon?
We were lucky enough to be able to take 3 weeks in beautiful Greece and Italy. What an unforgettable time! (Mainly planned by Mo, which was a great lift off my plate).
Number of guests: 130
Ceremony/reception venue (including city): The Guild Inn Estate, Scarborough, Ont.
Planner: Khatija Saleem, Dazzle & Dream Events
Photographer: Rosetta Li
Wedding dress designer: Dress by Madi Lane, Daisy skirt; train by Milla Nova
Suit designer: Suit Supply
Décor & flowers: Elite Decor by S&S
Wedding cake: Mariya Devuyst Cake Artistry
Stationery: Elite Decor by S&S
Hair/makeup: Fancy Face
DJ: Floh Back (Ben)
Limo: Allure Limo Services