Scholarstica & Tolulope
After a brief meeting at church, Tolulope tried to invite himself to a girls-only birthday celebration for Scholarstica. When he was denied, he stopped by with a box of chocolates. The following week they had their first date and Tolulope asked Scholarstica to be his girlfriend. They hosted both Nigerian and Western celebrations.
Nigerian culture: The bride says, "We wanted a small event for the traditional wedding because traditional weddings are supposed to honour our parents and incorporate our culture. We only invited 50 people and, unfortunately, our parents had to join online. We originally wanted to include some of my Igbo culture (where the bride gets a drink from her father and searches for her groom to feed him the drink and introduce him to her father), but since both parents joined online there was no point. I did two entrances where I dressed in my typical Igbo attire and greeted both parents and then changed to my top and wrapper to match my husband."
Dress to impress: "For our outfits, we originally wanted burgundy, but my mom found a material for my wrapper that was more on the purple side, so we went with it," says Scholarstica. "For my red dress, I had my mom sew typical Igbo bride attire to use for my first dance and entrance. We had both of our traditional attire sewn in Nigeria."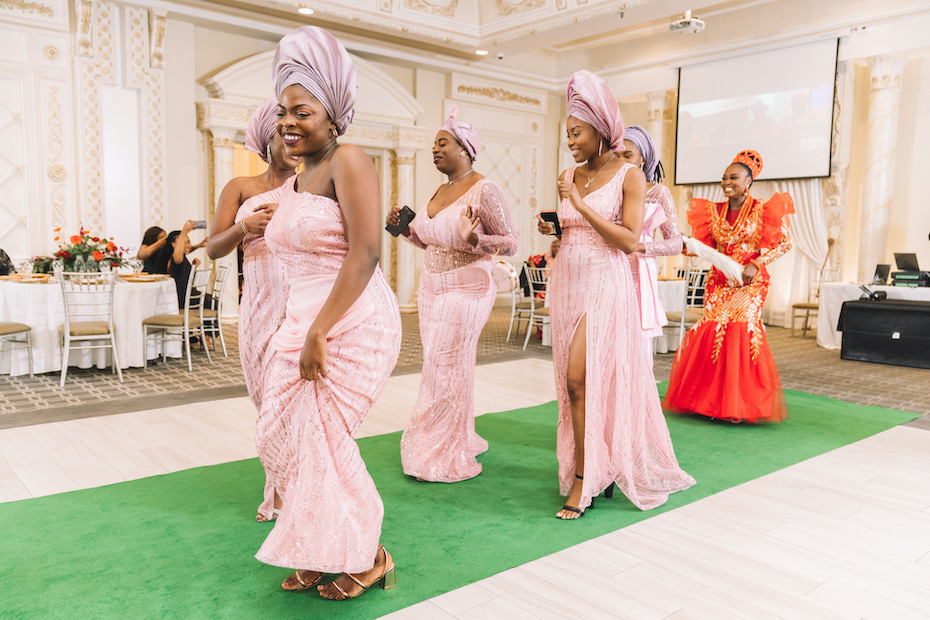 Sew pretty: The material for the groomsmen and Ashoebi ladies was purchased at A&T Fabrics, and it was given to the ladies to choose their own style and sew.
Change of plans: Unfortunately, pandemic restrictions hit the guest list. "Our original plan involved having both parents here in Canada for the wedding, but then there was a travel ban that prevented them from coming to Canada just a week before the wedding," Scholarstica explains. "It was very sad for us as we had anticipated them coming. It was really hard to accept, but we ended up changing the wedding itinerary last minute and had both parents join online."
The favourites: "Our favourite part of the day was the exchange of rings at the ceremony," says Scholarstica. "It was very memorable. Also, the music and dancing at the reception was fun, we danced all night." She also says the couple's dance at the reception and the bouquet toss were stand-out moments.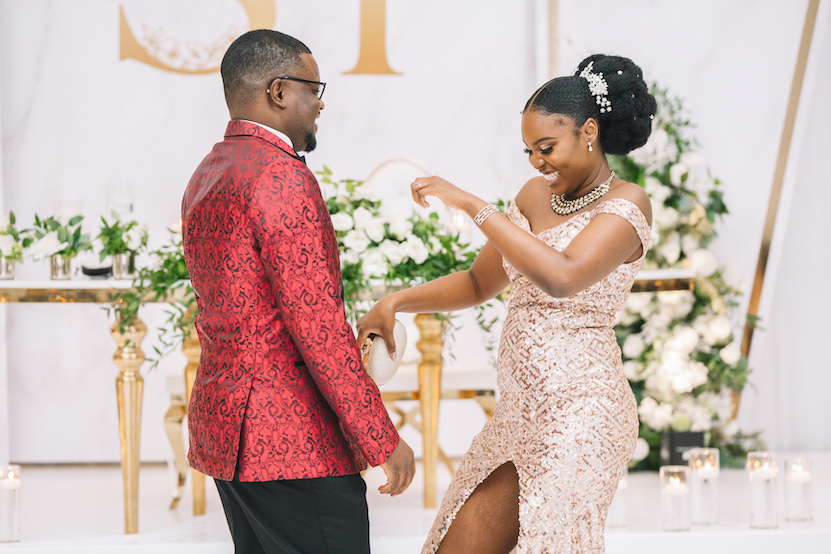 Honeymoon: The newlyweds spent time exploring Canada, going to Vancouver, Calgary, and then roadtripping to Banff.
Venue: Terrace Banquet Hall, Concord, Ont.
Number of guests: 100
Photography: Summerhill Weddings
Planner: Kauna Events
Wedding gown: David's Bridal
Groom's suit: Andrew's Formals
Makeup: Olarah Glam
Hair: Treasure World of Beauty, Hair by Leo
Bridesmaids' dresses: Fashion Nova
Décor & co-designer: mmmdecors
Florals: Flower Pie Toronto
Floor wrap: Paragon Designs
Cakes: Cakes and Sweets by Anna, Cakerie Craft by Uroosa
Stationery: Sand Kreations
Catering & cocktails: De Place Restaurant & Bar
Logo: Ore Media Services
See more real weddings here!