After a year of planning your dream wedding and navigating through endless decisions while trying to maintain your everyday life, it's safe to say that you've earned yourself a well-deserved getaway. As the countdown to your big day continues, the anticipation of a blissful honeymoon becomes all the more enticing. We get it – the hard work is over, and now it's time to unwind. But before you jet off to paradise, it's time to talk about your honeymoon packing and preparation list. 
Essentials
Packing for your honeymoon may be a slightly different experience compared to your usual suitcase-filling routine. When it comes to your honeymoon, these essentials are like your trusty sidekicks – always there to save the day! 
While your regular trips might have you focused on sunscreen and travel guides, your post-wedding getaway calls for a thoughtful selection of items tailored to create the perfect romantic escape.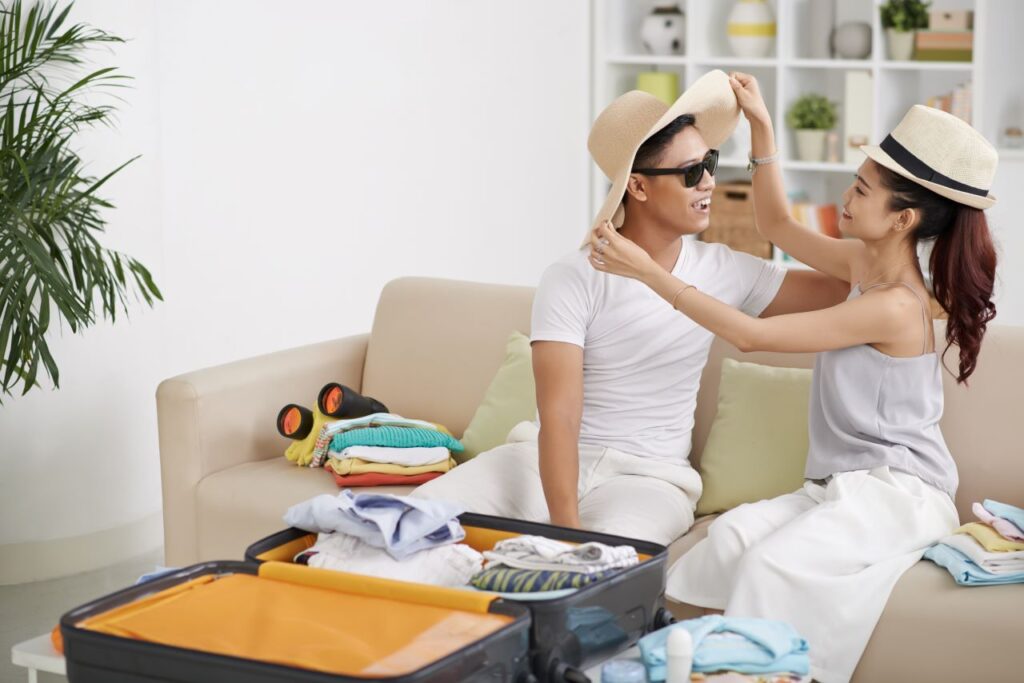 Passport and travel documents
Whether you're travelling abroad or staying closer to home, identification is a true essential. So, one of the first things you should do is ensure that your documents are still valid and have an expiration date of at least six months beyond your date of departure. 
Remember to pack your passport and driver's licence in your purse or carry-on bags, keeping them close by at all times on travel days. They should never be packed in your checked luggage in case, heaven forbid, they get lost in transit. It's also a good idea to make photocopies of your passport and driver's licence and store the copies in your carry-on or purse as well. These copies will come in handy in the event you lose your passport during your travels and need to get it replaced while abroad. 
Wallet, cash & credit cards
Cash is king, but plastic's s the most practical. Carry both for those unexpected moments of retail therapy, street food cravings, tipping drivers and luggage handlers, etc. Remember to carry small bills just for tips and street eats, and research whether the country you're travelling to prefers to deal with local or U.S. currency. And if you're jetting off to an international location, don't forget to call your credit card companies and your bank to let them know you'll be out of the country; if you don't, they may decline your charges. 
Travel insurance
It's the superhero cape of your trip. Don't forget it! You never know when it'll swoop in to rescue your vacation from unexpected mishaps. Travel insurance can cover trip cancellation or interruption, lost luggage and personal belongings, and unexpected medical expenses incurred while abroad. Though many credit cards come with limited travel insurance, nothing beats the comprehensive packages offered by reputable insurance companies. The peace of mind that comes with travel insurance is absolutely worth the added expense.
Medications and prescriptions
You'll need to pack any prescribed medications, but you may also want to pack some other medicines that may be helpful in case of an emergency, including ibuprofen, allergy medicines, anti-diarrhea, motion sickness pills, etc. It's also a good idea to have some bandaids in your travel case as well. 
Emergency contact information
Here's something that's often overlooked while honeymoon packing. Many travellers don't think about having a list of emergency contacts with them while they travel. If  an emergency occurs while on your honeymoon, and you're unable to answer for yourself, local officials will need to know who to contact. So write a list of two or three people you trust, along with their phone numbers and email addresses, and keep it with you in your wallet at all times.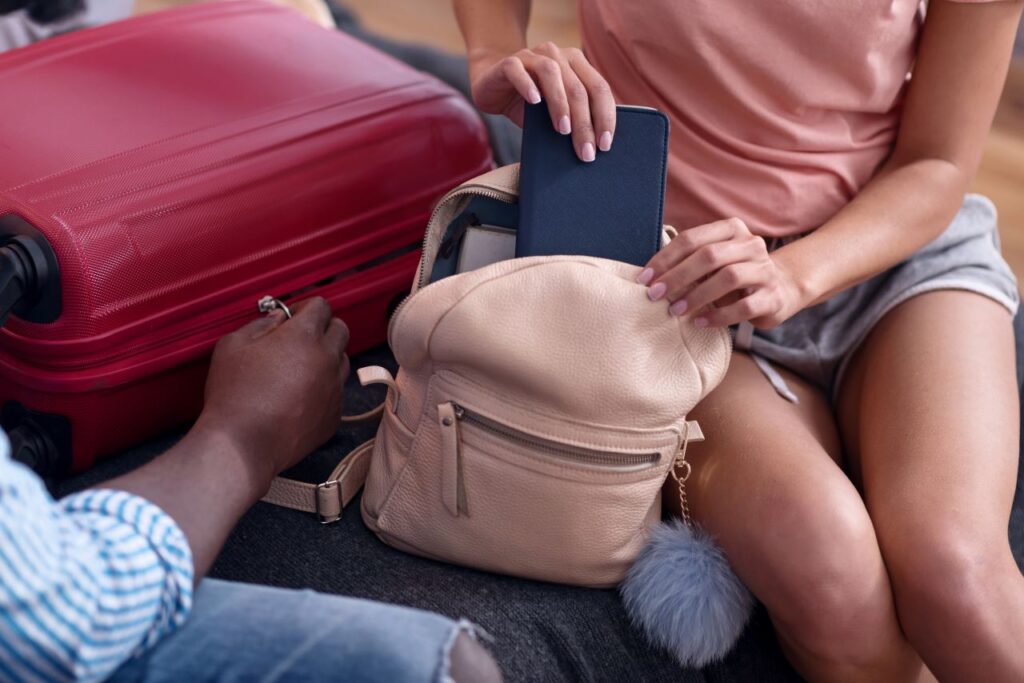 What to pack in your carry-on
Carry-on luggage is like a best friend when travelling – it never leaves your side. While checked luggage runs the risk of getting lost or delayed, a carry-on bag stays with you. If you can pack all your essentials and belongings in carry-on luggage, do it – especially since most airlines charge a fee for checked baggage. 
Here are a few suggestions on what to pack in your trusted carry-on:
Entertainment

: Beat boredom with your favourite books, movies, or music. A tablet or e-reader can be a lifesaver on long flights, train rides, and even while relaxing on the beach or poolside. If you're planning on watching movies on your iPad or tablet, remember to pack headphones too so you don't disturb your neighbours.

Snacks & beverages

: It's a good idea to pack a few snacks for flights that last more than an hour or two. Bags of chips, granola bars and protein bars are all good options. Just be sure to check with transport authorities like CATSA and the FAA for any food items that are prohibited on flights. As for staying hydrated, packing a reusable water bottle is a must! You can fill it at the airport, once past security, for you to drink during your flight.

Travel pillow and blanket

: If you're like us, you always find it freezing on a plane! Don't forget to tuck a cozy travel pillow and a soft blanket into your carry-on – they'll make your flight much more comfortable.

Must-haves

: There are certain items when

honeymoon packing

that you can't absolutely live without, or that will come in handy if your checked bags go missing. These include medications, medical equipment, phone chargers, personal identification, and a change of clothing to last you a couple of days. 
Toiletries
You'll want to look and feel your best while on your honeymoon, and to do that you'll need to include some essential toiletries while honeymoon packing. Remember that your favourite brands may not be readily available in the destination you're travelling to, so be sure to pack what you think you can't live without in either your checked or carry-on baggage. Of course, if you're packing a few essentials in carry-on, be sure you comply with air security measures for liquids, gels and aerosols.
Toothbrush, toothpaste & dental floss

: Ensure your honeymoon is filled with fresh smiles by packing toothpaste, toothbrushes, and dental floss among your oral care essentials.

Bath products

: You won't want to rely on your hotel's complimentary soap, body wash, shampoo and conditioner. They may not offer them, or they may not be up to your standards, so it's best to pack your own.

Think massage oils, bath bombs and flameless candles for that special night in the tub.

Haircare

: Got great hair? You can thank your hair care products, which you'll need throughout your honeymoon. These include shampoo, conditioner, styling gels, hairspray, anti-frizz and any styling tools that you can't live without, like your hairbrush, flat iron or curling iron.

Skincare

: Keep that wedding glow going on your honeymoon with your favourite moisturizer, night cream, toner, face masks, exfoliant and more. And don't forget the all-important sunblock!

Razor and shaving cream

: Add travel-sized razors and shaving cream to your honeymoon packing list for smooth and hassle-free grooming, ensuring you both look and feel your best throughout your romantic getaway.

Deodorant & perfume/cologne

: Deodorant goes without saying, right? And for those romantic nights out, don't forget a splash of perfume and cologne.
Clothing
While honeymoon packing, remember to pack clothing for every occasion. If you're heading somewhere tropical, the weather can turn in an instant, so be sure to pack a variety of items that will keep you cool during the day, warm at night and dry during unexpected rain showers.
Weather-appropriate clothing:

Take into consideration where you're travelling to and check local temperatures a few days before your departure. If it looks like clear, sunny skies ahead with soaring temps, pack lightweight, breathable fabrics, shorts, tank tops, sun dresses and sarongs. If you're honeymooning in Europe during the off-season, pack cozy sweaters, thermal underwear and waterproof jackets.

Lingerie: Yes, pack the special lingerie, but don't forget the basics. Pack enough underwear to keep you feeling fresh throughout your journey. Throw in a few extras in case of the unexpected, and factor in multiple changes throughout the day based on the activities you have planned.
Swimwear

: It wouldn't be a proper honeymoon without some time at the beach or in a pool or hot tub. Pack multiple bathing suits so that you'll always have a dry one on hand for last-minute dips.

Shoes

: Take into consideration the type of honeymoon you've booked. An adventurous one with heart-pumping activities? Don't forget your hiking boots and sneakers. Just beaching it for a week? Then flip-flops and open-toed sandals are a must. And don't forget comfortable walking shoes for everyday wear. 

Dressy attire

: Who knows when you'll stumble upon a fancy restaurant or an unexpected event? Many fine dining establishments require a dress code so come prepared by packing a cocktail dress, blazer, linen pants and a tie or two.
Miscellaneous items
When you're knee-deep in honeymoon bliss, you'll want to ensure these miscellaneous items are right there with you. You won't want to waste time going from store to store to look for any of the following:
Power adapter, converter and charger

Travel-sized laundry detergent

First-aid kit

Ziplock bags and reusable shopping bags

Travel guidebooks/maps

Hair ties

Eyeglasses and sunglasses

Vitamins

Pen and small notebook

Camera

Umbrella

Insect repellent

Beach bag