Brides-to-be are looking for the perfect dresses that showcase their unique personality and style, and designers are coming up with creative solutions to meet their demands. From ethereal, flowy fabrics to structured, statement-making silhouettes and bold colours, wedding dress trends are thriving with new ideas and designs. 
Today, we're exploring some of the most exciting trends that are expected to take the bridal world by storm in 2024. So whether you are a traditionalist or an avant-garde bride, read on to discover the wedding dress styles that will make you feel like a true queen on your special day.
Drop waist silhouette
The drop waist silhouette is a wedding dress trend that was once very popular in the 1920s but is now making a big comeback. This iconic wedding dress style blends a Cinderella-esque ballgown with a fitted bodice and torso, marrying vintage style with modern sophistication.
If you want a real showstopper, say "I do" to a sexy, hip-hugging silhouette that beautifully showcases your fabulous figure, leaving an unforgettable impression as you walk down the aisle.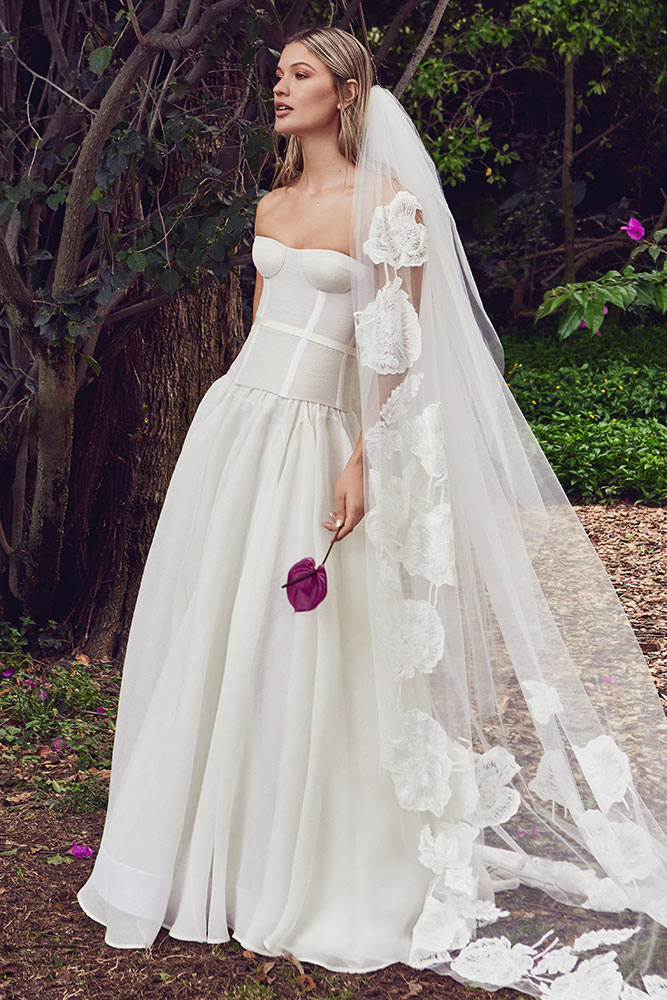 Sultry sheaths
For brides who desire a wedding gown that embraces their curves without sacrificing comfort and movement, the sultry sheath style is a clear frontrunner. Unlike the mermaid silhouette, the sheath offers a more understated approach. It starts with a fitted bodice that elegantly traces the body's natural lines and then flows gently into a straight, unfussy skirt. 
The sheath wedding dress has a straight skirt without many layers or crinoline underneath, making it easy and comfortable to wear. Available in various fabrics, necklines and embellishments, the sheath wedding dress is the perfect choice for any type of wedding. 
For all these reasons, this wedding dress trend will likely be around for a while.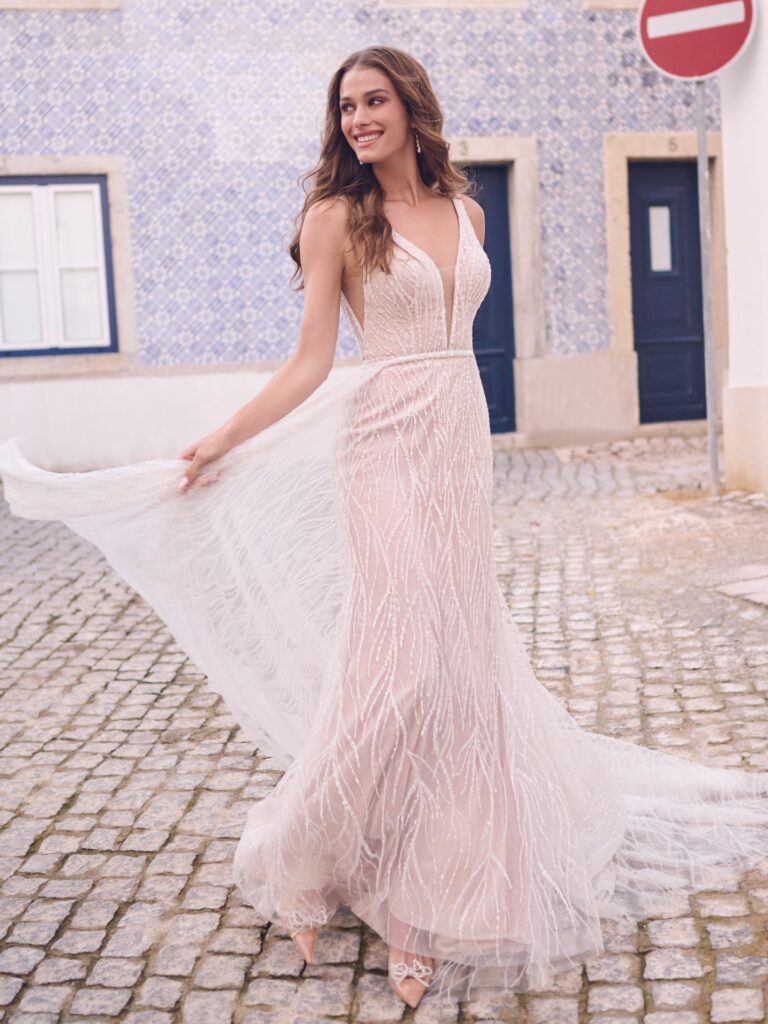 Plunging necklines
Although each year unveils a fresh wave of wedding dress trends that spans colours, embellishments, sleeves, and more, necklines have rarely strayed too far from the traditional. However, 2024 marks a captivating departure from tradition as designers embark on a creative journey with plunging necklines. 
Designers are infusing new life into the plunging neckline by experimenting with innovative shapes, intricate designs, and dramatic embellishments. A prime example of this creative evolution is the Reem Acra Angelina wedding dress, which flawlessly showcases a daring plunging neckline that's modern and audacious while maintaining an air of sophistication. 
The plunging neckline wedding dress trend isn't for everyone, but no need to worry; the traditional necklines aren't going anywhere and will still fill bridal boutiques racks.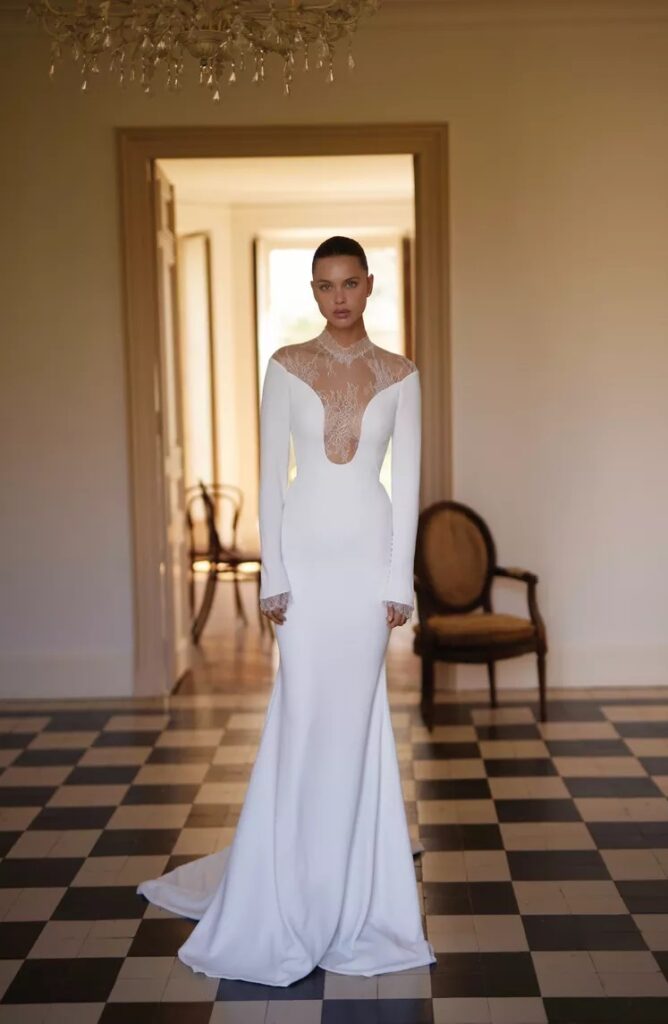 Colourful wedding dresses
Colourful wedding dresses are not new on the scene; it's a wedding dress trend that we've been swooning over for years. In recent years we've seen a lot of soft colours like l
ight gold hues in champagne, pastel blue and blushes and romantic floral prints. In 2024, designers are taking it up a notch by incorporating bold colours in their collections. 
Think black wedding dresses, red gowns, dark gold hues, and emerald green, to name a few. Modern weddings continue to evolve by allowing couples to embrace their own unique personalities, and there is no better day to be true to yourself than on your wedding day. So, if you want to walk on the wild side and wear a colourful wedding dress, do you, girl!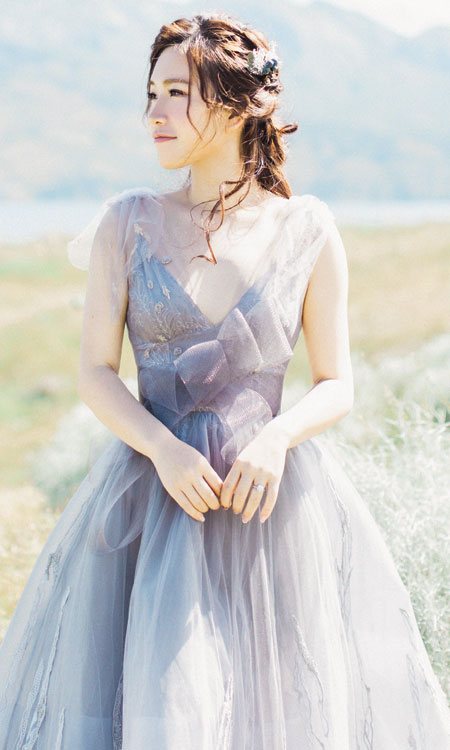 Removable accessories
Yes, removable wedding dress accessories such as sleeves, trains, and capes will continue to grace the aisles in 2024, and we love it! In a world where brides seek grace and adaptability, these removable wedding dress accessories emerge as a standout solution. 
This trend offers a dynamic twist, allowing brides to transform their look as the day unfolds. From detachable lace sleeves that evoke a touch of vintage charm, bolero jackets, dramatic bridal capes, overlay skirts, and detachable trains to removable sparkling belts that transition an ensemble from ceremony elegance to reception chic, these versatile additions redefine bridal attire's capabilities. 
The ability to have different looks throughout the day without buying more than one gown is genius. With so many options, brides can truly channel their inner fashionista on their wedding day.