Congratulations, you're engaged! The journey to planning your wedding has officially begun, and what better way to kick off the celebrations than with an engagement party? Whether you're looking for a casual gathering, an all-out bash, or something unexpected, there's no shortage of creative and unique themes for engagement parties to choose from.
So let's raise a glass and toast to your love with these fun and inspiring engagement party themes. From rustic outdoor affairs to chic cocktail parties, these unforgettable party ideas will help you sip, sip, hooray your way into the next chapter of your life.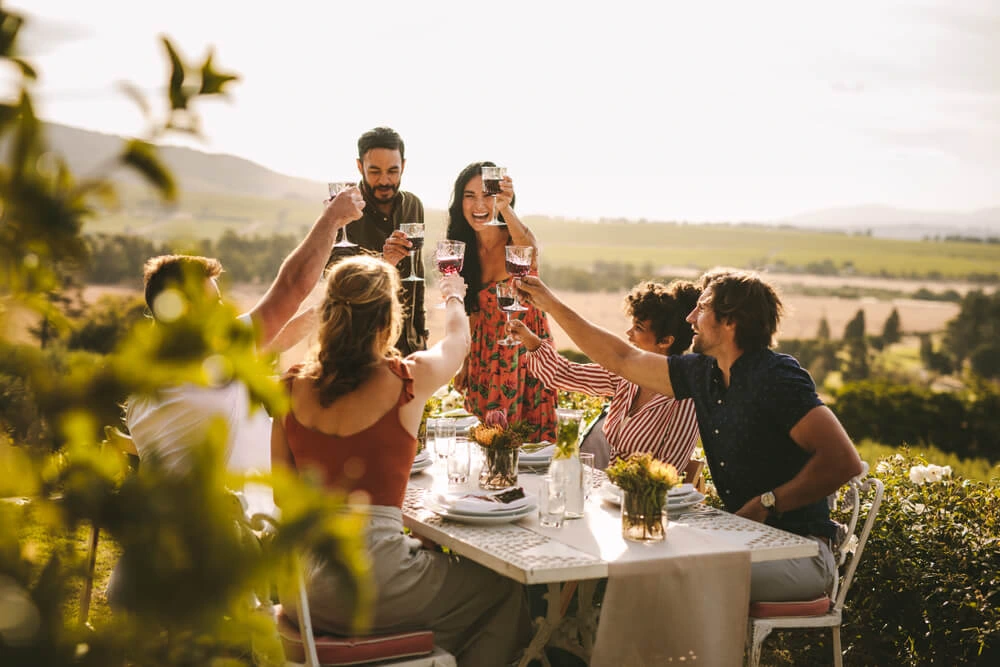 Rustic outdoors 
A rustic outdoor affair is one of the most popular themes for engagement parties. This is the perfect engagement party theme for couples who love nature and thrive outdoors. 
Host a party in a beautiful garden or park and decorate the space with rustic elements like burlap, lace, and mason jars. Create a cozy, intimate atmosphere with warm lighting, lanterns, and candles. You can lay down picnic blankets and cushions, cover picnic tables with linen tablecloths, or rent tables and chairs for a more formal touch. As for food, delicious barbecue or classic tea sandwiches are great options for an outdoor party, while signature cocktails and craft beers can make backyard gatherings a classy affair.
Sporting event
For sports lovers, why not treat your closest family and friends to an engagement celebration at a sporting event? Buy a block of tickets to the next big game, or even book a suite at the stadium to cheer on your favourite team. You can also rent a shuttle bus to make the day even more fun, with snacks and beverages onboard to enjoy on the way.

It's cocktail o'clock
Consider a cocktail theme for a more elegant and chic engagement party. Dress in your best cocktail attire and host your party in a chic venue like a rooftop bar or an upscale restaurant. Set the mood with sophisticated music and serve a selection of fancy drinks and hors d'oeuvres. 
Masquerade ball
A masquerade ball engagement party theme is a mysterious and enchanting way to celebrate your engagement. Guests can don elegant attire and wear intricate masks, adding an air of mystique to the event. You can decorate the venue with luxurious fabrics, dramatic lighting, and ornate details, creating a romantic and captivating atmosphere. 
Whether you're looking for a sophisticated and glamorous affair or a playful and whimsical celebration, a masquerade ball engagement party theme will surely be an unforgettable event for you and your guests.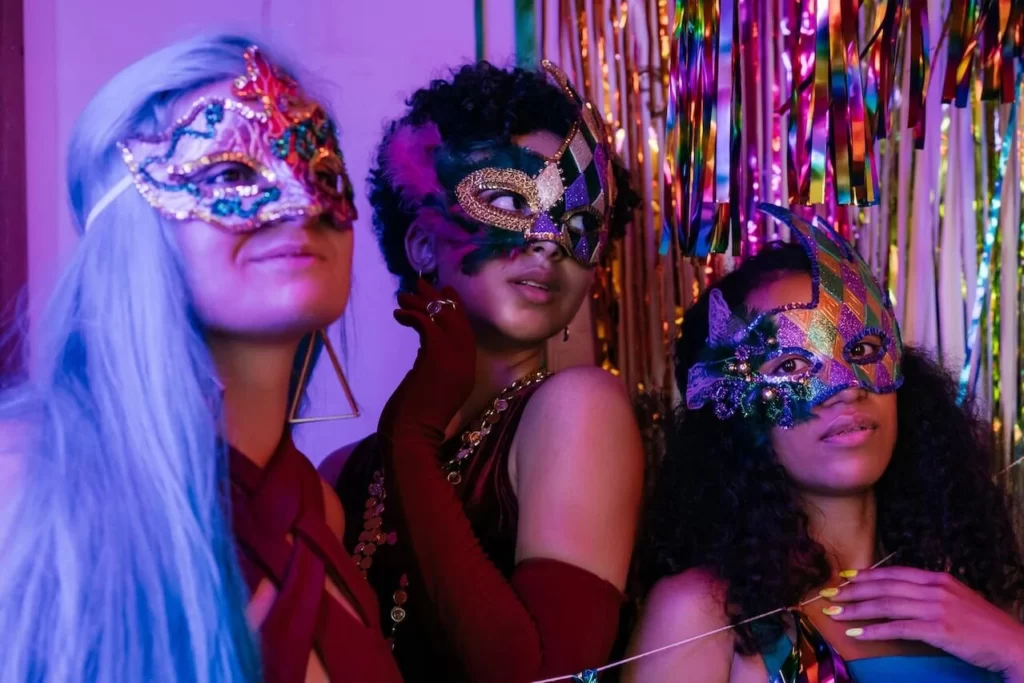 Old Hollywood theme
If you want to wow your guests, go all out with an Old Hollywood engagement party theme. Roll out a red carpet, decorate with vintage details like old movie posters, and ask your guests to come dressed like their favourite Old Hollywood stars. Hand out mini Oscars as party favours and hire a photographer to capture those red carpet moments. Just think of the Insta-worthy photos you'll get!
Travel engagement party? Yes, please!
If you're a globetrotting couple that wants to celebrate in a unique way, consider a travel-themed engagement party. Decorate the space with maps, globes, and suitcases, and serve food and drinks from around the world. Rent a photo booth with props like passports and luggage tags, and encourage your guests to snap some travel-themed photos. Create customized passports and hide stamps around the room as part of a fun scavenger hunt. As far as world-class themes for engagement parties, this one wins hands down.
Tea party
Another great engagement party theme is a garden tea party. This theme is perfect for couples who appreciate the finer things in life and enjoy the art of conversation. Host your party in a beautiful garden or a charming tea room, and decorate the space with floral arrangements and elegant china. Serve a selection of teas, finger sandwiches, and sweet treats, and encourage your guests to sit back, relax, and enjoy the beautiful surroundings.
Go glamping
If you love adventure and the great outdoors, you might enjoy celebrating your engagement with a high-end glamping trip! If you're unfamiliar with glamping, it's camping with all the amenities and comforts of home. Think fancy tents, furniture, luxury linens, running water and electricity – there's no roughing it here!
Invite your closest friends, plan some activities and don't forget a bonfire and s'mores. It will be an experience, unlike any other engagement celebration.