We asked Jitka Zelenkova of ItkasanImages in Victoria, BC to share her engagement photo expertise. Did you know light is more important than location? Read on for more tips
Do you have to get engagement photos done as soon as you're engaged?
I recommend getting your engagement photos done within 1 to 2 months after the proposal or no later than 10 months prior to your wedding. The photos you have taken at your engagement session can be used for save-the-date cards, wedding announcements,  wedding invitations, and your wedding website. The session is also a great way to gauge how you will get along with the person you will spend most of your day with, other than your future spouse – your wedding photographer – and you will want to lock down the photographer you love!

What should couples wear? Do they have to match?
In terms of what to wear, my style is light and airy with a refined feel, so I encourage my couples to dress as if they are heading out for a romantic date. Neutral tones, avoiding too much black particularly around the face, or very harsh bright colours. The idea is to coordinate, not be too matchy matchy. I absolutely love flowy dresses on women and long-sleeved shirts on men. I always encourage couples to try on the clothes they plan to wear and make sure they are comfortable and to feel free to send me photos for feedback.

Should a bride put on more makeup than usual?
Your engagement session is the perfect opportunity to try out your wedding day makeup. It will give you an idea of how it will look on the day, coupled with the shooting style of your photographer. Makeup also usually looks more subtle in photographs than in real life, so I recommend a little more than your daily routine.

Does the couple choose the location, or will the photographer?
When choosing the perfect engagement location I initially check with the couple, to see if they have a special spot in mind – maybe where they met or a favorite park. Otherwise I have a variety of options in my catalogue from beaches to urban settings. Planning the engagement session is actually a lot of fun, since almost anything is possible!

Is there a better time of day to shoot in the outdoors?
The crucial element, more important than the location, will be the quality of light. Some of the most beautiful photos I have taken at weddings for example, have been at the edges of parking lots when the light hits during reception and I pull the couple out for a brief moment. The best time to photograph your engagement session therefore is "Golden Hour," which is about an hour or two before sunset, but depending on the location, that gorgeous light can last no more than 10 minutes! I like to arrive a little earlier and wait if necessary til the moment is perfect.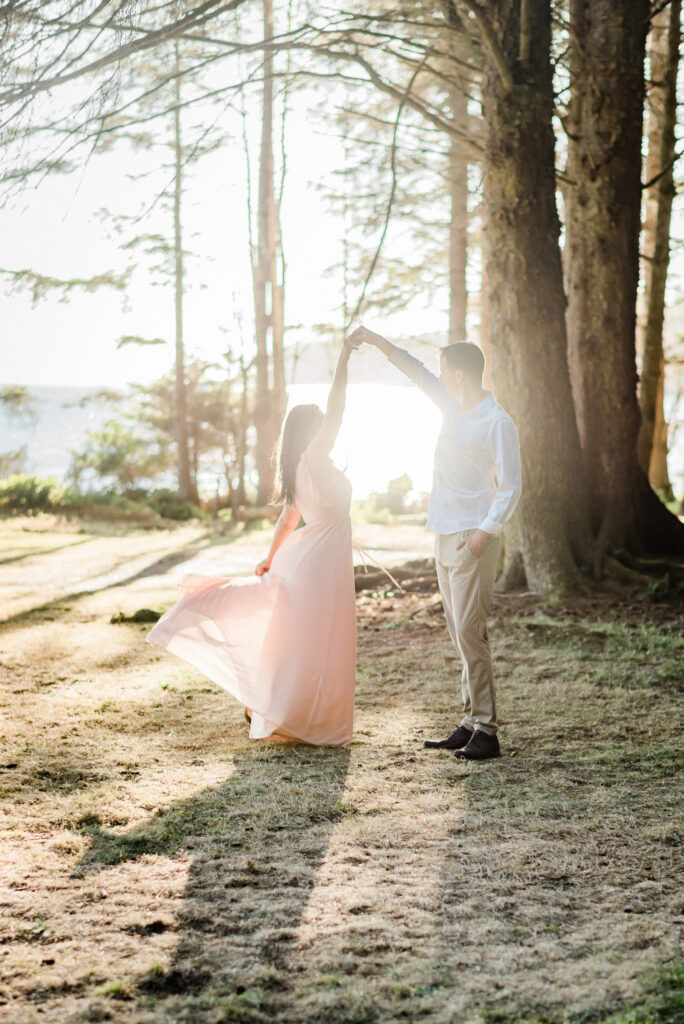 Are there ways to loosen up in front of the camera?
I've never had a couple where one or both partners were not nervous before their session! In fact many clients say to me, "Your couples all look like models; how will I do this?" The truth is they are all normal people like you and were also nervous. Us photographers have lots of tricks up our sleeve to get you to relax and have fun, from prompts, music, to lots of encouragement along the way. The best part is when you get your photos back and see how incredible you both look. This always translates into much better wedding photos, since on your wedding day you are now both relaxed in front of the camera.

Do you have any engagement session pet peeves?
My pet peeve would have to be unkempt nails! Your hands are in the spotlight at your engagement shoot, they not only showcase the engagement ring, but are so emotive as you hold each other's faces, hold hands…  I really recommend a professional manicure for both partners, since the pro will clean up cuticles and hangnails too. At minimum make sure both of your nails are clean and shaped. The other pet peeve is the wearing of too much black; it absorbs all light and contrary to popular belief isn't slimming, especially tight black leggings. The right fit in a beautiful dress or skirt is so much more flattering and will put you in a more romantic mood at your session.

What is the most unique engagement shoot you've done?
As we are located in Victoria B.C., the most unique sessions have been with the couples that jumped on the opportunity to schedule their photos when we had rare snowfall. We accomplished it by having a warm car nearby with hot tea and no more than five minutes of shooting. My favourite were the brave women that came in flowing dresses, the results were right out of a fairytale!
All photos by ItkasanImages