Your wedding day is a celebration of love and commitment, and what better way to honour that love than by crafting your wedding vows? While traditional wedding vows are beautiful, writing personalized vows allows you to create a ceremony that is unique to your relationship. They allow you to express your deepest emotions, heartfelt promises, and unwavering devotion to your partner. Reciting a wedding vow that truly tells 'your' love story is a beautiful way to begin married life.
Writing wedding vows may sound intimidating, but with a few helpful tips, you should be able to breeze through it. So, to help you get started, we put together this guide on how to write a wedding vow filled with your own words of honour and commitment.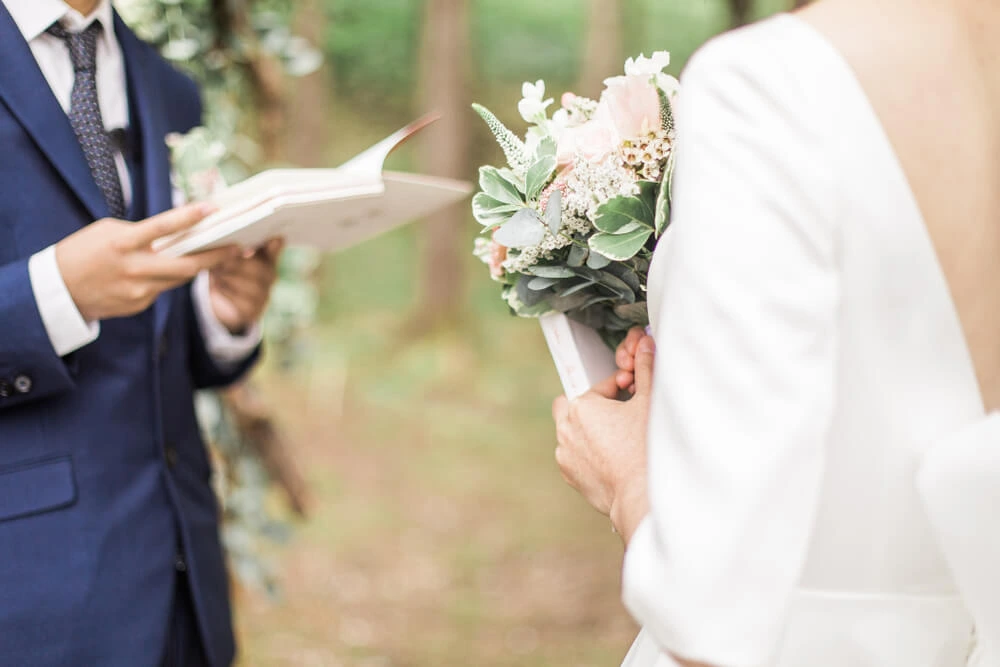 The Benefits of Writing Your Wedding Vows
While traditional wedding vows are often the easier route for many couples, personalized oaths can take the ceremony to the next level. In essence, they allow you to express your feelings in your unique voice and can include personal stories, inside jokes, memories, and anything else that will make the moment more intimate and memorable. 
It's a personal touch that kicks off your celebration and marriage in a way that no one will forget. So, if you want your wedding experience to be unique, ditching traditional wedding vows is a great place to start. 
Start writing early
It might be tempting to procrastinate on such a big task, but the key to writing vows that you'd be happy with is to start early. You and your partner can write them separately or collaborate on them as a couple. There are no rules, so let your creative juices flow and focus on what feels right. 
Brainstorming is your
friend
Start the vow-writing process with a bit of brainstorming. Simply grab a pen and paper, and jot down everything you love about your partner and any crucial moments in your relationship that you wish to share. You can include anecdotes about your partner that make you laugh, share your dreams for your future life together, and list a few reasons why you think they're you're perfect match. 
And don't forget to include what you want to promise them at that moment, on your special day. Remember, at this stage in the process it's more about brainstorming and letting your thoughts flow, and not so much drafting a final version. 
Next, think about the tone you want to infuse your script with. Do you want your solemn promise to be humorous, serious, and descriptive? Do you want to include religious or cultural references? Consider what your partner will appreciate hearing and your relationship dynamic, and don't be afraid to aim for an authentic tone that is true to who you are.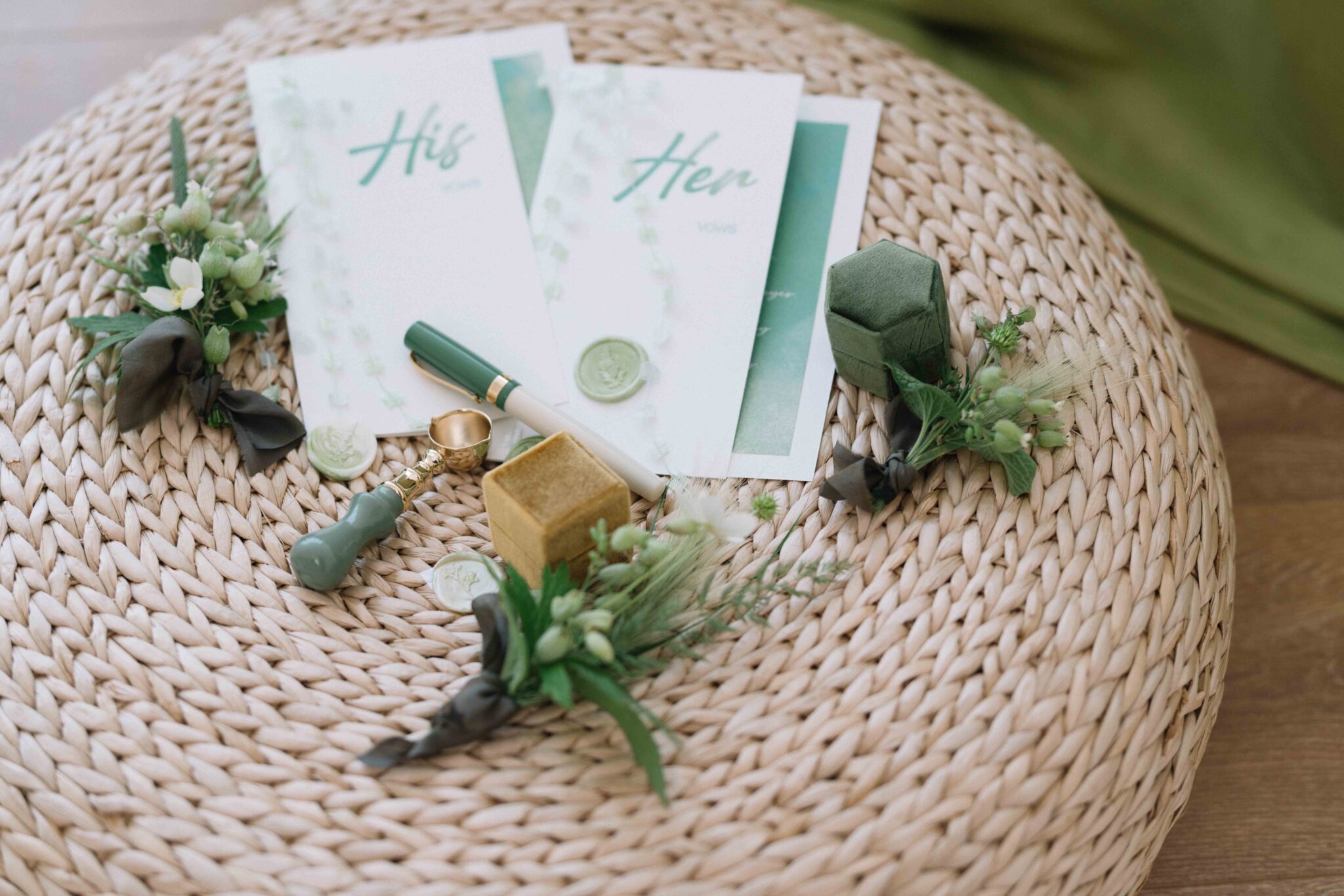 Constructing the outline of your wedding vows
Once you've brainstormed your thoughts and have a good base, it's time to start writing! An example of a wedding vow will typically begin with a brief introduction, such as thanking your partner or expressing love for them. 
Then, write the main body of your vows, including personal stories, some jokes, a beloved memory, and your promises and commitments. 
Lastly, finish with a sentimental conclusion that sums up what getting married to them means to you. It's a good idea to read your vows out loud to ensure you're comfortable with the length and delivery. 
Best tips on how to write your wedding vows
Get some inspiration:

Read

examples of other couples' vows online, watch wedding movies or ask friends and family for advice. You can also find some great examples of actual wedding vows on YouTube. 
Keep it simple:

Vows

don't need to be long and complicated. Instead, focus on the most important things you want to include and keep it short and easy to understand.

Use humour:

Laughter can break the tension and make everyone more comfortable. However, make sure to use respectful jokes.

Be specific:

Include examples and memories in your wedding vows

, which

will add depth and emotion. For example, instead of only writing "I love you," write specifically, "I love how you take care of me, even on the toughest days."

Practice, practice, practice:

The

first version may need to be read over and over again over a few weeks

. Don't

be afraid to tweak it until you're happy with it.
E
xamples of a wedding vow
If you're really stuck and short on ideas, a good rule of thumb is to simply speak from the heart. Vows that provide a glimpse into your relationship, your sense of humour and the love you have for each other often have the most impact. So don't be afraid to get personal and speak candidly and honestly.
The whole point of wedding vows is to declare your love and commitment to one another. Try to go beyond simply saying "I love you" and instead list reasons why you love your partner. For example, you can say: "My love, from the moment I met you, I knew that you were the missing piece of my heart. You complete me in ways I never thought possible."
If you and your partner love to banter and kid around, infuse a bit of humour into your vows. For example, "I promise to love you and cherish you and watch Sunday night football with you and not complain – too much."
Or if you and your partner have common interests, you can share a personal anecdote about the cooking class you met in, or your most recent trip to Europe, or bingeing your favourite Netflix show, capping it off with a promise of some sort. For example: "I have met my match in every way, both on and off the tennis court, and I promise to always support you, to always be fair to you, and to always love you through life's biggest wins and losses."
Whatever you decide to say, know that there's no right or wrong way to say it. So long as you speak from the heart, your love for your partner will always shine through.