From the excessive use of single-use plastics and decorations to the transportation emissions of guests and vendors, weddings can significantly impact the environment. In fact, "The Green Bride Guide," by Kate Harrison, indicates that a single wedding can produce as much as 400 pounds of waste and 63 tons of CO2. But it doesn't have to be that way. Today, you can infuse sustainability into your big day in many ways.
If reducing waste and conserving resources is important to you, read on and say 'I Do' to sustainability with these helpful tips for green weddings.

Book an Eco-Friendly Wedding Venue
Another part of greenweddings that many don't realize impacts the environment is the venue. This is where you will spend a large portion of your event, and what happens here, in many ways, affects the planet. So, the venue is where you can make the most significant impact when you take the environmentally-friendly route when planning a wedding.
When you shortlist venues, be prepared with questions about how they manage waste and incorporate renewable energy into their day-to-day operations.
Some questions you should be asking are:
·Recycle & Repurpose
How does the venue handle different kinds of waste or leftover items and materials like paper and plastic, wooden décor accents, food and so forth?
Do they have a recycling and repurposing system in place to either utilize those materials again, or will they turn them over to the couple to handle the recycling?
Are measures like labelled recycling bins or composting containers available around the venue to repurpose waste of any kind? (for guests and vendors)
·Third-Party Vendors
Is the venue more inclined towards renting them from a third-party vendor rather than procuring or purchasing them brand new for each reception? Many preloved décor materials look even better aged!  And there are many great suppliers in Canada for all your decorative needs.
·Locally Sourced
Does the venue work primarily with local vendors and specialists instead of having materials transported or flown in, which will increase the carbon footprint of a wedding? Opting for seasonal blooms and local produce for your green wedding is better for the environment and can benefit small local businesses immensely.
·Sustainable Energy
Does the wedding venue use renewable energy sources to help with green weddings? Inquire about the sustainable energy mechanisms at work in the venue, such as solar power generation, rainwater harvesting or other renewable energy options.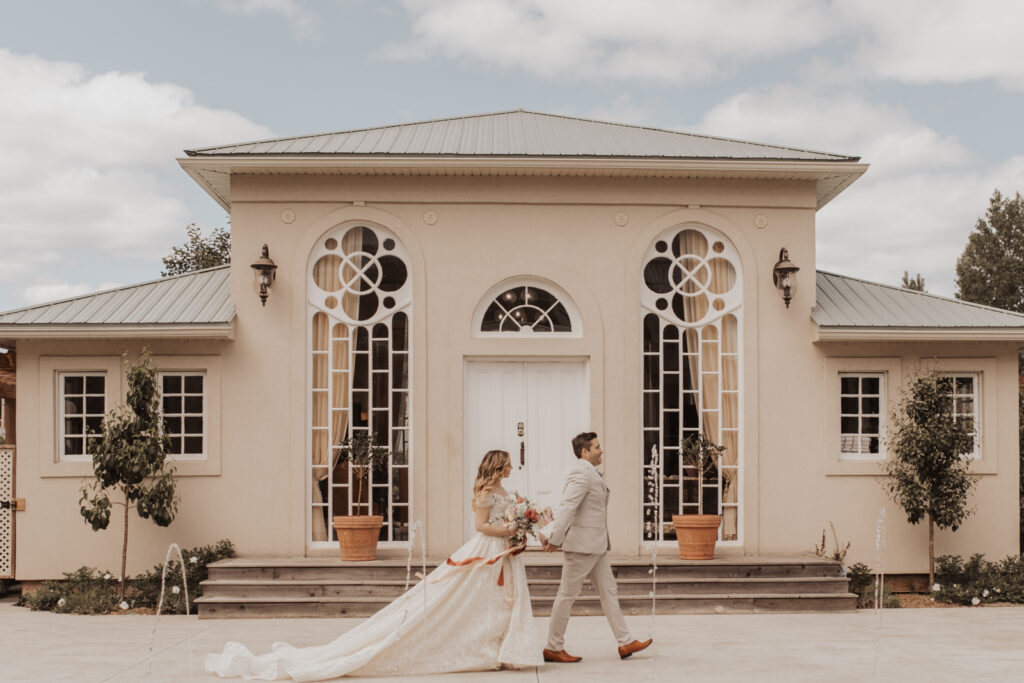 Shop Around for Conflict-Free Diamonds
If you want to throw an eco-friendly wedding, your sustainable choices can also extend to the rings that you buy.  When shopping for a ring, be aware of conflict diamonds that are not ethically sourced and may have problematic origins. Lab-grown diamonds and ethically-sourced gemstones like moissanite, sapphires, and rubies are the best bet.
Use Eco-Friendly Wedding Paper Products
In the case of invites and other stationery products, there are many sustainable options for green weddings. For example, invitations and R.S.V.P.'s can be sent digitally, while other paper products, such as menu cards, programs, seating charts, etc., can be printed on biodegradable paper.
Some newer invitations come with seeds from which to grow flowers or plants, or they can quickly disintegrate into the soil. Now that's an awesome way to incorporate a bit of 'green' into your wedding
Reduce Transportation Emissions
Reducing emissions is an important aspect when hosting a green wedding. Transportation is one of the leading sources of greenhouse gas emissions, which contributes to climate change. To minimize the carbon footprint of your wedding, it is essential to find ways to reduce the emissions.
One of the best ways to do this is to encourage guests to carpool or use public transportation. You can include a message with your wedding invitations, asking guests to consider sharing a ride or taking public transportation, or provide information or schedules on alternate ways to get there.
Another way to reduce transportation emissions is to provide shuttle buses or bikes for guests to use. Shuttle buses can transport guests to and from the wedding venue, reducing the number of cars on the road. Bikes can also be rented or provided to guests — vintage two-wheelers are a great way to add a touch of fun and whimsy to your big day!
And if possible, try to choose a wedding venue that is easily accessible by public transportation or is located within walking or biking distance of accommodations. This can minimize mobile commutes for your guests and help reduce transportation emissions.