Your big day is a day that you want everything to be perfect. From the dress to the décor, the flowers to the food, every detail matters. But with so many moving parts, it can be overwhelming to plan a wedding without help. That's where a wedding planner comes in. When choosing a wedding planner, you can't just blindly hire someone. You'll need to know the right questions to ask a wedding planner to ensure you're matched with the right one. 
Having a professional in your corner to help you navigate the sea of endless decisions could be priceless. So we've curated a list of essential questions to ask a wedding planner before hiring them so you can rest assured knowing your special day is in good hands.
Experience matters: Essential
questions to ask a wedding planner
When it comes to booking a wedding planner, experience matters. Be sure to ask them about the number of weddings they have previously planned, how long they've been in business, and what kind of weddings that they specialize in. Such details will provide insight into their level of expertise and whether they're the right fit for your wedding. 
Remember, a seasoned wedding planner possesses a wealth of knowledge and resources that they can readily employ to help guide you through the entire planning process with ease.
Money talks: Navigating pricing and budgeting questions
Once you've determined that you like the wedding planner's style and are confident they can help you plan your dream wedding, it's time to talk about cost. You know your budget, and you know how big you can go. It's essential to go over your financial goals and any limitations at the very beginning of the planning stage. 
One of the best questions to ask a wedding planner is how they plan to manage your budget. Do they have preferred suppliers that they work with who can offer discounted rates? Are they experienced enough to know which elements of your wedding require priority over others? 
They should also provide you with information on their process for handling unexpected expenses. Be clear about your expectations and ensure you're on the same page with your planner regarding finances.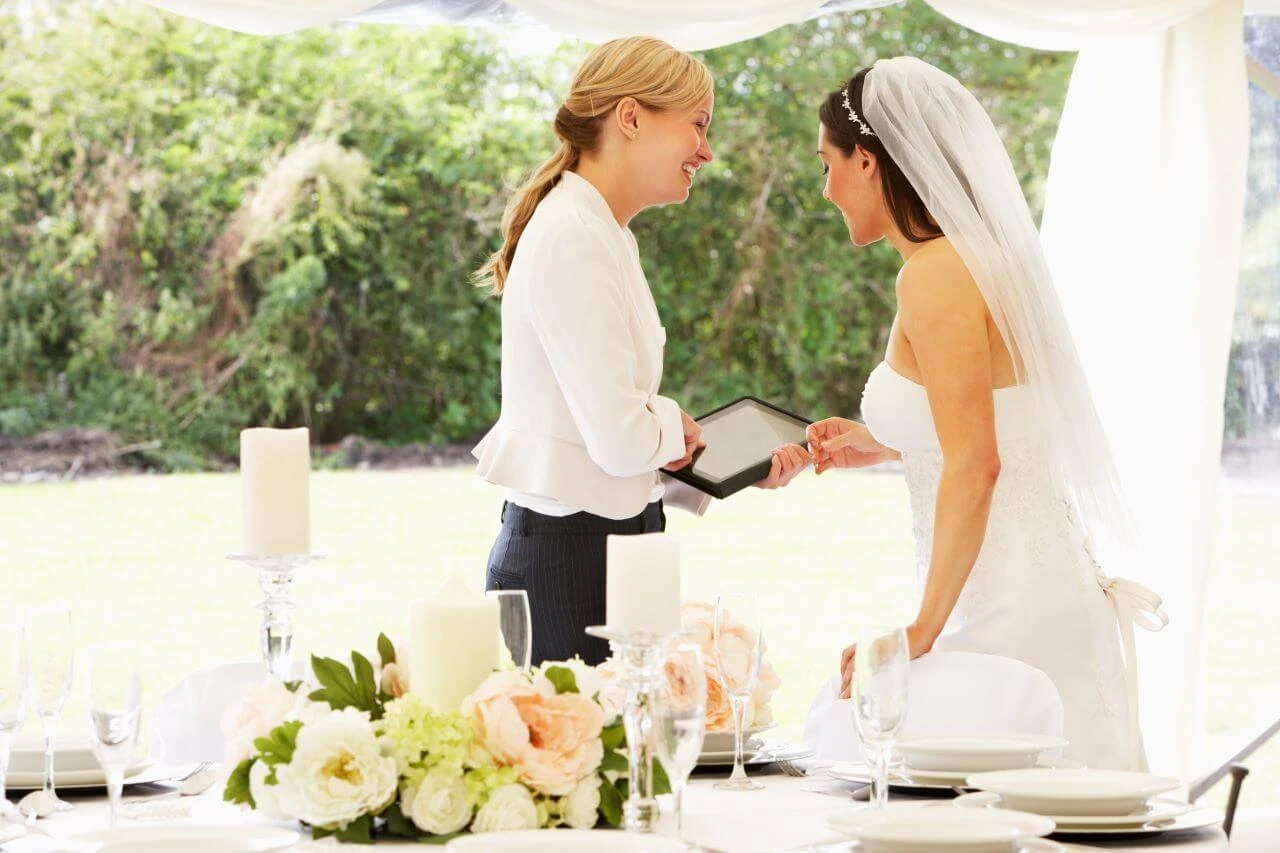 Ring, ring! How to communicate effectively with your wedding planner
Communication is also vital when it comes to working with a wedding planner. You'll want to know how frequently you expect to hear from them and their communication methods. Should you catch up via social media? Meet up for coffee? Talk on the phone or is email and text better? 
And how will they handle the final weeks and days before your wedding? Will they be available for last-minute questions or concerns? It's essential to ensure you're comfortable with their communication style and that you feel confident that they will be responsive and available to you from day one, up until the big day.
What services do they offer?
It's also essential to know precisely what services you're getting from your wedding planner. That's why asking them what services they offer and what is included in their packages is a great idea. 
Wedding planners can offer various services, from full planning and coordination, to partial planning and day-of coordination. First, you'll want to know what's included in each package, such as vendor referrals, creating a timeline, helping with decor, creating seating floor plans, managing RSVPs, and handling logistics on the wedding day. 
By understanding what services are included, you can decide which wedding planner is the right fit for you and your wedding.
Can they provide references from past clients?
Asking a wedding planner for references is a crucial question to ask before hiring them. By requesting references, you can gain insight into the planner's previous work and client satisfaction, which can help you make an informed decision.
When asking for references, it's essential to ask for recent clients who have worked with the planner. You can also ask for the type of wedding they planned, the size of the wedding, and the services they provided. By speaking with previous clients, you can learn about their experience working with the planner, their communication skills, and their level of professionalism.
Do they have preferred vendors?
Asking a wedding planner if they have preferred vendors that they work with can be beneficial for several reasons. Firstly, it can save you time and effort researching and vetting vendors. If the planner has a list of trusted vendors, you can be confident that they have a proven track record of delivering quality services. 
Additionally, working with preferred vendors can help ensure that all aspects of your wedding day are seamlessly coordinated. Since the planner has already established relationships with these vendors, they can communicate your vision effectively and ensure that everyone is on the same page. Ultimately, working with preferred vendors can help ensure a successful and stress-free wedding day.
Did they attend the Wedding Planners Institute of Canada?
The Wedding Planners Institute of Canada (WPIC) certified wedding planners have completed rigorous training and have the expertise and experience to ensure that every detail of the wedding is executed seamlessly. From selecting the perfect venue and vendors to creating a detailed timeline and managing the budget, a WPIC certified wedding planner can handle it all. They can also offer creative ideas and suggestions to make the wedding unique and personalized to the couple's vision.
In addition, WPIC certified wedding planners adhere to a strict code of ethics and professionalism, ensuring that they act in the best interest of their clients at all times. Did your wedding planner attend?