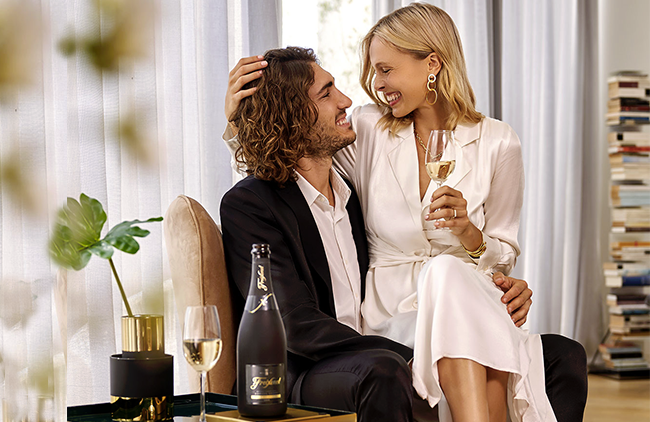 You have the dress, secured the venue and created the perfect menu, but what about drinks?
Deciding on the drinks for your wedding day is an important part of the planning process. It's best to keep the drinks simple and versatile, which is why we recommend Freixenet's Cordon Negro Brut Cava.
Freixenet, the world's leading brand of quality sparkling wines, has been there to help people celebrate life's milestones. Their Cordon Negro Brut Cava is a simple yet elegant and affordable choice that can be used all throughout your entire celebration – perfect to drink on its own or in a cocktail.
On the palate the Cava is light and refreshing with fine, delicate aromas that combine tones of green apple and pear, with light resonances of Mediterranean fruits. It's light and balanced flavour makes it an easy "yes" to include on the big day.
Below are a few recommendations on how you can include one bubbly various ways:
The Morning Of
The celebration truly begins when you're getting ready with the bridesmaids! Pop the Cordon Negro Cava and pair it with fresh-squeezed orange juice for a morning pick-me-up.
Ingredients:
1 tablespoon of honey
1.5 oz of orange juice
3 oz of Cordon Negro Brut Cava
Preparation:
Pour the orange juice into a flute glass and add in the Cordon Negro Brut Cava. Gently stir to create the perfect mimosa.
The Toast
Raise a glass to the newlyweds! Serving a bubbly during toasts is a common practice and it's important to serve a versatile drink. Cordon Negro Brut Cava is crisp, clean and well-balanced with fruity flavours on the palate, this Cava will be an easy-to-sip guest favourite.
Signature Cocktail
A signature drink is any type of featured beverage that will help elevate and add a memorable element to your wedding. Not only does it make ordering a drink more efficient, but it can also save you money.
With spring and summer weddings on the horizon, a spritz is the way to go! The combination of the classic spritz with Freixenet's Cordon Negro Brut Cava will allow guests to explore the citrus and fruity notes along with the elegant aroma and flavour of Cordon Negro.
Ingredients:
2 oz of spritz
1 oz of club soda
Ice
1 orange slice
3 oz of Cordon Negro Brut Cava
Preparation:
Pour ice into a wine glass and mix it with a spoon to cool the glass and remove the excess water. Pour the Cordon Negro Brut Cava, spritz, club soda and the orange slice. Gently stir with a spoon and serve.
For more information, visit https://www.freixenet.es/en