Melissa Longo & Cody Hoekstra
Tell us about your love story.
Cody and I met in 2013, at the salon I worked at. What began as a client in my salon chair grew into a love story, as upon meeting we instantly knew there was something special about one another. Early in our relationship, we spent many endless date nights getting to know each other and quickly became best friends. After 7 amazing years, our first home, and welcoming a fur baby named Duke, Cody proposed on New Years' Eve of 2020. 
Did you have to change your plans due to COVID? If so, how did you feel before and after?
We were so excited to begin planning our wedding, especially as my brother, who owns RL Designs, would be helping us with the planning. However, within a few short weeks, the pandemic hit and all of our excitement started to be overshadowed with uncertainty of when we would be able to be married, where we could get married, and how many of our loved ones would be able to attend. With the unpredictability of COVID-19, we knew a 2020 wedding would not be in the cards and we set our plans for as late as possible in 2021, in hopes that the pandemic would be a distant memory by then. Like other couples, we were stressed out and constantly worried that our fairytale wedding would be ruined by the pandemic but pushed forward with planning, despite having to wait patiently while our venue learned what would be possible for capacity and restrictions. Even leading up to our date, we had to closely monitor the government guidelines and make adjustments to our guest list, our menu options, whether dancing would be allowed, etc. but by the time the big day arrived, restrictions were beginning to lift and we were ready to celebrate!
What was your favourite part of the day?
From start to finish, our wedding day was absolutely magical. The weather had been calling for thunderstorms all day, which is a risk you take when choosing an October date. Fortunately for us, the clouds parted early in the morning and our day was filled with clear skies and sunshine! My favourite part of the day was knowing that I had nothing to worry about because our dream team of vendors would be making sure the whole day ran flawlessly, and it did thanks to our Wedding Planner, Lauren De Koster, and her team at Twelfth Night Events as well as our Catering team at North Moore Catering.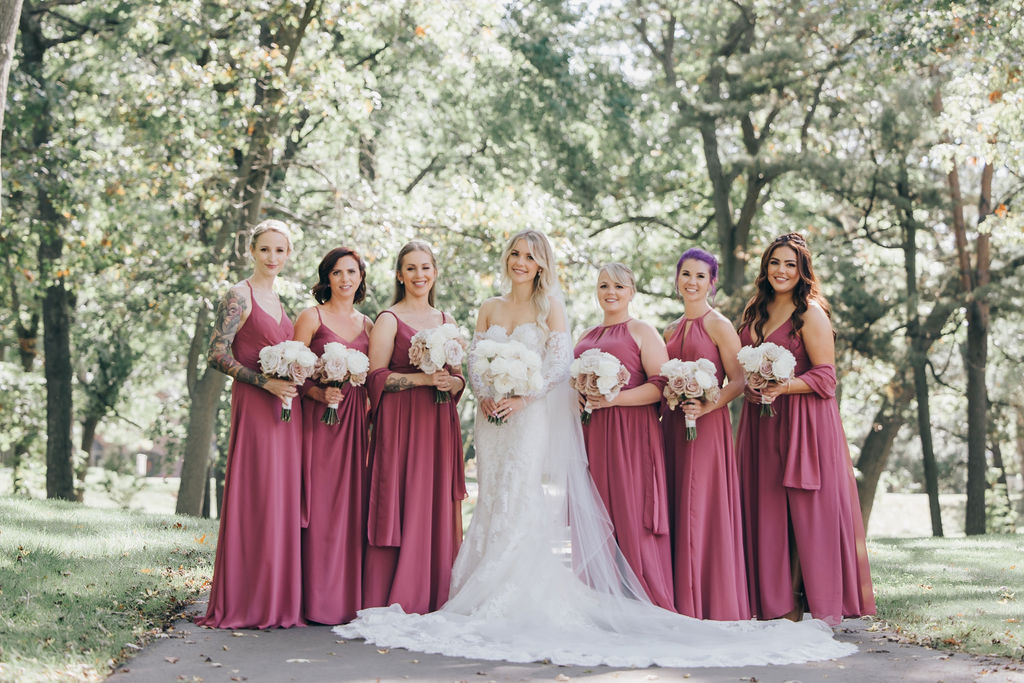 Did anything go wrong?
Upon arriving at the venue, and despite a lot of communication with the venue leading up to the wedding day, our Wedding Planner was informed that our candles were not able to be lit without written approval from the Fire Department. Of course, my entire design plan incorporated so many beautiful candles, including an oversized collection of candle towers as my backdrop, which was a focal point of my Brother's design plan.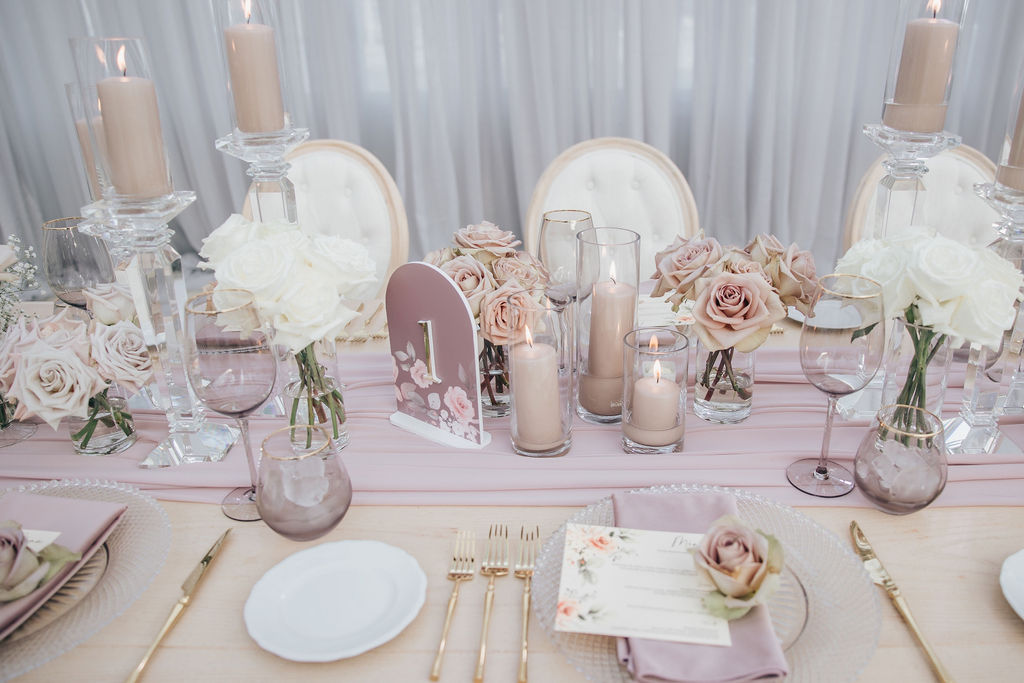 On the morning of the wedding, which was the Saturday of Thanksgiving weekend, our wedding planner tracked down the personal phone number for the Sarnia Fire Chief and shared the discovery of needing approval for candles with him. By the power of technology, a strong will to bring our dreams to life, and great problem solving skills, our planner and the fire chief came up with a plan that would allow us to have most of the candles lit, with the exception of our candle tower backdrop – due to his fear of it being knocked over. Lauren, our planner, called my brother (the designer) and they worked on a solution for what they could do to replace the backdrop design with something equally as beautiful and a new plan was created without my knowledge. Luckily (and intentionally), our Planner and my Brother work together often and could coming up with a design that reflected his signature style and my dream vision was quick and efficient and did not take away from my Brother spending the morning with me getting ready.
I learned of this only after seeing the gorgeous ballroom revealed to me and it was even more beautiful than the original concept!
Favourite wedding detail?
The details of our wedding decor were nothing short of incredible! From the surprise pyrotechnics going off during our first dance, to flipping our cocktail reception space into "Café Hoekstra" with the most beautiful sweet table ever designed, and all the gorgeous elements of the table decor, the details of our decor were show-stopping. Being lucky to have an incredibly talented brother in the wedding industry, he kept much of these details a secret from me once I shared my overall vision and colour scheme.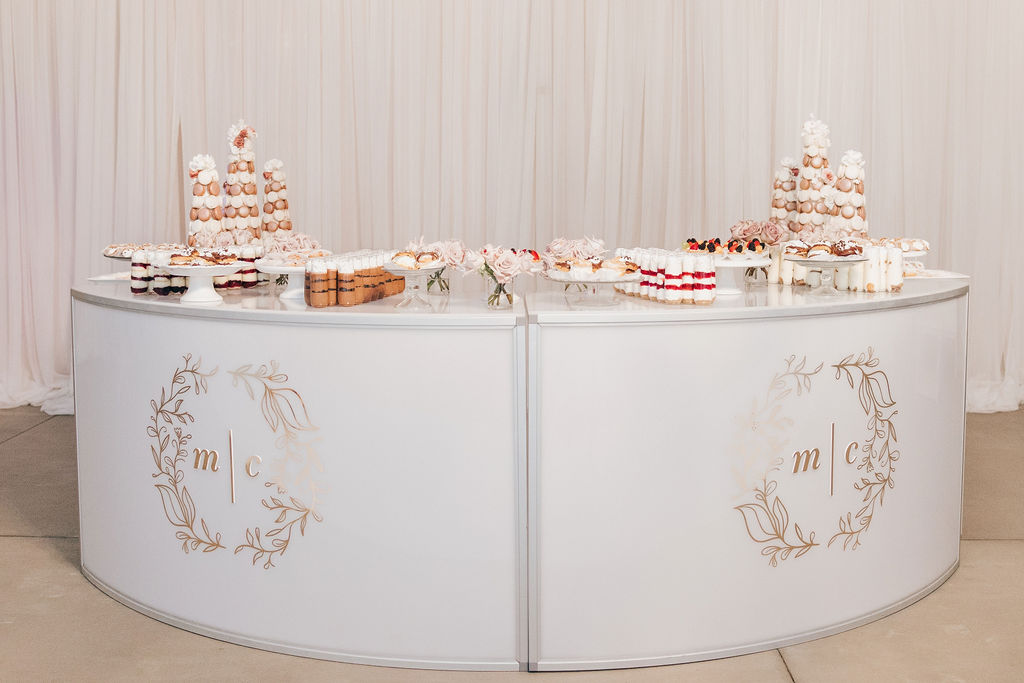 The most memorable moment was being brought into the ballroom for a private reveal with my husband and my brother. To say I was speechless would be an understatement! Every inch of our venue, an active garden centre, was transformed into the most beautiful setting I could have ever imagined.
What will your guests remember most?
We feel that our guests will remember the ambiance and love that filled the room on our wedding day. After a year and a half of endless lockdowns, being able to hug, dance, and celebrate with family and loved ones as normal was a gift in itself. For my family, being able to showcase the incredible talent of my Brother, by transforming a greenhouse into a mauve dream, filled us with pride and happiness that cannot be measured.
What advice can you give couples who are planning their wedding?
We strongly believe that every couple should have a "first look" before the ceremony. Being able to see each other privately, without all of your guests watching and trying to take photos of their own, is such an amazing experience. It is one of the only moments throughout the day that it is just you and your Partner, one on one, sharing a very special moment. It allows you to spend even more of the day together, get all the photos done ahead of time, and be 100% present for as a guest at your own reception!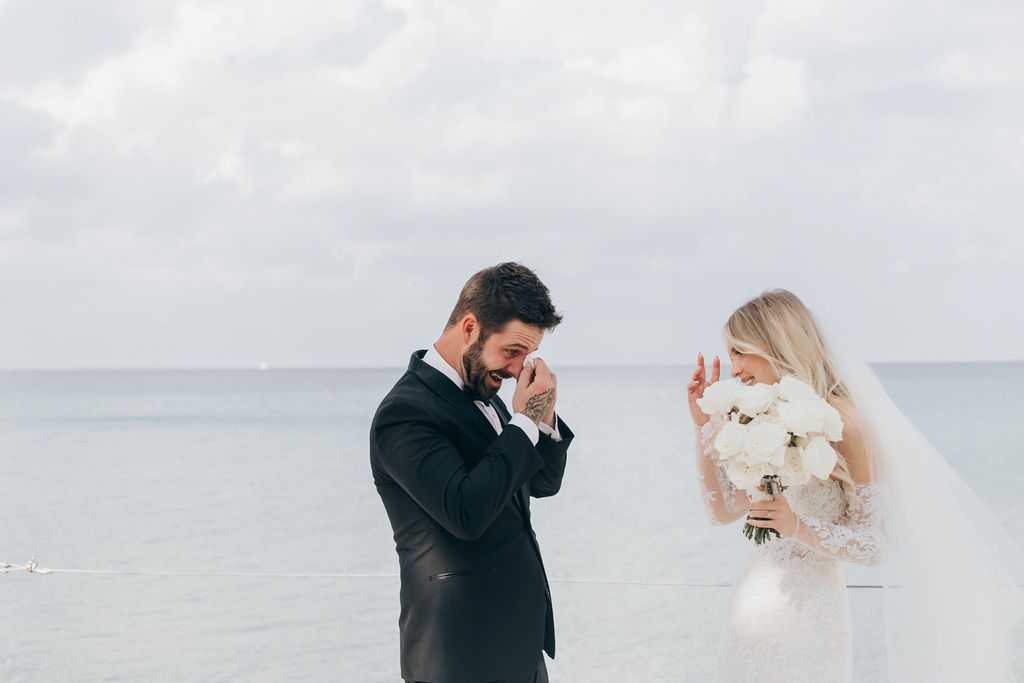 Not only should you try not to stress out about the small things, I would also encourage you to trust your vendor team! They are as invested as you are in making sure your day is everything you dreamed of and it will all work out to be the best day ever, if you trust them! For us, it turned out better than we could possibly imagine because we chose to trust them wholeheartedly.
Lastly, I would encourage you to sit back at your reception and take it all in! Admire every small detail in the room, the people who are celebrating with you, and the food you spent months agonizing over – the day flies by before you know it and what was the point of all that stress if you cant sit back and see it unfold?
Number of guests: 130
Ceremony/reception venue: DeGroot's Nurseries, Sarnia, Ont.
Planner: Twelfth Night Events
Photographer: Nova Markina Photography
Dress designer: Enzoani, purchased at Lavender Bridal Boutique
Suit designer: Joesph's Clothiers
Bridesmaids' dresses: Azazie
Hair/makeup: Moda Hair Salon/Katie Janzen
Décor & florals: RL Designs
Sweet table: Grandma's Oven
Stationery: Minted
Rentals: RL Designs, Simply Beautiful Decor
Vinyl: Event Graffiti
Caterer: Northmoore Catering
DJ: The Alpha DJ Company
See more beautiful real weddings here!