Emily & Jared
Tell us a bit about your love story:
Emily moved out to Vancouver from Toronto for her medical residency. Quite soon after, we met through an online dating platform – a modern love story. After a quick screening phone call by Em, we met at a coffee shop and hit it off immediately. We walked through a park and visited a conservatory. The day was beautiful and set the tone for everything to come. We saw each other every day that first week and have been inseparable since!
What was your favourite part of the day?
Our wedding day was absolutely perfect for us and we will never stop smiling when we think of it! The day before our wedding there was a huge storm and the power went out until late the next morning. We joke that Emily got the Victorian wedding she was asking for as she wrote her vows by candlelight!
Our absolute favourite part was our first look, which we did prior to our ceremony. Seeing each other for the first time after all of the hustle of getting ready was truly grounding and special. We will never forget that first look feeling of excitement and pure joy! Another essential aspect of our day was taking a few minutes just the two of us directly after the ceremony. We had a drink, snacks, and basked in the newlywed glow during a private moment. This was entirely our wedding planners' suggestion and was the best idea ever!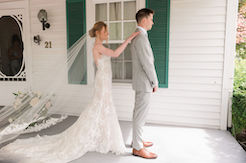 Favourite wedding detail?
Emily is an avid history buff and is very into British history in particular. Our vision was a classic English garden party taking inspiration from the Regency through to the Edwardian eras specifically. With dusty blue as the primary colour, we added whites, pastels, and gold to complement. We rented statement vintage pieces to arrange seating areas and used antique mirrors, frames, and decor throughout. We would describe our wedding as vintage, romantic, and garden vibes.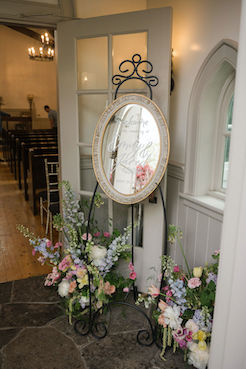 What will guests remember most?
One of our main goals was to have our wedding be relaxed, fun, and inviting for all. Bringing our friends and family from across the continent to join together in celebration was truly a once-in-a-lifetime awesome moment for us. Perhaps Jared's friends going "tarps off" (aka shirts off) before 10pm was memorable for many of our older relatives. 
How did you show your personalities in the wedding?
We are both low-key people, who were quite relaxed throughout the wedding planning process. I think this reflected well on our day, as it was truly a relaxed environment and the focus was entirely on love, friends, and family.
What advice can you give to couples who are planning their wedding?
One of the best pieces of advise we got before our wedding was to take a few moments on the day to step back and soak in the atmosphere. We did this during our reception and we will never forget the love and joy in the room! Leading up to the wedding, it is important to keep the focus on what you as a couple want and to not let too many voices influence your wedding decisions. It is your day!
Honeymoon?
We honeymooned in
Italy
– The Amalfi coast, Tuscany, and Rome! It was so romantic and relaxing, and gave us time to debrief from the wedding and plan our future life together. We waited a couple months after our wedding to go on our honeymoon due to logistical reasons, but it could not have been more perfect. After the wedding, we were exhausted and it was lovely having time to decompress and to get excited about our trip.
Number of guests: 140
Ceremony/reception venue: The Doctor's House, Kleinburg ON 
Planner: Stori events 
Photographer: Nicole Kirk Photography
Dress designer: Pnina Tornai
Suit designer: Suit Supply
Bridesmaids' dresses: Park and Fifth Co
Décor: Tufts and Toile, Simply Beautiful Events Decor
Flowers: Euclid Farms
Cake: Savannah Grace
Stationery: Blush & Letters Co
Hair/makeup: Eryn Shannon