Tuscany is undoubtedly one of the most popular places to get married in Europe, and with good reason: filled with endless historic homes, picturesque villages and fantastic food, those a just a few reasons why couples fly here every year to tie the knot. We wanted to create a photo shoot, inspired by Italian heritage, colours and aesthetics, but with a contemporary and unique vision, and of course, plenty of romantic touches.
Colour
Soft colours were key in this shoot: blush pink, mauve and peach. However, in order to give these rather traditional colours a twist, stronger shades such as emerald green and fuchsia were used to make them pop, as were gold metallic accents.
Venue
We were very fortunate to be hosted by Borgo Pignano, a historical site recorded for the first time 900 years ago and which saw many lives over the centuries, from farm estate to hospital. Now a luxurious retreat with the best views of Tuscany we've ever seen, Borgo Pignano was the obvious choice when planning our shoot.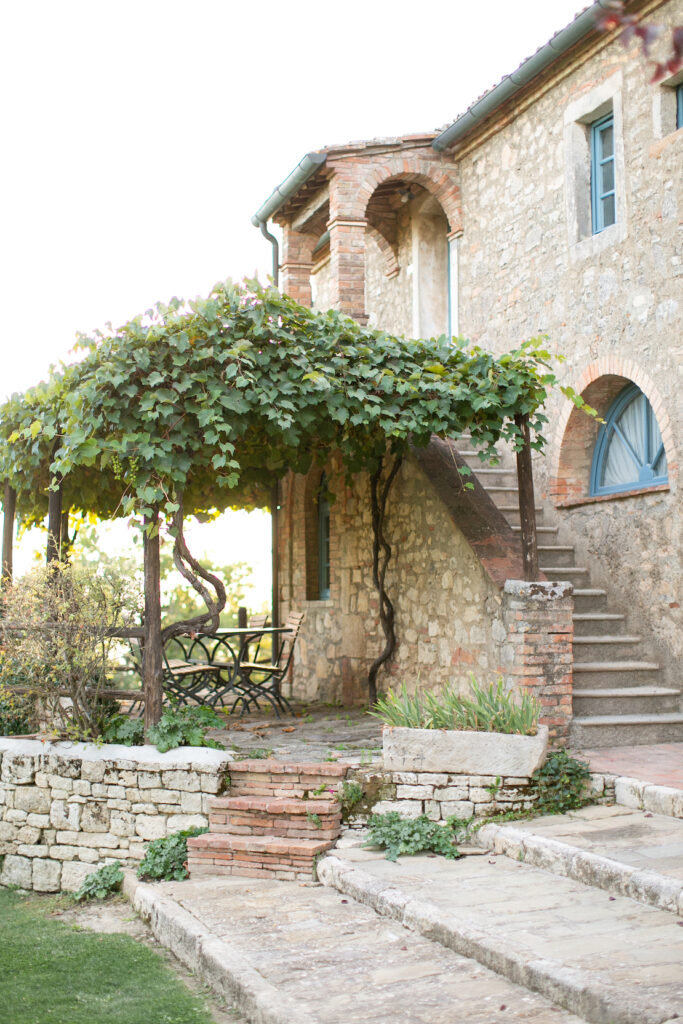 Bride and groom outfits
We chose to keep the groom's outfit traditional for this shoot, with a black tuxedo and dress shirt. For our bride however, we wanted to feature two gowns by Spanish designer Cayetana Ferrer, whose designs perfectly embodied the spirit that we wanted to portray. Romantic, classic and just a little quirky, our bride's first outfit had a detachable skirt that ties around her waist in a different fabric and slightly different colour to her gown. The lace scalloping on the skirt married perfectly with the detailing on the back of the gown: a simple yet effective detail. The bride's Dolce & Gabbana shoes added a contemporary and original twist, not just by their emerald shade, but also, as they were fully sequinned and eschewing traditional bridal heels. The bride's second outfit was made up of a fitted fishtail skirt and a lace cropped camisole: an inherently 'cool' look for an unconventional bride.
Accessories & jewellery
Jewellery was kept to a minimum: pearl earrings, a diamond engagement ring and a wedding band. Instead, the focus was on the bride's Sophie & Luna floral crown, made with real preserved flowers and, our favourite part, large preserved rose heads at the back.
Hair & makeup
To match the style that we had in mind, the makeup was kept simple, with fresh dewy skin, lightly golden eyelids and a glossy lip. As for the hair, we wanted to do something other than an updo, and opted for a fishtail braid, which could not have been more suited for the gown with a low back and the flower crown we had selected.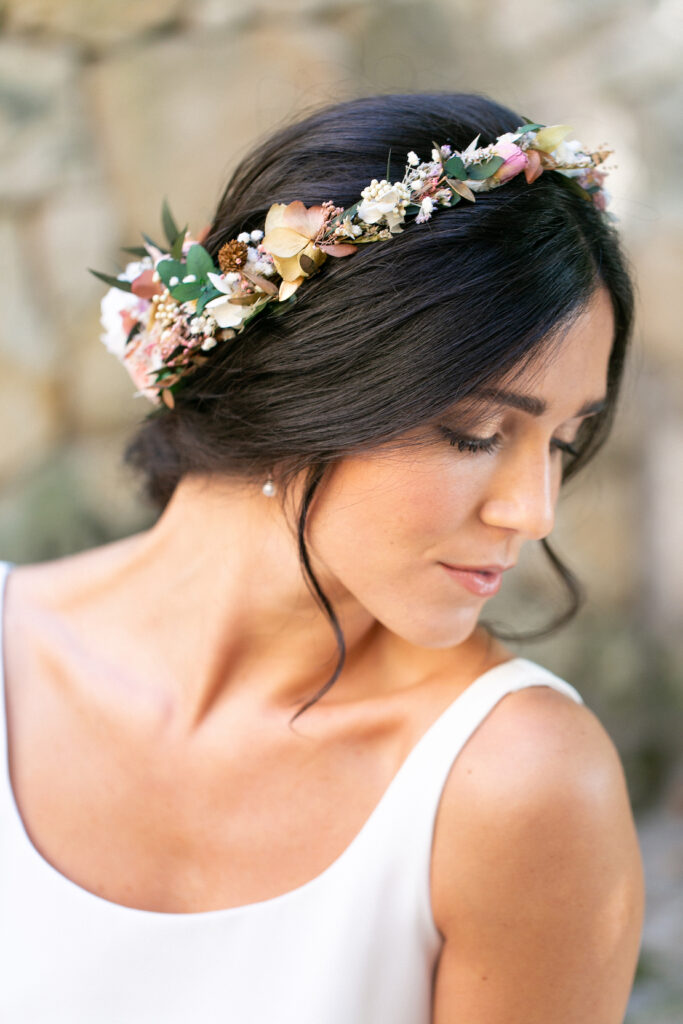 Stationery
As well as incorporating a peach colour, we were thrilled when Harriet from De Winton Paper Co actually included the fruit in the design! Complete with watercolour peach illustrations and peach-coloured tile designs, the stationery worked perfectly for a modern Tuscan wedding, marrying luxury with a rustic and fun touch.
Cake
In keeping with our theme, Tuscan Wedding Cakes created for us a tiered masterpiece, complete with pink and white handcrafted sugar flowers, filigree design and just a hint of sparkle.
Table setting
Set up in one of the most magical corners of Borgo Pignano and with a breath-taking view of the Tuscan hills, our table was as special as we hoped it would be. We were intent on bringing a rustic aspect to our setting, which can be seen with the vintage farmhouse table; but luxury was also at the top of our list. In order to add a sense of occasion to our set up, we added a mauve floral runner, vintage plates and crystal glassware. We were keen to keep a slightly mismatched feeling in the silver cutlery and gold candleholders, in order to bring a slightly more relaxed and even vintage feel. Ceramic vases large and small, marble place cards, custom fuchsia embroidered serviettes, as well as pink candles in cut crystal holders completed the set up.
Flowers
We were absolutely thrilled when Tuscany Flowers agreed to work with us in creating our vision for this styled shoot! The emphasis was on blush, cream and mauve flowers, with plenty of foliage elegantly blended amongst the blooms. Our favourite element however, was the absolute foliage masterpiece they created especially for the day: an asymmetrical arch built around the church door, that looked as if it had grown naturally that way, not to mention the wild foliage explosion and candles they decorated the inside of the church with. They also made trailing garlands for our convertible Morris Minor, complete with blush rose heads.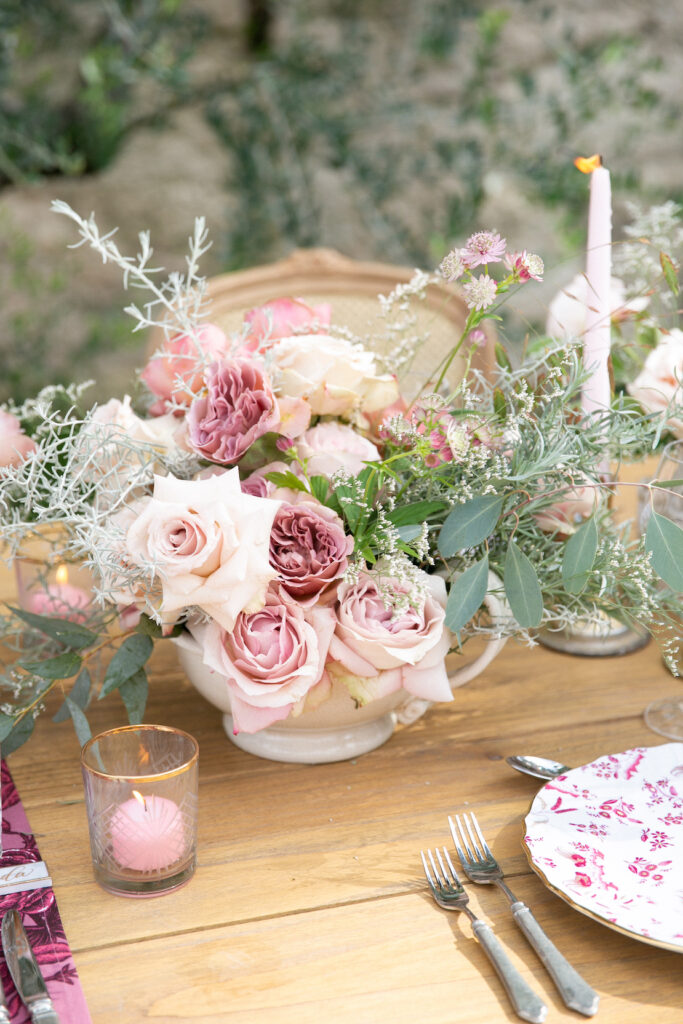 Cars
As Borgo Pignano is in the middle of vast estate, we wanted to incorporate classic vehicles as it would seem more realistic for a real wedded couple. As well as a pristine convertible navy blue Morris Minor, we found a vintage Fiat 500 gelato car, which we absolutely wanted to include, as it paid homage to a classic Italian design and, not to mention, Italian gelato!
–Charlotte Ricard-Quesada founder and creative director of La Fête
Photography: Anneli Marinovich
Planning & styling: Charlotte Richard, La Fête
Venue: Borgo Pignano, Italy
Florals: Tuscany Flowers
Floral crown: Sophie & Luna
Stationery: De Winton Paper Co.
Cake: Tuscan Wedding Cakes
Tableware & furniture: Preludio
Gelato Fiat 500: Miss500
Vintage car: Italian Vintage Garage
Videography: Gattotigre
Baskets/hats: Original Marrakech
Wedding gowns: Cayetana Ferrer
Shoes: Dolce & Gabbana
Hair & makeup: Lara Navarrini
Rings: London Victorian Rings
Groom's outfits: Oliver Brown
Models: Giada Merli, Fillippo Bini