As the vibrant colours of summer begin to fade, a new season emerges, bringing with it a sense of enchantment and tranquillity. With its crisp air, golden hues, and falling leaves, autumn sets the perfect backdrop for a romantic celebration of love. And what better way to capture the essence of this enchanting season than by embracing the latest fall wedding trends?
From fall colours and themes, to dress codes and bridal fashion, incorporating seasonal trends into your fall wedding will ensure a stylish and unforgettable celebration.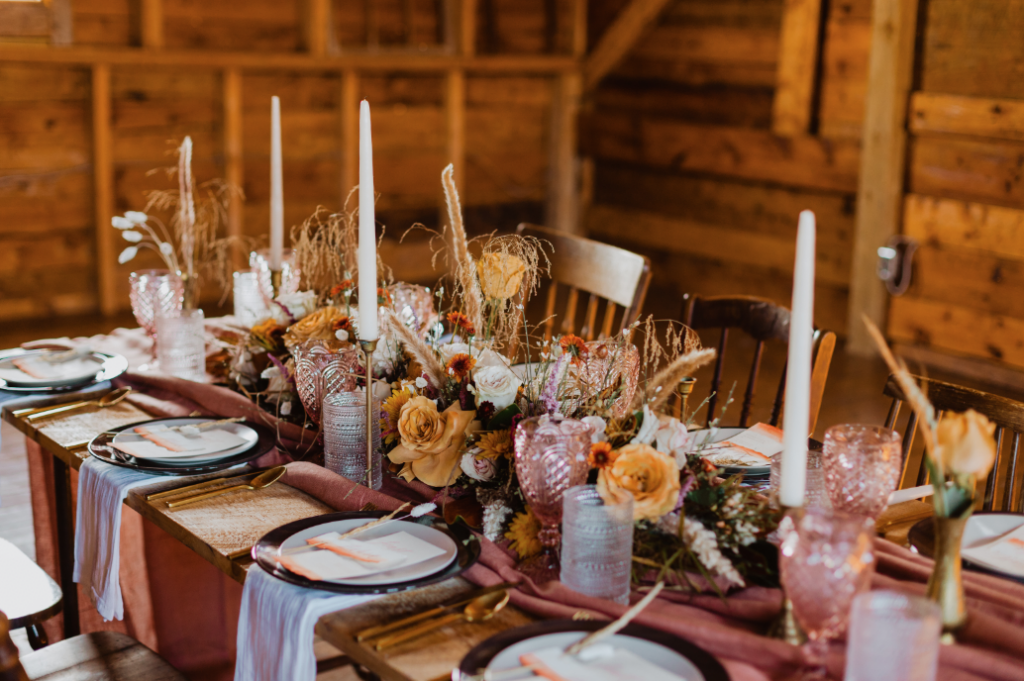 Fall colours for wedding decor and attire
Incorporating the right colours can create a warm and inviting atmosphere when planning fall weddings. Opt for rich and cozy tones like burgundy, deep reds, and burnt orange to infuse the celebration with the season's essence.
Natural colours like sage green, mustard yellow, and taupe can also be used. Consider using metallic elements like gold, copper, and bronze to offer a sense of glitz and refinement to the overall appearance.
Trending fall wedding themes
Choosing a theme for a fall wedding can set the tone and create a cohesive aesthetic. Rustic elegance is a popular choice, combining the charm of the countryside with a touch of sophistication.
Bohemian-inspired weddings capture a relaxed and organic vibe, perfect for nature-loving couples. And if you prefer a more extravagant affair, choose a glamorous and opulent theme with luxurious details like crystal chandeliers and lush floral arrangements in fall colours.
Bridal fashion trends for fall weddings
Long sleeves and illusion necklines: Fall weather can be chilly, so long sleeves and illusion necklines provide coverage and a touch of allure. These details are practical and add a touch of sophistication to the overall look.
Vintage-inspired lace and embroideries: Consider bridal gowns adorned with vintage-inspired lace and delicate embroideries for a timeless and romantic feel. These details add a touch of old-world charm to the dress as well as textures reminiscent of those found in nature.
Non-traditional colours: While white will always be a classic choice, brides are increasingly opting for non-traditional colours that reflect the fall season. Blush, champagne, and silver gowns offer a soft and ethereal look that complements the autumnal atmosphere of weddings in fall.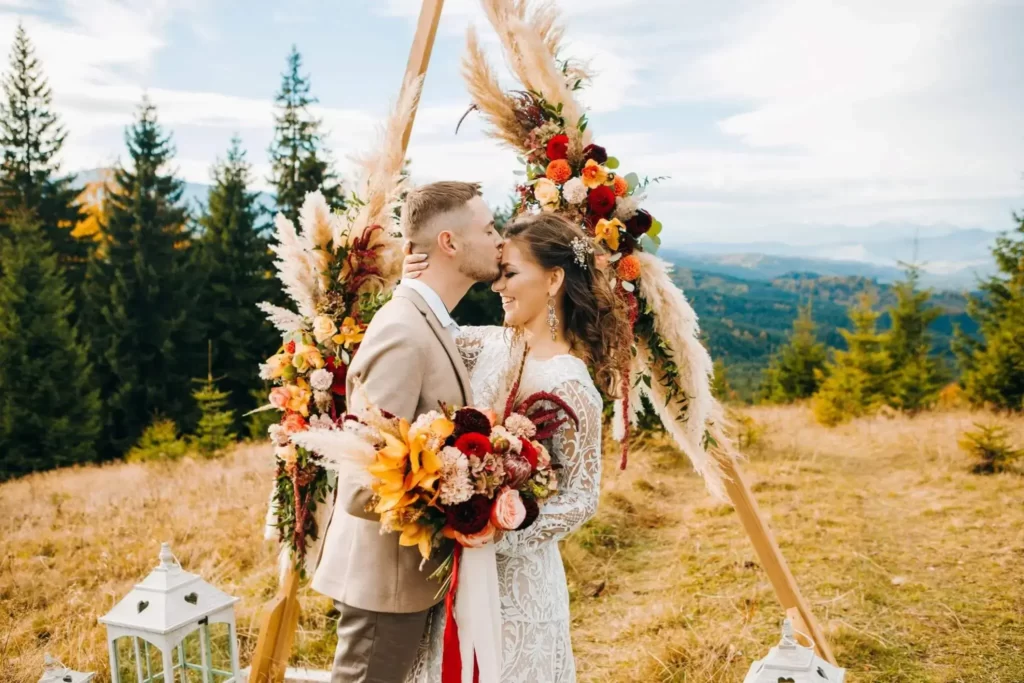 Complementary accessories and hairstyles
To complete the fall bridal look, brides can choose accessories and hairstyles that match the season's ambiance. Here are a few ways you can accessorize for fall:
Statement headpieces: Add a touch of glamour to your wedding ensemble with a statement headpiece. Opt for metallic accents or fall-inspired motifs like leaves or flowers to create a stunning focal point.
Textured hairstyles: Embrace the natural beauty of fall with textured hairstyles like loose waves or braids. These styles evoke a sense of effortless elegance and work well with both traditional and bohemian bridal looks.
Seasonal bouquets: Complete your bridal look with a bouquet featuring seasonal flowers and greenery. Incorporate fall elements like berries, foliage, or deep-toned blooms to align with the autumnal theme. You can also explore unconventional blooms for your fall bouquet, like thistle, succulents, ornamental kale, or even pampas grass, to bring a distinct and unexpected element to your arrangement.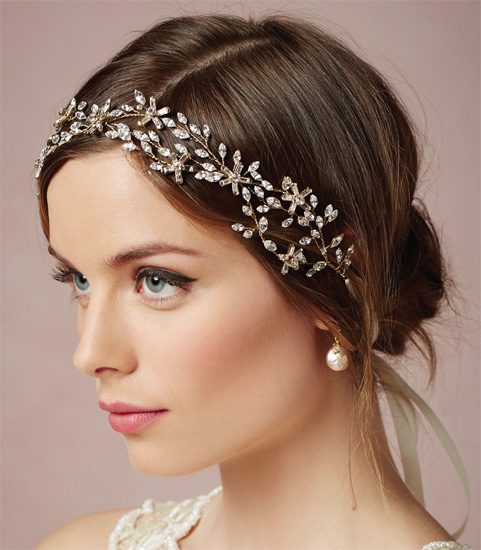 Guest dress code and colours
In weddings, traditions often blend with creative innovations, resulting in delightful surprises that leave a lasting impression on guests. One of the latest wedding trends that have gained significant popularity is requesting your guests to dress in a specific colour.
This unique twist on wedding attire will add vibrancy and visual impact to the celebration and your wedding photos – imagine a sea of guests adorned in various shades of a single colour. Plus, it creates an immediate sense of fun and camaraderie among your guests.
Couples who embrace this trend can select a particular colour that holds significance to them, one that reflects their personalities, cultural heritage, or even their love story. It could be a colour that symbolizes joy, romance, or prosperity.