Wedding planning isn't just full of tedious decisions, contracts, checklists and to-do lists. Some parts are actually fun, like choosing wedding signature drink to serve to guests!
Nothing says "partay" more than festive and creatively named wedding signature drinks. If you want your wedding to be fun and memorable, why settle for a basic bar menu when you can serve unique cocktails and mocktails that reflect your style and personality?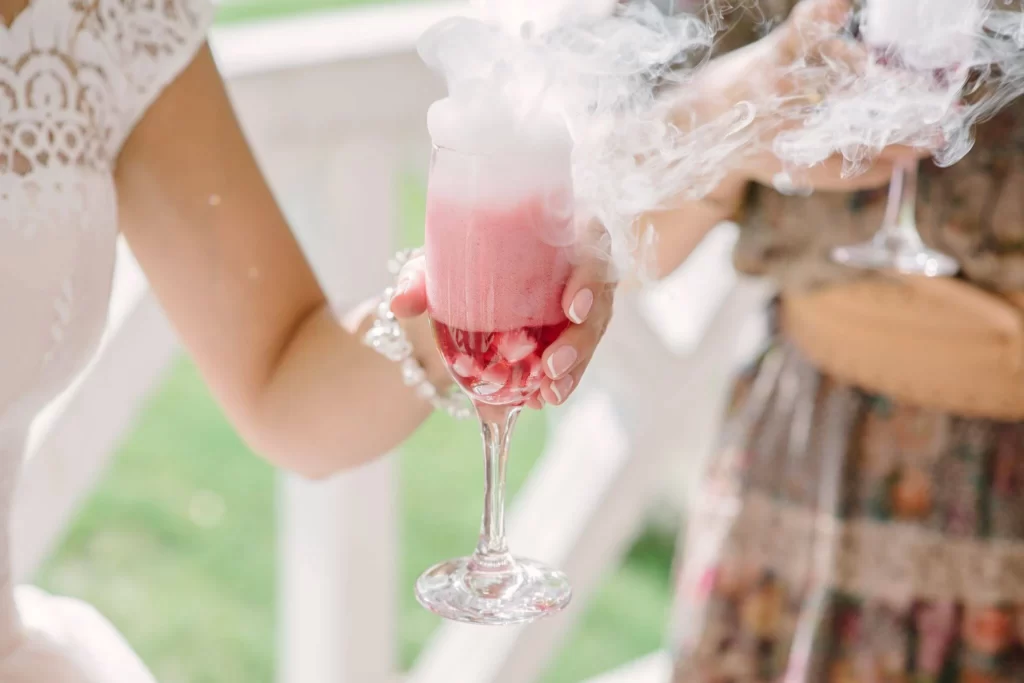 Whether you're looking for a classic cocktail with a twist or something completely unexpected, there are endless options. We're sharing some of the most creative and delicious wedding signature drink ideas that will elevate your celebration and leave your guests buzzing. 
How Do You Choose a Wedding Signature Cocktail?
Picking out a signature drink for weddings might seem like a piece of cake, but trust us, it's more challenging than it looks! However, with these tips, we're confident you'll be able to create a drink that will have your guests' tastebuds singing and begging for more. 
Remember the following tips when choosing a signature drink for weddings:
Simple is best: To make it easier for bar staff to offer fast and efficient service, give them an easy signature drink to serve with minimal ingredients.
Select a beverage or liquors you enjoy

: Your wedding is a reflection of you, so picking some of your favourite ingredients is a good way to share something fun about you.

Choose flavours everyone will love

: Remember that you need to cater to a wide range of tastes, so going the extravagant route may not always be best.

Can It Be Made In Large Quantities?

Check with the bar crew to see if they're well-stocked with the required ingredients. Making batches in bulk will help eliminate long lines at the bar.

Give it a cool name: Pick a name that's catchy and either describes the drink or captures the essence of you and your partner. Have fun with it!
If you don't find a signature wedding drink that fits your style, it's a good idea to talk to a local mixologist. They are the experts in crafting delicious beverages and will be happy to whip up some samples for you to try. 
Wedding Signature Drink Ideas
Raspberry Limoncello Prosecco
The Raspberry Limoncello Prosecco wedding signature drink is a gorgeous and refreshing cocktail that is perfect for any wedding celebration. This drink features a delicate and bubbly prosecco base infused with the sweet and tangy notes of fresh raspberries. 
Adding a splash of Limoncello liqueur for some extra zing will give the drink a zesty citrus kick that balances out the sweetness of the raspberries. The result is a beautifully balanced and flavourful wedding cocktail that will impress guests and make any wedding celebration even more special.
Caramel Apple Martinis
The Caramel Apple Martini is a delicious and unique wedding signature drink that will surely please any sweet tooth. This cocktail features a smooth and creamy base of vodka and apple juice mixed with rich and decadent caramel syrup.
For some fun and personality, you can garnish this cocktail with a fresh slice of crisp apple and a sprinkle of cinnamon sugar. You'll have a tasty cocktail that is sweet and tart and perfect for fall or winter weddings.
Ginger Grapefruit Bourbon Sour
This bold and flavourful signature drink for weddings is the perfect "unique" cocktail featuring a base of rich and smoky bourbon mixed with tangy grapefruit juice and a touch of spicy ginger syrup. 
To add some depth of flavour, the cocktail is finished with a splash of bitters and a garnish of fresh grapefruit peel. It's a complex concoction that's bold,  refreshing and perfect if you want to spice things up.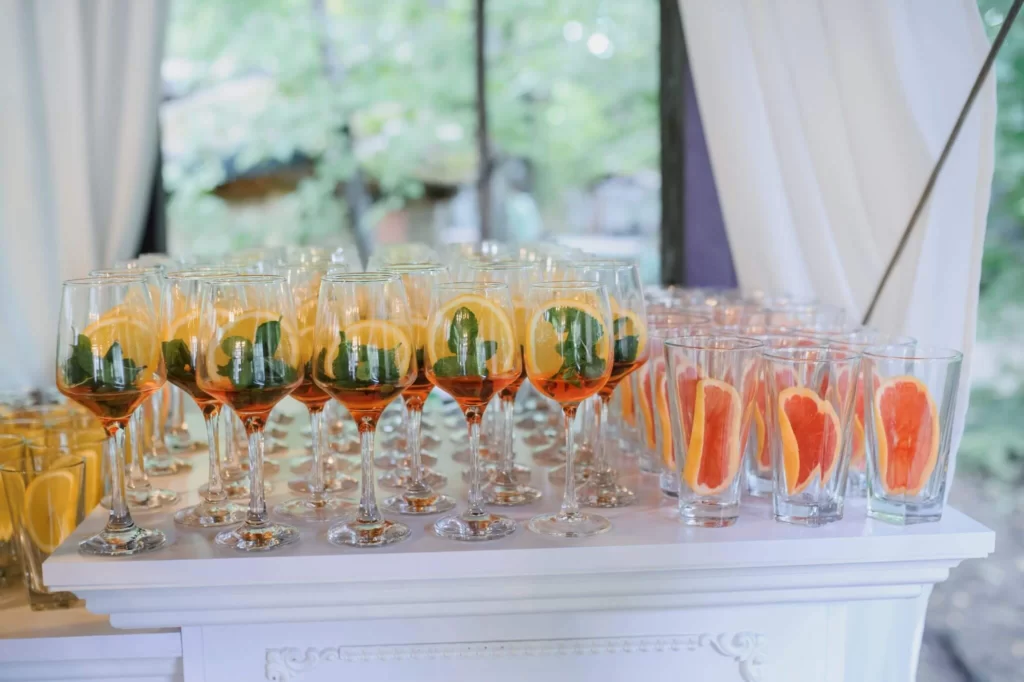 Blackberry Lavender Champagne Cocktail
The Blackberry Lavender Champagne Cocktail features a delicate and effervescent champagne base infused with the decadent flavours of fresh blackberries. Add a touch of complexity and sophistication with a hint of lavender syrup, which gives the drink a floral and earthy note. 
It's a refreshing and visually stunning cocktail that embodies the essence of summer romance.
Marry Me Margaritas
You can never go wrong with a margarita when you're looking for a signature drink for weddings that can please the masses. Margaritas are a great signature cocktail idea because you can customize them to your preferred flavour, make them in large quantities, and you can offer your guests a few different choices. 
Here are some awesome ideas for margarita wedding signature drinks. 
Spicy Pineapple Margaritas

Sparkling Champagne Margarita

Blueberry Margarita

Coconut Margarita

Grapefruit Margarita

Fresh Strawberry Margarita

Green Tea Margarita

Beer Margarita
Spicy Grapefruit Ginger Fizz Mocktail 
Whether you're looking for a refreshing non-alcoholic option or a spicy cocktail, this beverage is a must-try. Perfect for your non-drinking friends, it features a unique blend of muddled jalapenos, tangy lemon, and spicy ginger beer, all complemented by the refreshing flavours of grapefruit and mint. 
And if you're in the mood for something stronger, add a splash of bourbon or vodka to take it to the next level. Either way, we're confident this drink will be a hit at your wedding.