In today's world, couples are embracing a new wave of wedding celebrations that go beyond traditional extravagance—eco-friendly weddings. And this isn't just a "trend" that will be gone in a flash; it's a heartfelt commitment to the planet we all love. 
Did you know that the average wedding generates an astonishing amount of waste? From disposable decorations, flowers, and uneaten food to single-use plastic items, and let's not forget the carbon emissions from travelling –the footprint of a typical wedding can be enormous. It's time for a change.
If you're a couple who believes in love, laughter, and a greener future, we have some great ideas to ditch single-use plastic items and transform your special day into a greener, more sustainable celebration.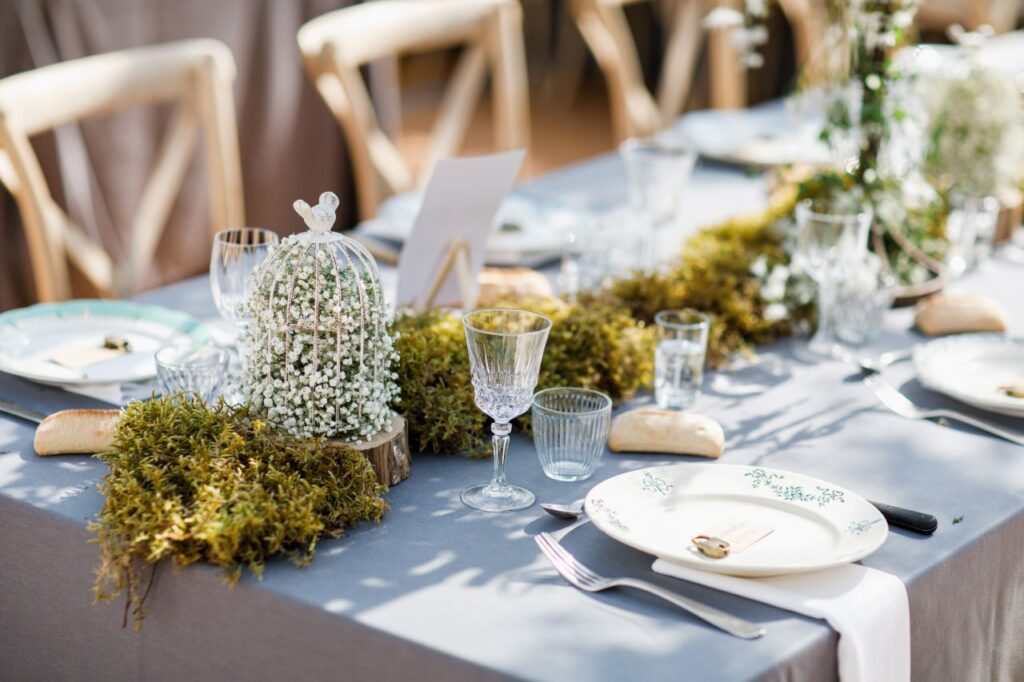 Plastic water bottles
Water is a necessity, and most of us are accustomed to the traditional water bottle, but at an event such as a wedding, the number of plastic water bottles consumed could be significant. So, the first of our sustainable wedding tips is to ditch single-use plastic water bottles.
Instead, you can offer water carafes on each table and refillable water stations throughout your event. Doing this will cut down on the amount of plastic waste at your wedding. But, if plastic bottles are your only option, speak with your venue to ensure those bottles get recycled. 
Reusable or biodegradable dinnerware and cutlery
For casual eco-friendly weddings, engaged couples can opt for reusable or biodegradable dinnerware and cutlery, such as bamboo or compostable options, which reduce single-use plastic waste and add a touch of eco-chic to the table settings. 
On the other hand, traditional dinnerware or elegant china can be chosen for more formal events to maintain a sophisticated ambiance while prioritizing sustainability by avoiding disposable plastic items.
Fashion for eco-friendly weddings
Fashion trends have migrated to a throw-away culture, and there is no place where this is more evident than at your wedding. Wedding dresses, for example, have long been a fashion item that gets worn once. And while it may only be worn for a few hours, the process of making a wedding dress significantly impacts the planet. Thousands of gallons of water are needed, yards and yards of fabric, dyes that pollute our rivers and oceans and the emissions put out by the factories all impact our planet. Sure, they're a labour of love, but they aren't the most practical fashion for eco-friendly weddings.
Luckily, there are also options for you to embrace sustainability in your wedding attire. There are eco-friendly wedding dress designers and suit brands that offer a beautiful selection of fashionable apparel for your big day. 
But if that's not an option, you can sell or donate your wedding dress after the big day. How does that help create eco-friendly weddings? Selling your gown means another bride won't have to purchase a brand new dress, thus saving the planet from more waste and pollution. 
Opt for fabric napkins instead of disposable ones
Fabric napkins are a beautiful way to eliminate waste at your wedding. Instead of using paper napkins, decorative fabric napkins, or single-colour napkins that match your theme, elevate your guests' dining experience and help the planet. 
Donate any leftover food
At the end of many weddings, you can find leftover food. Rather than simply throwing it away, work with your wedding planner or caterer to donate the leftovers to needy families or organizations. This is a beautiful way to help others in need and promote your love for eco-friendly weddings. 
Use sustainable and compostable straws
Incorporating sustainable and compostable straws, or even eliminating straws, can create an eco-friendly wedding. Opting for alternatives like paper, bamboo, or stainless steel straws reduces reliance on single-use plastic and minimizes environmental impact. 
By making this small but impactful change, couples can sip their drinks responsibly and inspire their guests to embrace a plastic-free celebration that leaves a positive mark on the planet.
Avoid plastic confetti at eco-friendly weddings
Ditching plastic confetti in favour of natural alternatives like flower petals or dried leaves is a beautiful way to add a touch of eco-friendliness to your wedding celebration. These biodegradable options create a beautiful and whimsical atmosphere and eliminate the harmful environmental impact caused by plastic confetti. 
Additionally, couples can explore other creative ideas like eco-friendly bubbles, birdseed, or even herb and seed packets that guests can plant, allowing love to bloom long after the festivities are over.
For more tips on planning an eco-friendly wedding click here.