Straight from the pages of our Spring/Summer 2023 edition of Today's Bride, this incredible and dramatic wedding is one for the ages. A master class in both contrast and glamour, it inspires all of us to walk on the wild side every so often, even when it comes to love. With the right finishing touches, you too can achieve a wedding that's uniquely you. Here's how Memphis Mori did it.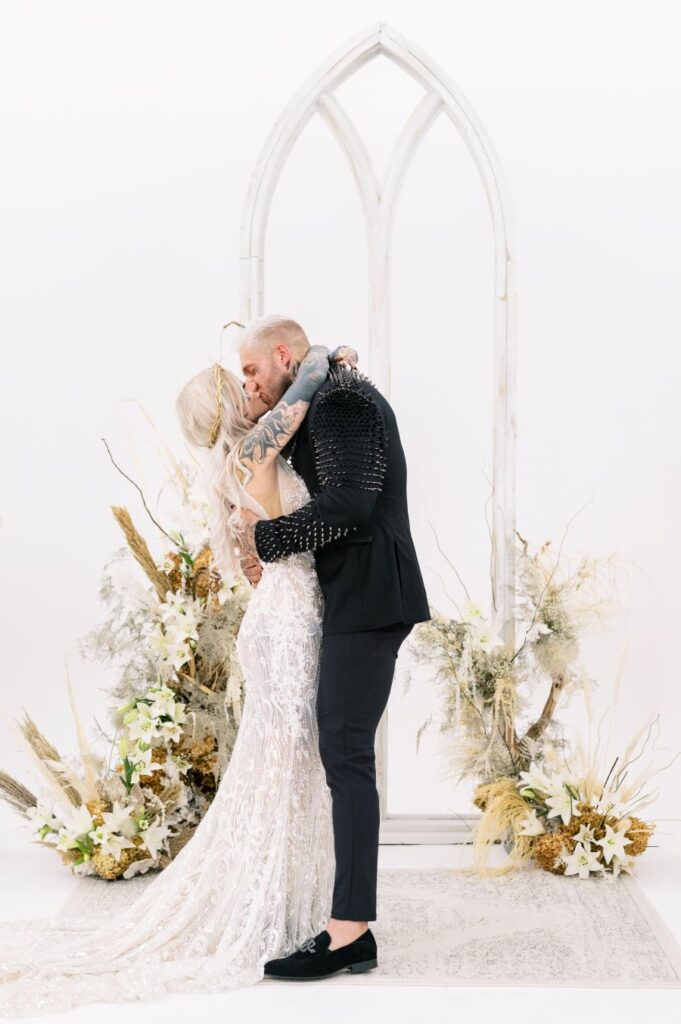 As many modern romances go, Memphis Mori and Bradley Gold met on Tinder. But before any real connection was made, Memphis' account was deleted! Luckily, Brad was able to track Memphis down on Instagram, brought her a coffee while she was at work and has been by her side ever since. 
Black and white: Memphis is known for her love of black, and knew her guests would expect it. "We wanted to mess with them a bit," she says. "I'm known for black on black on black. My house is all black. My clothing is black. My taste is always black on black.
So we just kind of lied to everyone and led them to assume it was going to be all black. Made invites all black, our site was black, our dress code was all black. Even as you entered the venue, all the signs were black, black candles, etc. And then you entered the ceremony room and everything was white. It was really incredible."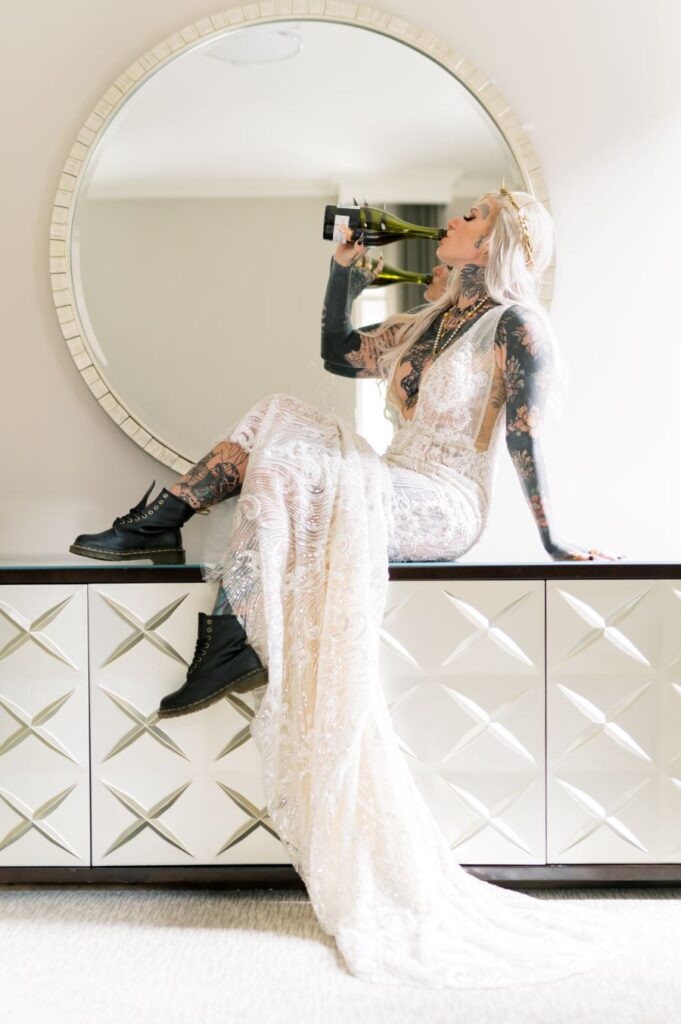 Solid advice: Memphis has some words of wisdom for anyone planning a wedding. "Be weird. Be yourself. Be different. Hire a designer if you're an aesthetic nerd like myself. (I really recommend Mad Bash Group.) But seriously, it's your day and it's one day. So be true to your relationship and don't try to be someone else for a day."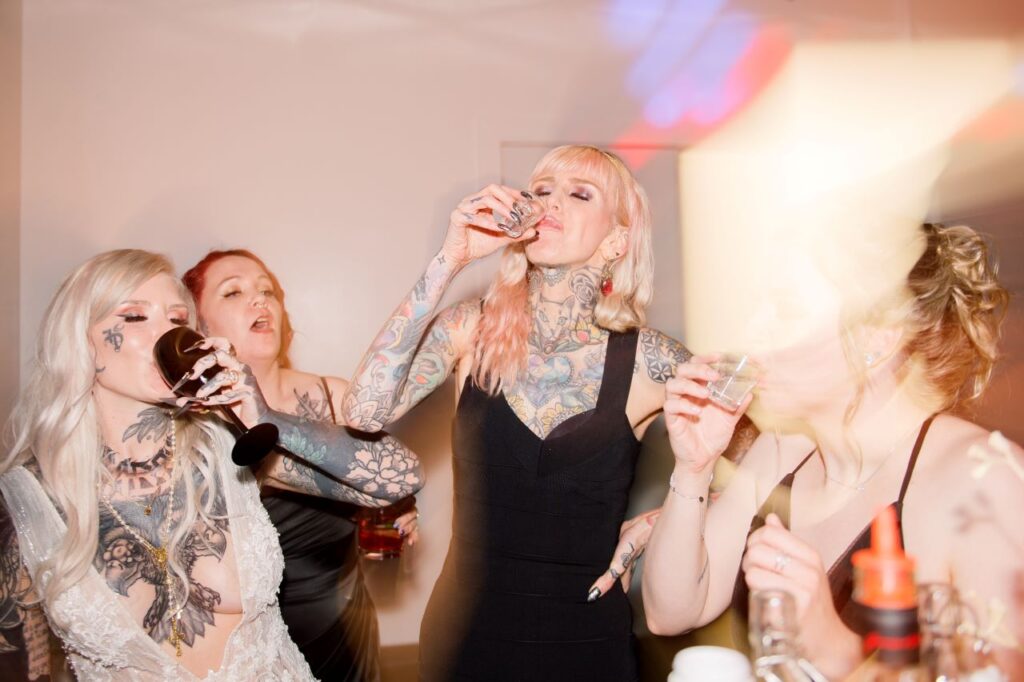 Heaven sent: While not religious at all, the couple does love religious imagery. The bride wore a crown of golden thorns and the ceremony backdrop was a reclaimed church window.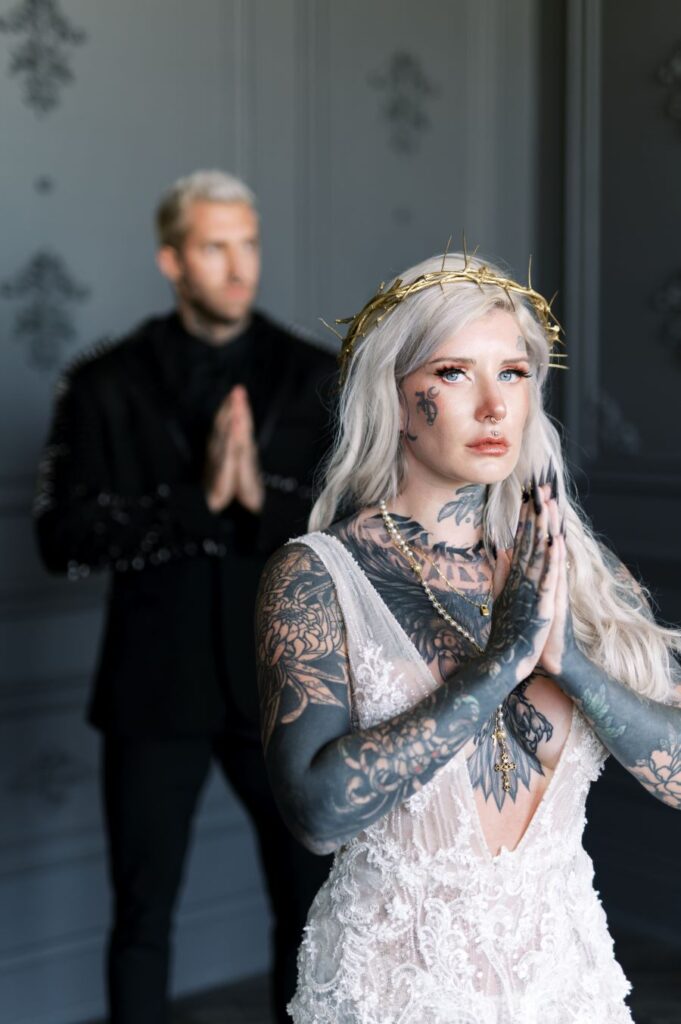 PHOTOGRAPHY BY WHITNEY HEARD
CEREMONY VENUE: District 28, Toronto 
NUMBER OF GUESTS: 44
DESIGN: Mad Bash Group 
BRIDE'S GOWN: Wona Concept (customized)
HAIR: Fox and Jane (Melissa & Kristen) 
GROOM'S SUIT: Pants by Lululemon, Jacket from Moores (then customized with studs)
FLORALS: Flower Treasures
PAPER GOODS: It's Okay Design Studio
CAKE: Sweet Celebrations