Cheers to love, laughter, and happily ever afters! When planning your dream wedding, every detail should be perfect, right down to the drinks you'll be toasting with. That's where the wedding bar experience comes in. 
A well-curated bar can elevate your celebration to a new level, leaving your guests with memories they'll cherish forever. So, let's pop the cork and explore how to create an extraordinary wedding bar experience that will have everyone raising their glasses in delight!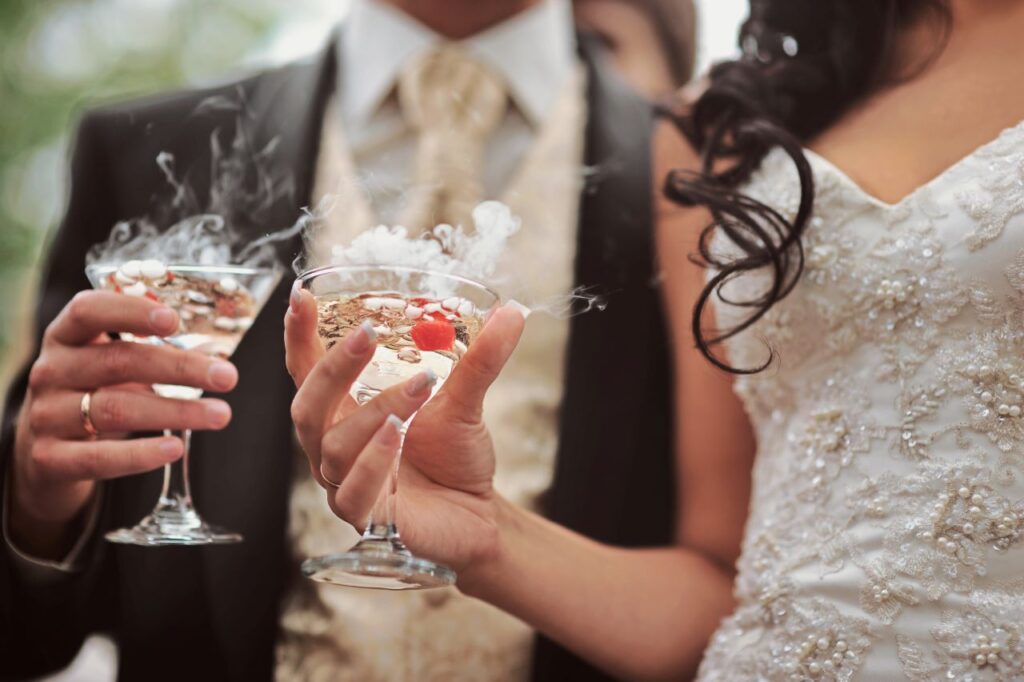 Pop the champagne!
First, let's talk about the show's star: champagne! As the quintessential celebration drink, champagne sets the tone for a glamorous and elegant affair. Consider offering various champagne options, from classic brut to rosé and even vintage bottles, for those looking for something extraordinary. 
To make it more fun, you can create a champagne bar with a selection of mixers and garnishes, allowing guests to customize their own champagne cocktails. Think fresh fruits, flavoured syrups, and edible flowers for a touch of whimsy. Cheers to personalization!
Craft cocktails
But champagne isn't the only player in town. Craft cocktails have become popular for wedding bars, offering a unique and personalized experience. Hire a skilled mixologist to shake up a signature cocktail menu inspired by your love story. 
For instance, if you met on a tropical vacation, consider serving a refreshing pineapple mojito or a coconut-infused martini. These personalized touches will impress your guests and create a conversation starter. Let the drinks tell your adventures and love story!
Mocktails
Now, let's not forget about the non-alcoholic options. Offering a selection of mocktails is a thoughtful way to cater to all your guests, including those who don't drink alcohol. These creative and alcohol-free concoctions can be just as enticing and delicious as their boozy counterparts. 
From sparkling mocktails to fruity spritzers, there are countless options. Plus, they can be served in fancy glassware with garnishes to match, ensuring that everyone feels included in the celebration.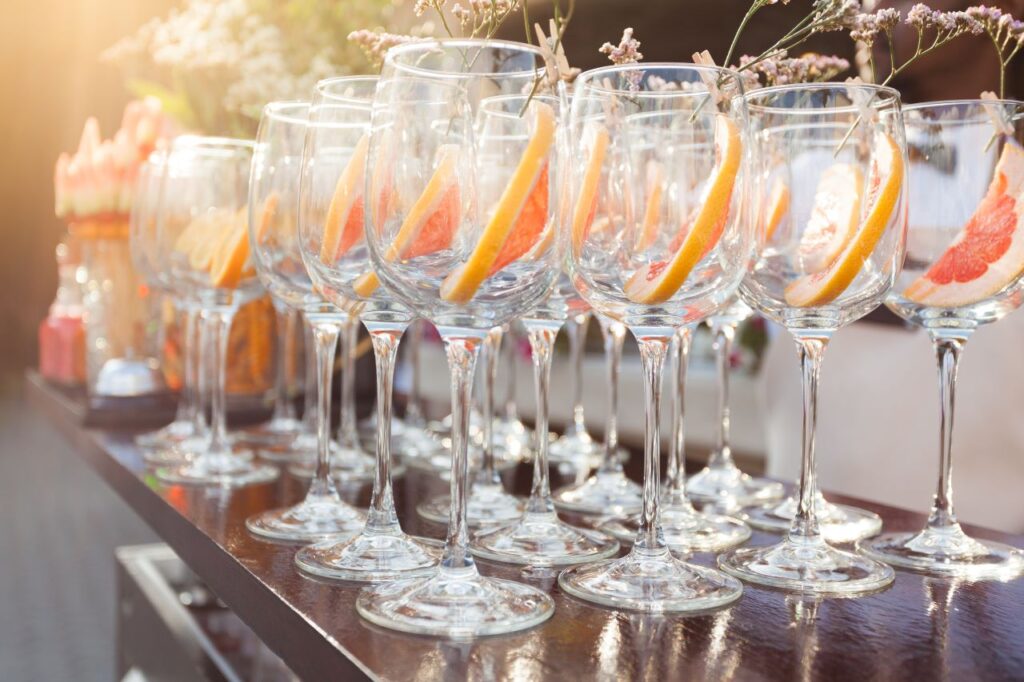 DIY cocktail station
To enhance the overall wedding guest experience, consider incorporating interactive elements into your wedding bar. How about a DIY cocktail station? Provide a variety of spirits, mixers, and garnishes, and let your guests unleash their inner mixologists. 
Not only will this keep them entertained, but it will also create a memorable experience as they craft their perfect concoctions. And remember to include recipe cards so they can recreate their favourite drinks at home. It's like a bartender in a box!
Of course, a fantastic wedding bar experience goes beyond just the drinks; pay attention to the presentation as well. Stunning glassware, elegant decanters, and stylish bar accessories can elevate the aesthetic and make the experience even more luxurious. 
Consider adding personalized signage, decorative elements that match your wedding theme, and even a backdrop for guests to take Instagram-worthy photos with their drinks. The bar area should be a focal point, drawing guests in with its beauty and charm.
Mixologists – The creme de la creme
But it doesn't stop there. Sure, the selection of drinks you serve at your wedding is important, but the guest experience is what solidifies the memories. So, to elevate their experience, you'll need mixologists, not just bartenders. 
Mixologists showcase their impressive skills by performing dazzling tricks such as juggling bottles, executing flawlessly timed flips, and creating mesmerizing patterns with the ingredients. These visual displays add a touch of excitement and entertainment, making the bar a great focal point of the celebration.
Look for mixologists who exude charisma, charm, and a genuine passion for mixology. Their enthusiasm will be contagious, drawing guests in and making them feel part of something extraordinary.
For example, a mixologist specializing in molecular mixology can create cocktails incorporating innovative techniques like foams, smoke, or edible bubbles. As they explain the science behind these unique concoctions, guests will be both intrigued and delighted by the sensory experience. It's a perfect opportunity for guests to witness the artistry and skill that goes into crafting a remarkable cocktail.
Remember, the mixologist experience is more than just pouring drinks — it's about creating an atmosphere of excitement, enjoyment, and personalized service. When selecting your mixologist, look for individuals who possess the necessary skills and have a magnetic personality that can light up the room. Their ability to connect with guests and deliver a memorable experience will take your wedding bar to the next level.