Contrary to popular belief, a wedding colour palette doesn't have to be just monochromatic colours or ones in slightly varying hues. In fact, more and more couples are making a bold statement with contrasting colours to add a splash of personality and unexpected charm to their big day. 
Contrasting colours have the power to transform your wedding into a visual masterpiece that leaves a lasting impression on all your guests. Think unexpected pairings like deep navy and blush pink or striking combinations like emerald green and sunflower yellow. These dynamic duos not only catch the eye but also tell a story – your story. 
So, if you're ready to break free from the conventional and infuse your wedding with a burst of energy, stay tuned as we delve into the world of contrasting colours and discover how they can elevate your wedding palette to a whole new level.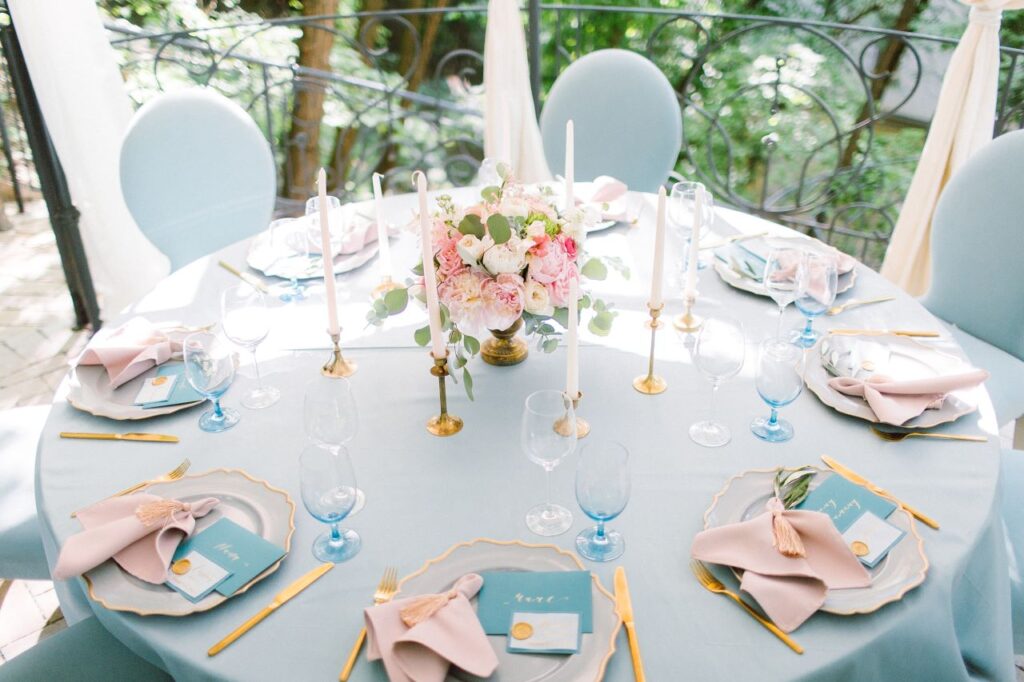 Complementary colours
Complementary colours are opposites on the colour wheel, like red and green or blue and orange. When paired together, they create high contrast and vibrancy. For example, a red bouquet against a green lawn or blue bridesmaid dresses against an orange sunset make for dramatic and eye-catching contrasts. 
Monochromatic with a pop
For a subtler contrast, do a monochromatic wedding colour palette in shades of one colour, then add in a bright pop of an opposing complementary colour. For example, navy blue tablecloths, lighter blue napkins and a centrepiece with bright orange flowers. The single pop of contrasting colour becomes a focal point.
Analogous colours
For a softer contrast, consider analogous colours – hues next to each other on the colour wheel. Combining shades of red, orange and yellow or blue, green and turquoise creates harmony. Or choose a triadic colour scheme using colours that are evenly spaced on the wheel, such as red, yellow and blue or orange, green and purple.
Whatever colour combination you choose, don't be afraid to step outside the box! Pushing the boundaries of traditional wedding colours is a great way to make a statement and reflect your unique style as a couple. With the perfect balance of contrast, your wedding colour palette will be both cohesive and unforgettable.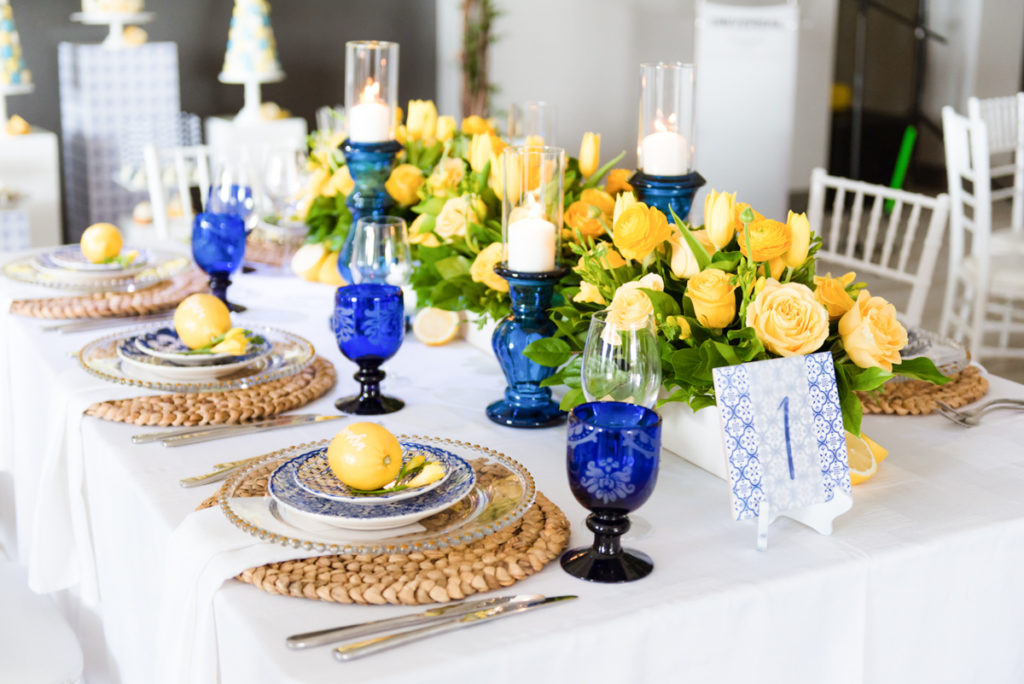 Using metallic accents
Another way to create contrast is by combining matte and metallic elements. A matte palette of dusty rose, plum and burgundy could be accented with rose gold cutlery, charger plates or candle holders. The shiny metallic pieces accentuate the richness of the matte tones.
By using bold opposing or complementary colours in strategic ways, you can achieve a cohesive yet striking colour palette for your wedding. 
Popular colour combinations for weddings
One of the most striking ways to create visual contrast in your wedding colour palette is by combining complementary colours that are opposite each other on the colour wheel. Some popular complementary pairings for weddings include:
Red and green

: A classic Christmas combination, red and green create a bold statement when used in a wedding. Think deep burgundy bridesmaid dresses paired with emerald green floral arrangements.

Orange and blue

: Cheerful orange and calming blue are opposites that attract. Consider coral linens, peach roses and tangerine candles combined with navy suits, teal ties and azure hydrangeas.

Yellow and purple

: Sunny yellow and regal purple pop when placed together. Imagine golden yellow tablecloths topped with violet place settings, centrepieces of daffodils and hyacinths, and a bridal bouquet bursting with yellow roses and lavender.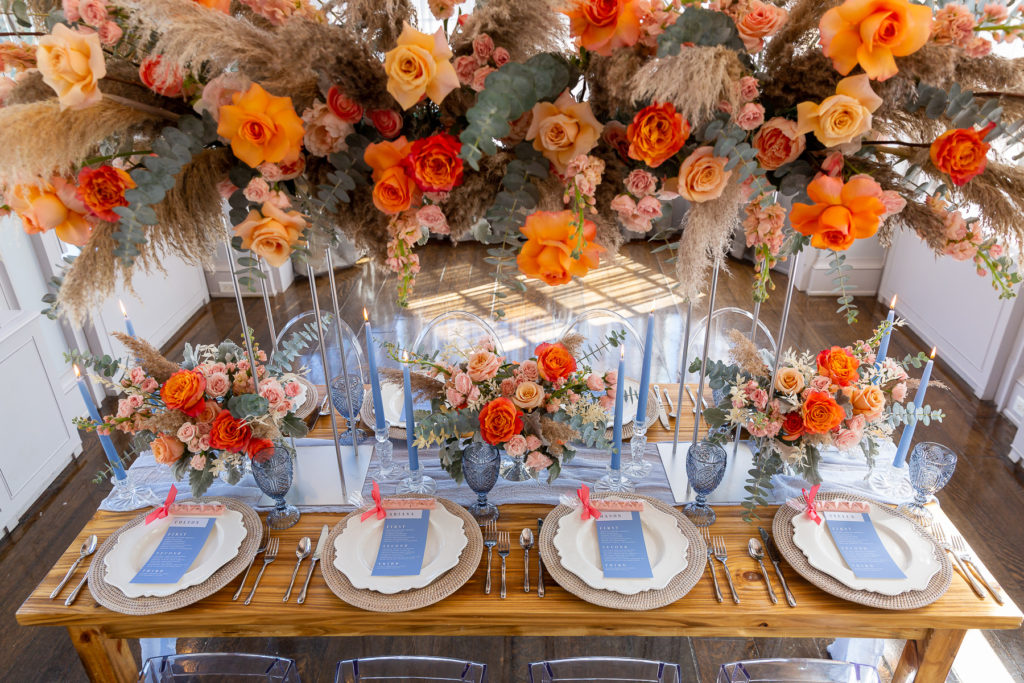 How to choose complementary colours for your wedding
Find your base hues
Select two complementary hues you love, like cherry red and emerald green or cobalt blue and tangerine orange. These will serve as your base for your wedding colour palette. You'll use shades of these hues for everything, from your invitations to table linens. For a dramatic look, choose hues with rich, saturated tones. For a softer contrast, go with more muted or pastel shades.
Don't forget neutrals
While complementary colours create contrast, adding neutral shades helps balance the overall colour palette and prevents the look from becoming too jarring or overpowering. Off-white, beige, gray and metallics like champagne gold pair nicely with most colour palettes. Use neutral linens, candles or bridesmaid dresses as a backdrop to make your complementary hues really pop.
Incorporating bold colours
When choosing a bold wedding colour palette, keep these tips in mind:
Consider analogous colours – those that sit next to each other on the colour wheel, like teal, blue, and navy, or plum, violet, and eggplant. The beauty of these harmonious combinations lies in their simplicity.

Select one shade as your primary colour, letting it take the center stage, while the others step in as elegant supporting players. This approach ensures a wedding palette that's both unified and visually striking, a perfect blend of harmony and vibrancy for your special day.

Use the 60-30-10 rule. Devote 60% of your

wedding colour palette

to your dominant shade, 30% to your secondary colour and 10% to an accent colour. This formula provides the right amount of contrast and prevents the look from becoming too chaotic or cluttered.