There's no question that weddings can be super stressful to plan, which is why bachelorette parties are a must for so many brides ahead of the big day. Meant to be a fun night out or a weekend getaway with bridesmaids and close family and friends, bachelorette parties allow brides to let loose, let off some steam, and celebrate the last few days of single life before saying, 'I do.' 
But just like weddings, bachelorette parties require some planning. A themed bachelorette party is an easy way to make the event more fun and focused, taking it beyond the standard club night out. We understand that every bride is unique, so we compiled a few themes for bachelorette parties that range from retro-inspired parties to wellness weekends, all of which are sure to cater to all interests and preferences. 
So, let's amp up the fun and explore some exciting themes for bachelorette parties!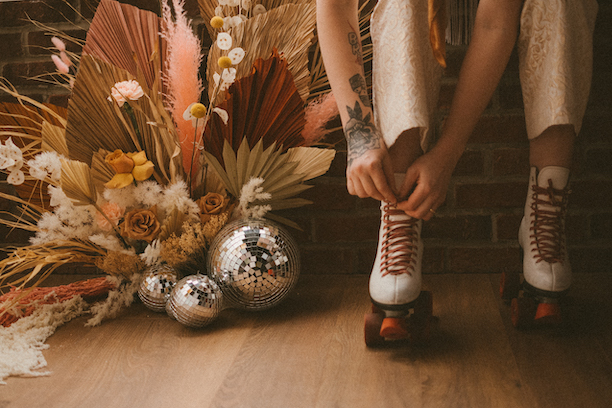 Barbie Bach Bash
Get ready to party like it's 1959 because the Barbie bachelorette party theme is back and better than ever! With the highly-anticipated Barbie movie hitting theatres in July, now is the perfect time to channel your inner doll and celebrate in style. 
Think pink, glitter, oversized sunglasses and all things fabulous because this party theme is about embracing your inner Barbie and having a blast with your besties. Oh, and did we mention pink? Yes! To do the Barbie Bachelorette theme justice, you have to submerse yourself in all things pink and girlie.
You and your bridal party can also assign a different Barbie to each bridesmaid: Western Barbie, Superstar Barbie, Totally Hair Barbie, and our personal favourite, Jewel Hair Mermaid Barbie. The options are endless!
Disco in the desert
If you're looking for an unconventional bachelorette celebration, whisk your best gals off to the deserts of Joshua Tree, Palm Springs, Sedona or Tulum, Mexico, for a Disco in the Desert-themed bachelorette party. 
What could be more fun than adding the glitz and glamour of the disco era to the desert? Picture a groovy dance party under the stars with sparkling lights, colourful decorations, and retro outfits galore. 
But, a disco in the desert bachelorette party can't be complete without the appropriate props. Disco balls, sequins, peace signs, colourful laser lights and MUSIC, baby! As far as themes for bachelorette parties go, this is one of the most unique and unforgettable. 
Bach to the '90s
Bach to the 90s is a fun and nostalgic bachelorette party theme that takes you back to the decade of scrunchies, neon colours, and boy bands. This themed bachelorette party is about embracing the playful spirit of the 90s with bright and bold decorations, throwback music, and fun party favours. Have guests dress up as their favourite 90s character (Kelly Kapowski, anyone?), play trivia games that highlight 90s pop culture, put on your favourite 90s flick, and dish out favourite snacks and candies from childhood. 
Disco Cowgirl 
The Disco Cowgirl-themed bachelorette party combines the glitz and glamour of the disco era with the ruggedness and independence of the Wild West. This bachelorette party theme features fun and funky disco music, glittering disco balls, and as many sequins and rhinestones as possible. 
Cowgirl hats, boots, and fringe are also a must, as well as Western-inspired decor and activities like line dancing and mechanical bull rides. It's one of the best themes for bachelorette parties if you want to let loose and have a wild night with your closest friends.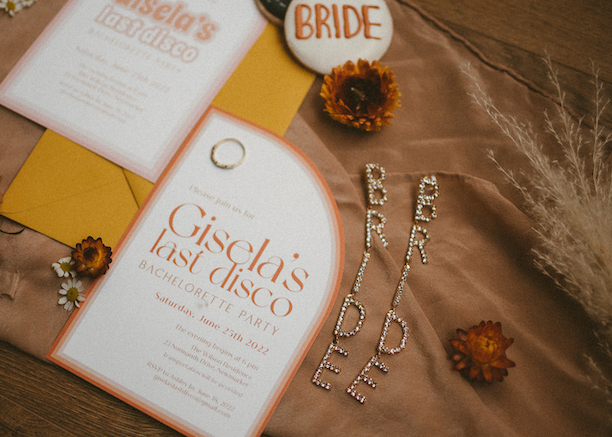 Bach Well: Wellness Weekend
We get it – everyone isn't into the raucous bachelorette party weekend. So, if you're looking for themes for bachelorette parties that don't include hangovers, this is it! 
The Wellness Weekend bachelorette party theme allows you to pause and unwind from the fast-paced demands of everyday life and wedding planning. It's a chance to prioritize your well-being and indulge in much-needed self-care and relaxation. Activities include yoga, meditation, spa treatments, and healthy cooking classes. 
You and your besties can unwind and connect in a serene and peaceful environment, whether at a retreat center, a spa or a luxurious hotel. 
Grease is the word: Pink Lady Bash
Get ready to rock and roll with a Grease-themed bachelorette party that'll transport you back to the fabulous fifties! The highly anticipated release of the new Grease movie, 'Rise of the Pink Ladies,' is the perfect excuse to celebrate your love of all things retro. 
This theme will have everyone swinging and jiving to the iconic Grease soundtrack while dressed up in their best Pink Lady or T-Bird-inspired attire. So grab your girls and get ready to have a blast, 50s style!
Infusing this theme into your party might include iconic elements such as Pink Ladies' jackets, poodle skirts, leather jackets and 50s-style dresses. Decorations might include classic diner props, checkered tablecloths, neon signs and a vintage jukebox for dancing to hits from the era.
Vintage Garden Party
The Vintage Garden Party bachelorette party theme is a charming and elegant way to celebrate the bride-to-be. This themed bachelorette party incorporates classic vintage elements such as lace, pearls, toile and floral patterns with the natural beauty of an outdoor garden setting.
Decorations include vintage furniture, delicate china, and antique mirrors. A Vintage Garden Party is perfect if you love all things romantic and whimsical and want to create a picture-perfect, lowkey event that will be remembered for years to come.
Boho Bash: Glamping Soiree
The glamping soiree bachelorette party theme combines the best of both worlds: the carefree bohemian spirit and glamping luxury. This theme features earthy and rustic decor such as macrame, dreamcatchers, and lanterns, as well as unique sleeping accommodations like luxury tents, RVs, tree houses, cabins and more. There are many glamping resorts that feature Jacuzzis, fire pits and outdoor activities that make for the perfect overnight getaway. 
Glamping Soiree is a themed bachelorette party that allows you to enjoy the great outdoors while still having access to luxurious amenities like comfy beds, cozy blankets, and gourmet meals.