Jamie Pandit & Phil Silva
As a transgender woman, Jamie wasn't sure she would ever find a person that would have her walking down the aisle – someone who would love her for her. But along came Phil, and the two showed the world that love is love. Jamie tells us all about their day, below.
A love story: I am a South Asian woman of transgender experience and had just moved to downtown Toronto, and Phil was a restaurant owner living in the suburbs. At the time, I had not come out publicly. We met by chance – an accidental swipe on a dating site that started our love story. After a few dates, we knew there was something magical between us. However, Phil didn't know that I was transgender. I was falling in love with him and after a few weeks, I mustered up the courage to share my story. To my surprise, Phil was understanding and compassionate towards my experience as he was falling in love with the the person I am.
What was your favourite moment of your wedding day? As a trans woman, I never imagined I would find love, let alone be engaged to get married. I wanted the life that everyone deserves, no matter how they identify. My favourite moment of my wedding day was standing on top of the stairs in my beautiful wedding gown and looking at my handsome groom. It's as if time had stood still for a moment. My dream as a child – a fairy tale – was about to be my reality.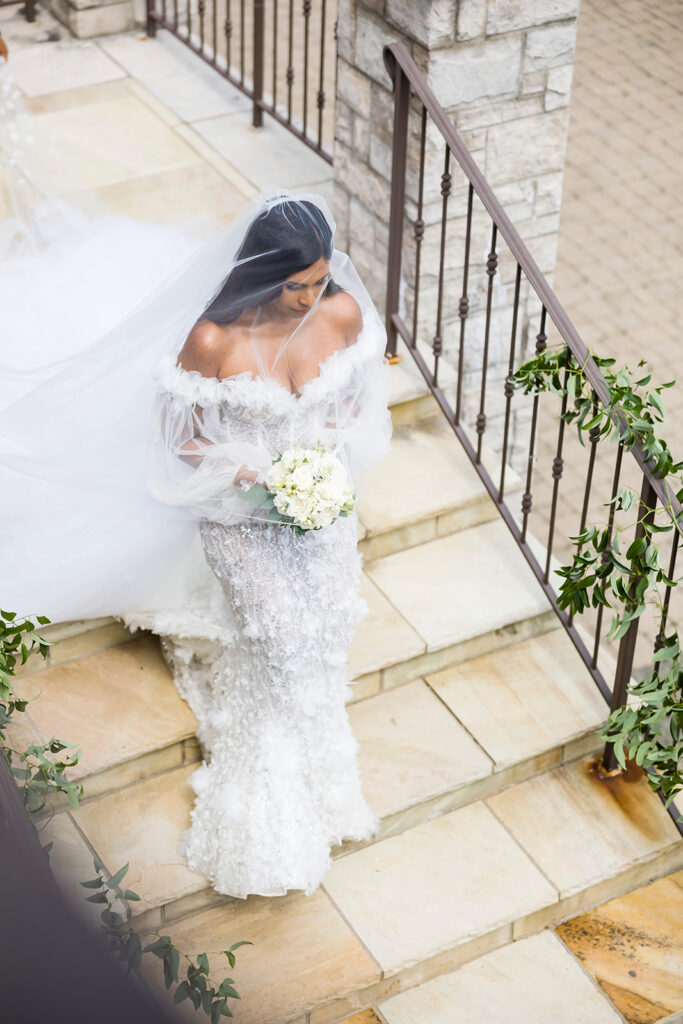 What will guests remember most? Most of our guests had not been to an LGBTQ+ wedding, let alone a transgender wedding. I think guests will remember being surrounded by love.
Did anything go wrong? I was late getting to the ceremony so everything had to be pushed back, including our photoshoot in the forest. We luckily missed the huge thunderstorm that happened as we got back to our venue. However, the sky was filed with the biggest rainbows we have ever seen, symbolizing our unique love.
What were your favourite wedding details? It's difficult to pick just one because there were so many personal aspects to our wedding from my custom-made gown that represented growth and blossoming, to colours of the transgender flag represented in my bouquet ,to the lush greenery in our reception space. However, one of my favourite details would have to be the table set up dedicated to donating to the 519 organization instead of giving guest favours. When I was homeless and living in a shelter at 16, 519 was a safe place I found information, resources and support in the beginning stages of my journey. It was a beautiful way to give back and be reminded of my personal growth.
Number of guests: 150
Photography: Ikonica
Planning, décor & florals: Rias Designs
Venue: Copper Creek Golf Club
Wedding dress: Lee Petra Grebenau (Powder Bride)
Makeup: Aniela Beauty
Hair: Tania Az
Groom's suit: King & Bay
Bridesmaids' dresses: Custom & Marlas Fashions 
Seating chart: Event Graffiti
Cake: Fruitilicious Cakes 
Entertainment: Dance Vibration, Shadow Entertainment, Jay Smooth, DJ Franky J
AV/Lighting: Platinum Entertainment
Transportation: AB Limo
Officiant: Aaron Milic
See more real weddings in our Spring 2022 issue.