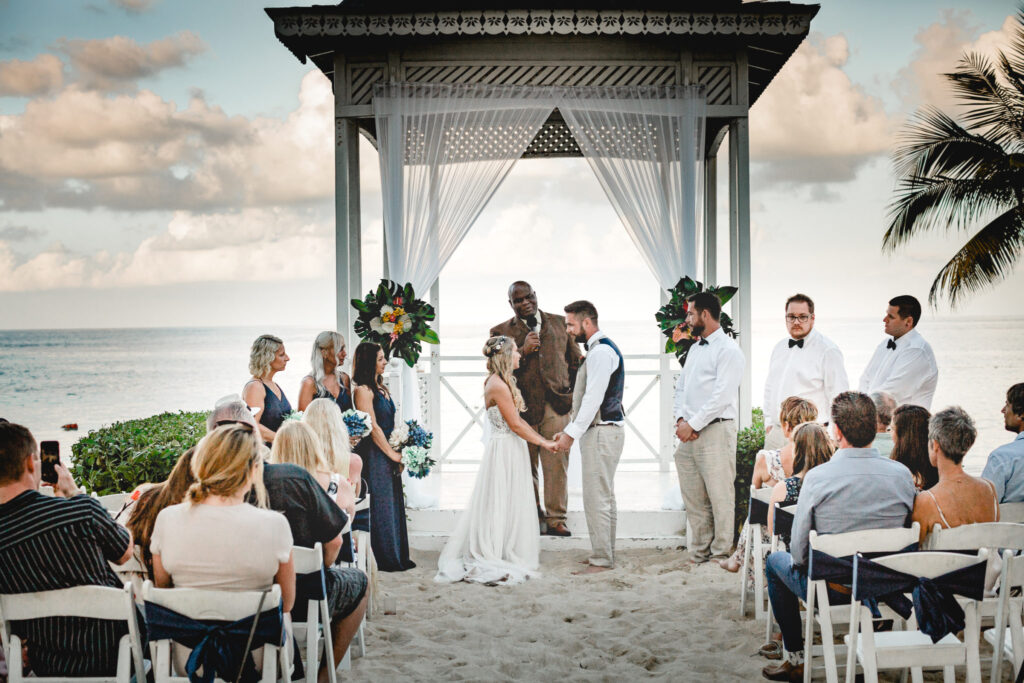 It's time to start planning destination weddings again! But before you jump into the sand, keep these tips in mind!
1. Apply sunscreen from day one. When your plane lands, apply sunscreen. When you get to your resort, apply sunscreen. Before you leave the room, apply sunscreen. A sunburn can not only ruin your wedding photos, but also ruin your whole trip. The only time you might want to lay low on the sunscreen is on your face for the actual wedding. Some sunscreens can be picked up by cameras, and you don't want to look like a ghost.
2. Tour your property and choose the perfect location for the ceremony. If you aren't someone who likes to be the centre of attention, select an area that is free of other guests. A very public place like the beach will encourage (often inebriated) resort guests.
3. Wear shoes that are comfortable and work well in sand. Goodbye stilettos, hello flip flops!
4. Stay dry! Have handkerchiefs at the ready to wipe sweaty faces during the ceremony.
5. Have your contingency plan in place. In tropical climates, weather changes on a dime. Mentally prepare yourself for rainy conditions. Either way, you will be getting married in a tropical paradise, so don't feel too badly if your first choice of location has to be moved.
6. Take advantage of the environment. You came to the beach for a reason! It is romantic and picturesque, so make sure that shows in your photos.
7. Take care of your guests. Have plenty of water on hand for the ceremony, along with bug spray and sunscreen. A collection of white umbrellas can be a nice touch and keep your loved ones in the shade.
These are just a few things to remember when planning an outdoor wedding. Learn more about hosting the perfect celebration in our Outdoor Wedding Guide.