Your wedding day is almost here and you're feeling the nerves start to set in. The pressure of pulling off the perfect wedding can add a huge amount of stress, causing you to spiral when you already have so much on your plate. But there are a few easy ways to keep your cool throughout the wedding planning journey, so fear not! We've rounded up five simple tips to help you stay calm from beginning to the very end of your wedding day.  
Practice deep breathing and mindfulness
Your wedding day will be full of emotions—and that's a great thing! Nerves and anticipation are all part of the experience, but if you find yourself getting overwhelmed, give yourself a moment to take a few deep breaths. Mindfulness practices like deep breathing can help you stay in the moment and regulate your emotions.
Mindfulness can also help you to embrace the full range of your wedding day emotions, whether they be tears of joy or pre-ceremony jitters. Take time to focus on your breathing and recognize how powerful it is to be here in this place, surrounded by family and friends at the start of a journey with someone you love. You deserve this moment so savour it!
Get plenty of sleep the night before
The night before the wedding is probably the most important one for getting a good night's sleep. But it's easier said than done! Even if you've completed your wedding prep to a T and you feel confident and ready, you're no doubt worrying about all those last-minute details. Those who aren't stressing are probably too excited to fall asleep!
That's why it's critical to give yourself plenty of time before the big day to rest up. Try to ensure that you go to bed at a reasonable hour around a week or two in advance, and increase this time as the wedding draws nearer. A good night's sleep will give you energy and help keep your mind clear so that you can think calmly and rationally about all of your decisions on the big day.
To make sure that your sleep isn't disturbed, avoid scheduling any late-night activities like bachelor/bachelorette parties or family gatherings in the run-up to the wedding week. And absolutely avoid drinking too much alcohol the night before, which takes longer for your body to process than caffeine!
Eat a hearty, healthy breakfast
One of the best ways to make sure you're keeping your cool on your wedding day is to fuel up with a hearty, healthy breakfast. You already know that breakfast is the most important meal of the day, and it's even more important on your wedding day. Eating a healthy breakfast will provide you with the energy you need to stay relaxed, focused, and energized for the day ahead.
Think about it—it's not good starting your wedding day off in an empty stomach or with a meal that might not be your favorite or make you feel weighed down. Your body needs good food that will stick with you throughout the long hours until dinner. Plus, a morning snack is great for any momentary hunger pangs leading up to that satisfying dinner.
Take some time to plan out what type of food you'll eat in the morning and be sure to stock up on things like fresh fruits and vegetables, healthy proteins like turkey, eggs or hummus, and complex carbohydrates like oatmeal or whole grain toast. On top of this, don't forget to get some (non-alcoholic) fluids in—hydration is key!
Do light exercise like yoga or go for a walk
Feeling anxious about your big day? Light exercise is a great way to help you manage your nerves and stay focused. Take a break from the wedding prep and treat yourself to some yoga—or if it's nice out, go for a walk. Both are perfect for releasing stress and refocusing your energy. And if you don't know yoga, there are plenty of free apps or beginner classes to help guide you through.
Try to do the same thing each time before the wedding, like the same yoga sequence or route you take for your walk. Doing something familiar can ground you and give you something consistent to come back to when times get overwhelming. Make sure you combine deep breathing with your exercise too—it will help oxygenate your body, calming it down directly. A few minutes of deep inhales and exhales in the midst of wedding planning can do wonders for your mood!
Connect with your bridal party
Having a solid support system during wedding planning and on the big day is an absolute must. Whether you have bridesmaids, groomsmen, or both, they're there for a reason! Keep the nerves at bay by connecting with your bridal party throughout the day—with small moments of recognition or acknowledgement.
This doesn't have to be anything too big or grand; even a hug, a kind word, or some time to engage in conversation goes a long way. If you're feeling a bit overwhelmed by your wedding responsibilities or emotions on the day itself, take five minutes and talk it out with your closest friends who will understand. This way you can recoup and gain back some energy so that you're able to fully embrace all of the magical moments that the rest of your wedding day will bring!
Remember why you're there – to marry the love of your life!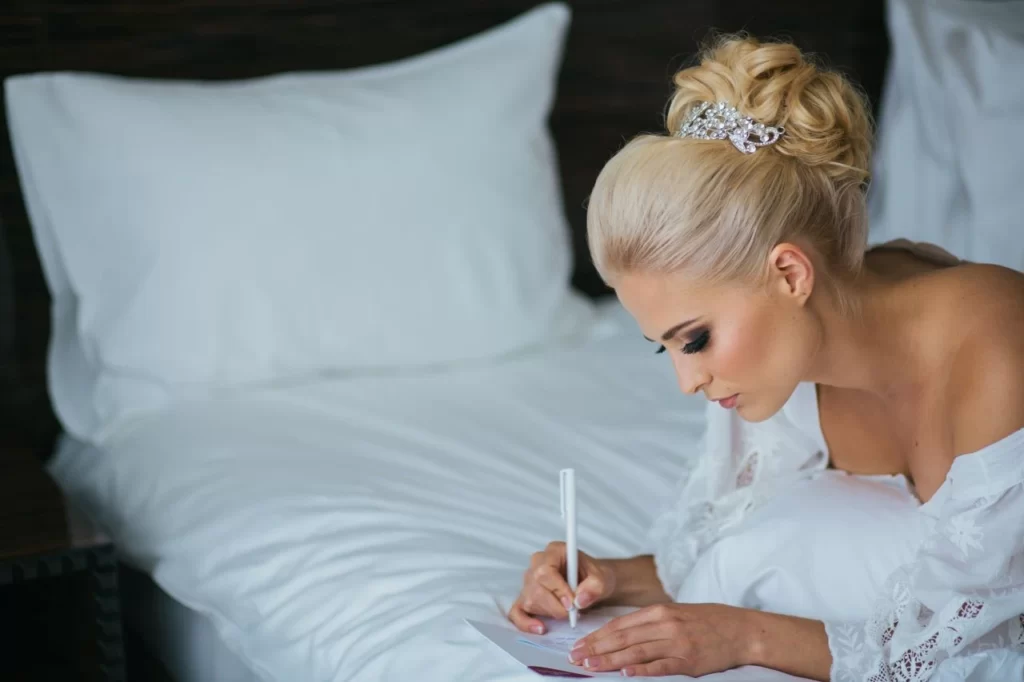 When you feel overwhelmed and a bit scattered on your wedding day, one of the best things you can do is to pause and remember the reason you are there – to marry the love of your life! It's easy to forget in all the flurry of activity leading up to and during your ceremony, but when it comes down to it, marriage is a way for two people to commit and show their love for each other.
Take a few moments during each portion of the day to remember that special feeling. Here are a few ideas:
Picking out meaningful readings or vows during the ceremony that remind you and your partner why you are there.

Sharing a special look or smile with your partner when exchanging rings or saying "I do".

Writing a note before or on your wedding day in which you share what this moment means to you and what you are looking forward to most as a married couple.

Having an intimate moment with your partner between pictures, walking around for a few minutes together or looking out on the venue from afar.
No matter how brief, these moments will help keep both of you present in the moment, surrounded by love from family and friends.