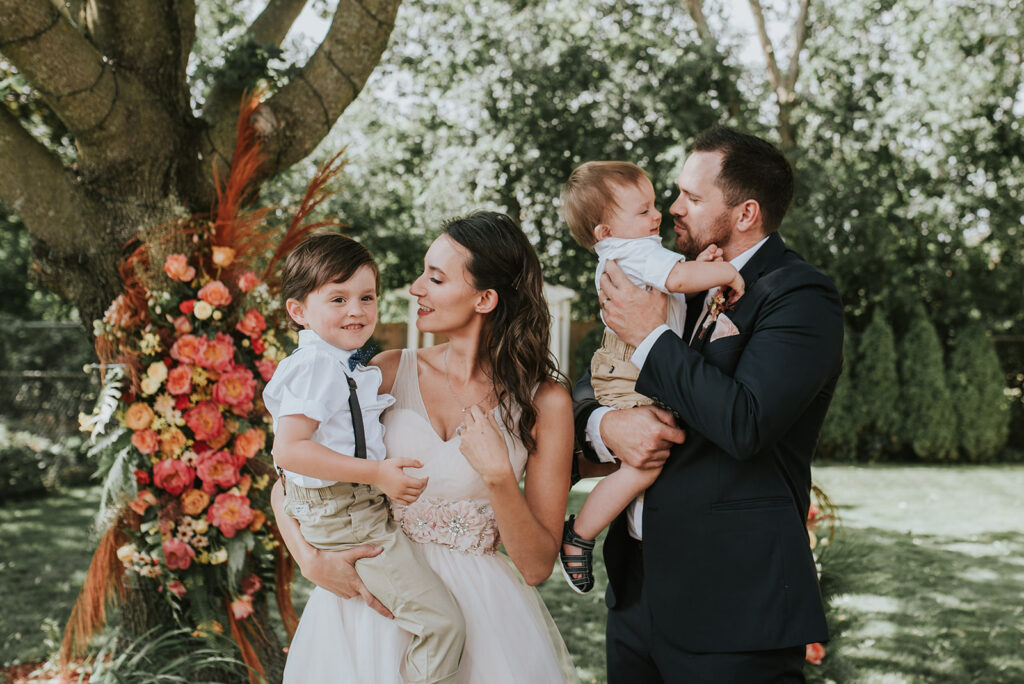 It can be challenging to have kids at a wedding, for both you as the host as well as for the parents of little guests, so set up a special kids-only table. It's a great way to give children their own space and, when well-stocked with activities to keep them busy, it will also give Mom and Dad time to let loose and have some fun of their own.
(And of course, take into consideration all current COVID restrictions in your area!)
Here's how to keep the youngsters happy.
Make sure the kids' table is visible from the dance floor (so everyone can keep an eye on them from different vantage points).
Have a constant flow of snacks (you can ask the wait staff to take care of this, once you've okayed it with the parents, of course), with things like cheese and crackers, cut up fruit and vegetables, chips, pretzels, etc., as well as water and juice. And who are we kidding? Little ones love candy and cookies too, so don't skimp on the goodies.
Provide plenty of things to occupy their time: everything from colouring books, crayons, stickers, paper and word games, to small board games (that don't have a lot of pieces), puzzles, and more.
Create personalized Bingo cards with fun items like "Grandma does the chicken dance" or "Mom asks you if you have to go to the bathroom."
Use paper tablecloths so tiny artists have an extra colouring surface.
Offer goody bag fillers like mazes, spinning tops, and Slinkies (avoid bouncy balls!).
Provide photo booth props (kids love playing dress-up) like hats, mustaches and glasses.
Get different glow-stick products such as bracelets, necklaces, rings, glasses, and swords to make dancing even more fun.
Create a little scavenger hunt, if time allows, that they can do during the reception, or ask the DJ to integrate a few easy competitions (Simon Says, Freeze Dance, Hot Potato).
Give kids bubbles or sidewalk chalk at outdoor venues.
Be sure to tell them how happy you were that they could share in your day – it will make them feel extra special!
By Jennifer Cox