Shirin Irani & Farzad Shokerkhuda
Farzad and Shirin's love story began how many relationships begin these days – virtually! After exchanging messages online for two weeks, they decided to meet. The bride fills us in on all the details below.
How was the first date? On our first date, I think we both knew something was there and continued seeing each other. Two months into talking, Farzad joined my friends and I (Last minute, at the airport) on a trip to London. Spending time and travelling together we both realized we wanted to spend the rest of our lives together.
What were your original plans for your wedding day? Our original plan was to have over 300 guests at our wedding and reception. With the pandemic, we had to make the hard decision to cut down our list and invite our local friends and family.
Leading up to our original date (July 3, 2021) I was extremely nervous, watching the news everyday and researching the ever changing rules which eventually led us to face the reality of postponing our wedding. We had to make the tough decision to delay our wedding to September as Ontario was just starting to open things up in July 2021. Closer to our new date, I was nervous but with everything planned, I was more so excited with the anticipation to seeing our day come alive! The emotions we both felt after is hard to describe. It was exactly how we wanted it, we both had so much fun and wish we could relive the day, ever since. Having our friends and family surrounding us was definitely the highlight and the emotion associated to that – we felt happy, loved, excited, all of that and more! Being separated from our loved ones during the pandemic was hard-hitting and having them all there was definitely the highlight of our day.
Describe the cultural aspects of your wedding: Both of us are Zoroastrian. A lot of people don't know what that is, but it's the oldest religion and there's only 100,000 of us in the world! Now that we think about it, the odds of us matching on Bumble is about .0001%.
The Zoroastrian Wedding Ceremony consists of having two priests pray and bless the couple into unity. There is more associated with it, religiously and spiritually, but I think the one thing I loved was not only having our witnesses behind us during the ceremony, but also some of the most important women in my life. My mom, my mother in law, Farzad's aunt, my aunts and my sister in law were all behind us catching/collecting the roses and rice that was used in our ceremony to symbolize blessing us. Having them surround us during our ceremony was very special.
Typically we have our weddings in our temples, place of worship. I wanted to do something different. I love being near water and water is an important part of our culture/religion. Zoroastrians treat water as a living element guarded by the guardian angel "Ava". Water is essentially seen as a symbol of purity. So when looking for a venue for our wedding I wanted to make sure that there was some sort of body of water nearby us. The Royal Ambassador was perfect for that being located right by Innis Lake with acres of beautiful landscaping. Our religions philosophy and practice foregrounds environmental consciousness and so being outside surrounded by nature and water during our ceremony was very refreshing and emblematic to us.
Did anything go wrong? I was so persistent with my in-laws being on time, and I ended up being late myself. My Mom, aunts and I didn't anticipate draping sarees would take so long and we ended up running late to the ceremony. Other than that everything else was perfecto!
Favourite wedding detail? Both of us were extremely close to our grandparents and while they were not there with us we wanted to symbolize their presence in some way. I had a picture of my grandma pinned on my bouquet and Farzad had a picture of his grandpa pinned to the inside of his suit. So in essence I had my grandma with me walking me down the aisle and Farzad had his grandpa witness our wedding while staying close to his heart.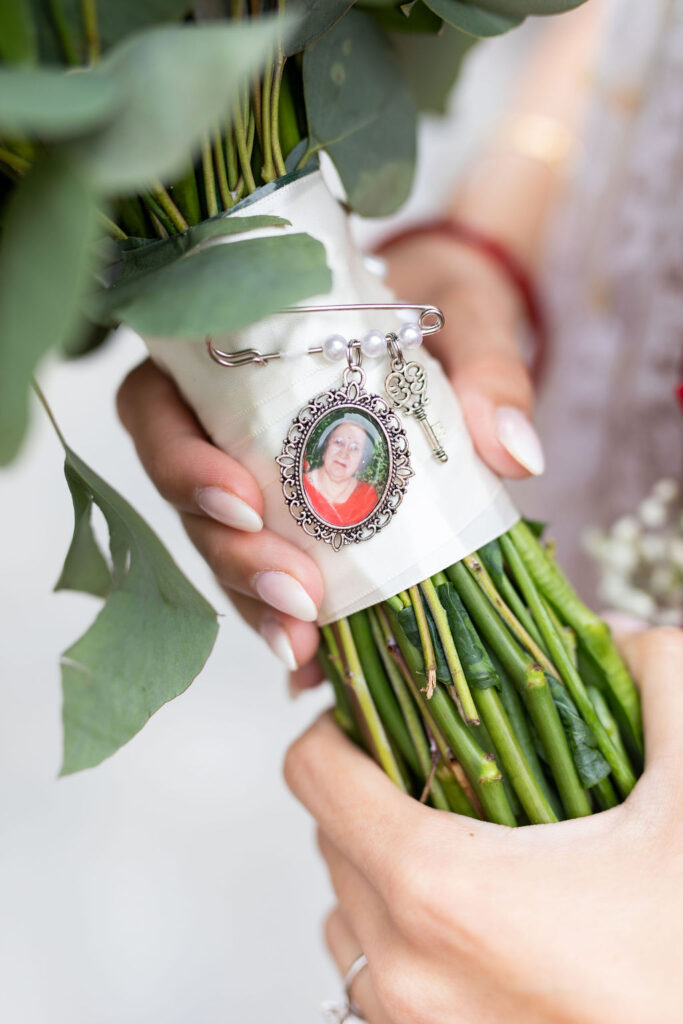 What will guests remember most? Probably Farzad's friend, Tony's speech. It was the most iconic I think I have ever seen! He began by sharing a few words about Farzad, which turned into what I like to call a ballet dance performance by him. He ended it off by engaging all of our guests to sing along while he rapped the rest of his speech. To this day, people ask us if we hired him.
What advice can you give to couples who are planning their wedding? You cannot control everything. Plan, but be mindful that regardless of how much you plan, things will happen. Remember to enjoy your day and take it easy!
Number of guests: 120 guests
Ceremony/reception venue: The Royal Ambassador, Caledon ON
Photographer: Livi Shaw Photography
Planner: Le Petit House
Dress designer: Martina Liana
Suit designer: Suit Supply
Décor: Babylon Decor
Flowers: Babylon Decor, Belle Blossoms
Cake: WOW Patisserie
Stationery: WeDoDesigns (Welcome sign & Seating chart)
Hair/makeup: Hair by Somaya- Makeup by Geanella
Catering: The Host
Videography: Shotlife Studios
Limo: Allure Limo
DJ: Digital X Entertainment
See more real weddings here!