If you're planning a wedding this year and wondering what the hottest are, you've come to the right place. We live and breathe weddings, so we're always excited to see the new year kick off with more exciting and unique trends that can be used in the years ahead. From wedding weekends, statement aisles, and colourful dresses to blurry photos and raucous parties, this year's top wedding trends certainly won't disappoint.
When planning your big day, it is essential to have your unique personality and style shine through. With so many weddings occurring yearly, you'll want to infuse creativity and individuality into your special day so that it doesn't blend in with the rest.
So to help you pull off a dreamy wedding celebration that feels new, fresh and uniquely you, we've curated a list of the hottest wedding trends that will wow your guests and send you over the moon.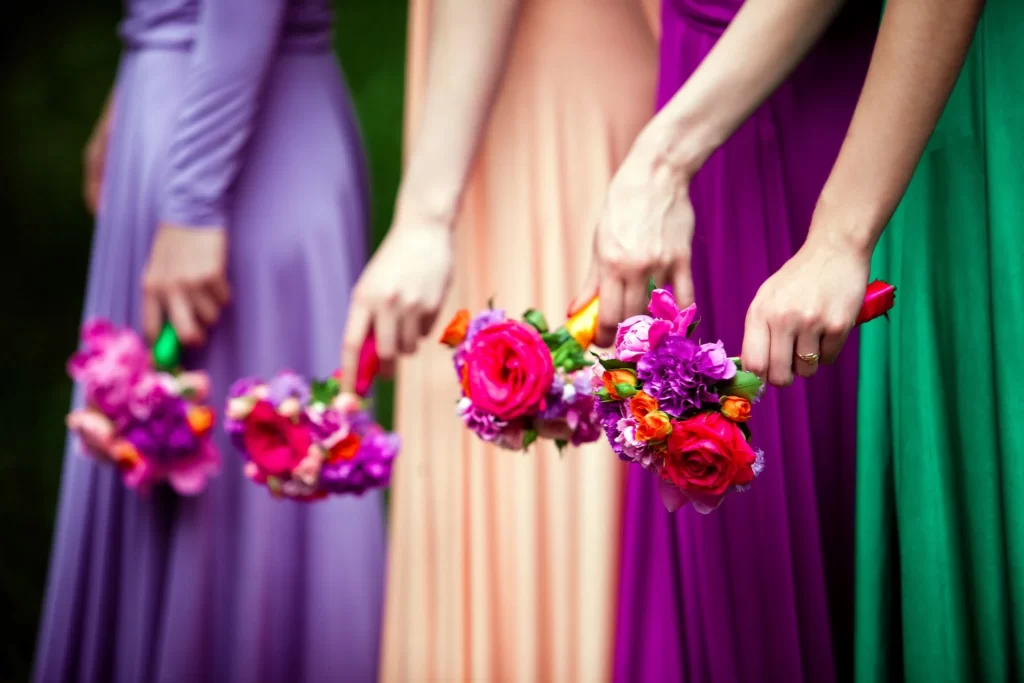 Celebrate Colour!
For years, wedding colour palettes have leaned towards neutrals, blush tones, and pastels. However, a wedding trend that's making a comeback is using bold and vibrant colours. Couples are no longer shying away from using rich jewel tones, striking brights, and moody hues to create a unique and eye-catching wedding theme. 
From bold floral arrangements to statement-making bridesmaid dresses, pops of colour are taking center stage for weddings this year and next. Whether deep emerald green or a punchy tangerine, incorporating bright and bold colours can add depth, drama, and personality to your special day. So get ready to say goodbye to the muted tones of the past and embrace the lively colours set to dominate weddings to come.
Wedding Trends in Photography: Love-Drunk Blurry Photos
For couples who want to add a fun and unexpected element to their wedding memories, flash photography and blurry photos are gaining in popularity. And we're not talking about the blurry goof-up photos; the latest trend in wedding photography is an intentional blur, which encompasses various artistic techniques like motion blur, defocusing subjects, and other lens-based styles that require a combination of skill and creativity. 
These techniques can add depth and character to your photos and can add a unique touch to wedding albums. Whether it's capturing the movement of the bride's dress or the happy blur of guests dancing, intentional blur photography is a beautiful way to create an artistic and romantic feel to your wedding photos. And we love it!
Statement Wedding Aisles
Incorporating a statement wedding aisle into your ceremony is a fantastic way to inject some personality and creativity into your big day. It's a detail that will leave a lasting impression on your guests. Today's couples are elevating their walk down the aisle by going big with decor, fun patterns and unexpected elements or opting for something as simple as a long, 100-foot aisle lined with flowers. 
Think patterned runners, mirrored aisle walkways, strewn rose petals, tall floral arrangements or vintage Persian carpets for a bohemian feel. The level of creativity is inspiring, and we're excited to see the dreamy aisles that couples will be walking down.

Wedding Weekends
Another trend that we love is the wedding weekend. Why settle for a wedding celebration that only lasts a few hours when you can celebrate over the entire weekend? From raucous welcome parties for all the guests to afternoon beach or garden soirées and post-wedding brunches, couples are turning their weddings into full-blown weekend extravaganzas to celebrate their love story with their closest family and friends.  
Maximalism in Wedding Trends
A maximalist wedding is all about going big and indulging in luxurious, over-the-top details that make it an unforgettable experience for everyone involved. It's a style that's all about extravagance, abundance, opulence and making a statement on your big day. Think of lavish decor with ornate details, gorgeous floral arrangements, and rich, bold colours with metallic accents.
When it comes to fashion, maximalist weddings aren't afraid to go all out. Brides may opt for dramatic, voluminous dresses with intricate embroidery, colourful gowns, long trains and dramatic long veils. Grooms may sport bold patterns or textured fabrics like velvet or brocade.
And let's not forget about the food and drinks! The maximalist wedding trend encourages couples to serve up an indulgent feast with multiple courses and wine pairings. Or, why not offer a signature cocktail that's just as beautiful to look at as it is to sip?
Maximalism can be incorporated into the ceremony, cocktail hour, reception space, or even the overall theme of the wedding day. It's a design choice that exudes fun and lively energy, allowing couples to let loose and offer their guests something unique. 
Here are a few ideas:
Over-the-top entertainment, such as dancers on stilts, magicians, oversized games etc.

Table chefs

Brightly coloured and ornate cake

Vibrant and multi-coloured chair cushions for a rainbow effect

Over-the-table, grand floral installations
If you're going the maximalist route, don't be afraid to be bold and unapologetically indulgent. The bigger you go, the bigger impression you'll have on everyone who attends.