Wedding speeches…ah, those nerve-wracking yet unforgettable moments that can make or break the celebration. If you're one of the lucky ones asked to present a wedding speech, you may feel anxious or even downright scared to death. It's a big task because you want it to be great, memorable and captivating. Nothing's worse than saying a speech that no one's listening to, right? 
The worst wedding toasts and speeches can be as dry as a desert. Injecting some humour into it and including a few well-timed jokes can easily turn a dry speech into a roaring oasis of laughter. But this is no easy feat for many people, whether you're the best man, maid of honour or a close friend or family member of the wedding couple. 
Fear not! We're here to help you lighten the mood with a speech funny enough to have guests rolling in the aisles. So grab your paper and quill and read on.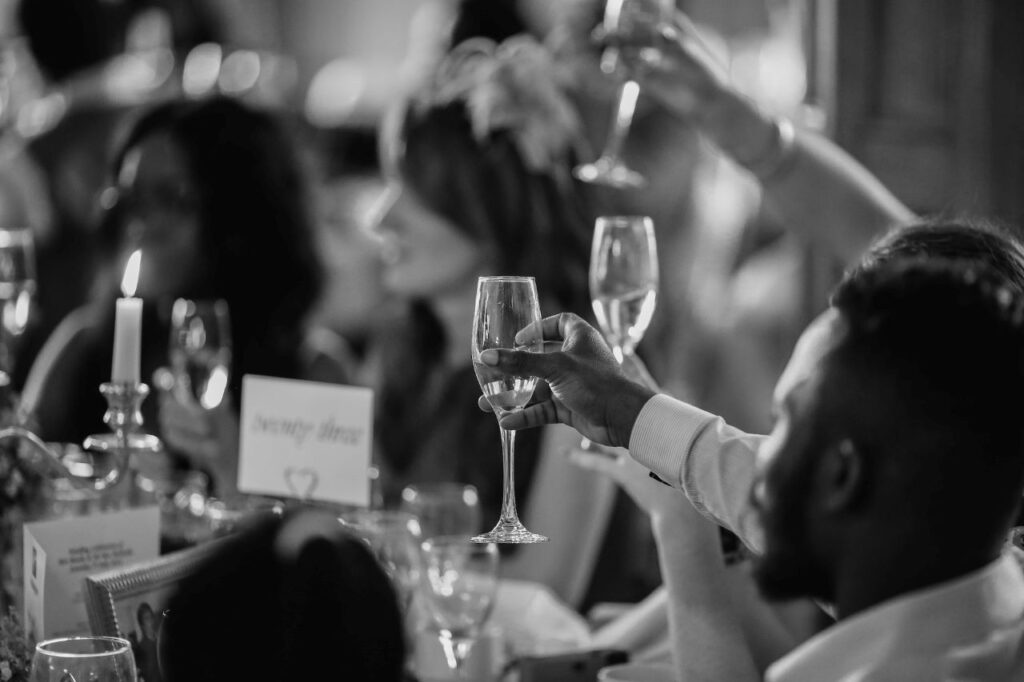 Understanding the Audience
Different Types of Guests
To succeed in your speech, you must first understand your audience. From Uncle Bob who cracks dubious jokes after a few drinks, to Aunt Mildred who quietly sips her tea, wedding guests typically run the gamut, comprising a rich tapestry of personalities. 
Take into account your audience's age range, their histories and their relationship to the wedding couple. If guests are typically older, you may want to skip the raunchy jokes. If they're mostly work friends and colleagues of the bride and groom, keep your inside jokes to a minimum. Once you know your audience, you can then make the appropriate jokes to tickle their funny bones without causing an uproar.
Cultural Considerations
Weddings are a melting pot of cultures and traditions. What may be hilarious in one culture could be a cultural faux pas in another. So, dear wordsmiths, do your homework! 
Respect and appreciate the customs of the couple and their families. A dash of cultural humour, done tastefully, can add that extra spice to your speech.
Age Groups
From the innocent giggles of flower girls to the seasoned chuckles of the older generation, the age groups at weddings can vary. Keep this in mind while concocting your speech. Then, find that sweet spot where the young and old can unite in laughter. 
And remember to steer clear of jokes that might make Granny blush or send the little ones running for cover. Balance is key!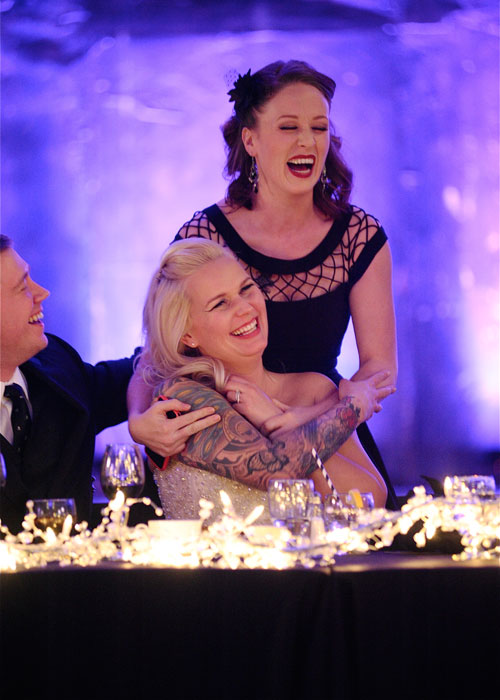 Share personal stories
Poke fun at yourself
The best way to break the ice and get those easy chuckles is often by poking a little fun at yourself. Share a comical mishap or an embarrassing moment that will have the crowd laughing with you (not at you, of course). 
Observations about the couple
Oh, the gorgeous couple, the show's stars! Share some funny observations on their quirks and endearing habits. For example, mention how one can't stop eating dessert or the other always loses the TV remote. Keep it light, funny and warm-hearted – a bit of teasing that comes from a place of love will go a long way.
Timing & engaging the audience
Funny quotes and one-liners
A well-placed quote or a clever one-liner can work wonders in sprucing up your wedding speech. Find humorous quotes about love, marriage, or even friendship that reflect the spirit of the occasion. 
You can also create your witty one-liners tailored to the couple's unique personalities or journey together. Be sure to avoid overused or cliché jokes – originality is the key!
Engaging the Audience
It's not just about making the couple laugh; you want the whole room in stitches. Engage the audience by involving them in your speech. Ask rhetorical questions that prompt laughter, invite participation with a funny toast, or even create a playful game that involves the guests. 
Remember, the more engaged they are, the livelier the atmosphere becomes, and the more memorable your wedding speech will be.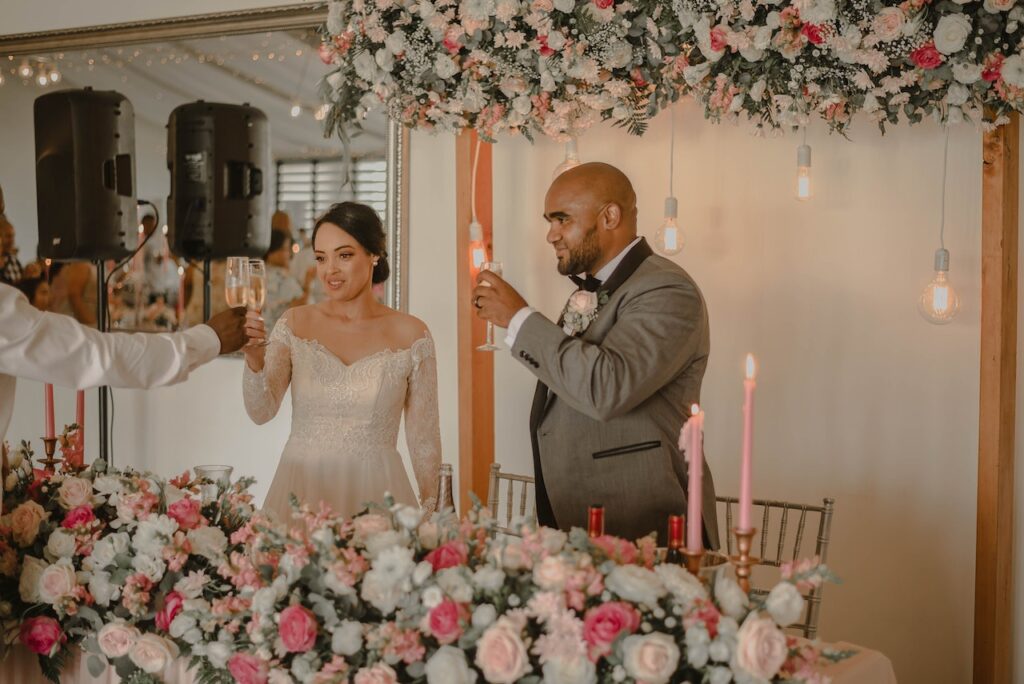 Tips For Writing a Funny Wedding Speech
A funny wedding toast does not embarrass or insult anyone. Know that there is a fine line when it comes to adding humour. Here's how to sprinkle your speech with laughter, ensuring a memorable experience for all:
Personal anecdotes and stories

: Share hilarious tales about the couple, weaving in your own personal experiences when appropriate. Did they have a mishap during their first date? Were you there when they first met? Let the anecdotes flow like champagne, tickling the bones of the guests.
Light-hearted humour

: Opt for humour that is gentle, lighthearted, and relatable. Avoid controversial topics or anything that might leave Aunt Mildred gasping for breath in shock. Keep it PG-13, folks!

Avoid offensive jokes

: The goal of your speech is to bring joy, not discomfort. So steer clear of jokes targeting race, religion, politics or other sensitive matters. Remember, it's a celebration of love, not a roast!

Timing and delivery

: Like a comedian hitting their punchlines, timing is everything. Practice the rhythm and pacing of your jokes to ensure maximum impact. And remember to pause for laughter; let the waves of laughter wash over you like applause at a stand-up comedy show.