Finally, the days when grooms only had blue and black suits to choose from for their weddings are gone, and we couldn't be more excited! Today, grooms can get creative with groom suits in bold colours, unique patterns, cutting-edge shapes and more. And while there still may not be as many options for groom's attire as there are wedding dresses (because they can range into the millions), there are many ways to elevate the groom's style to dapper mode. 
So, today we're revealing some of the top looks for the groom. From unique suit colourations to floral details, wardrobe changes and more, you can bet the groom will be on trend and look their very best.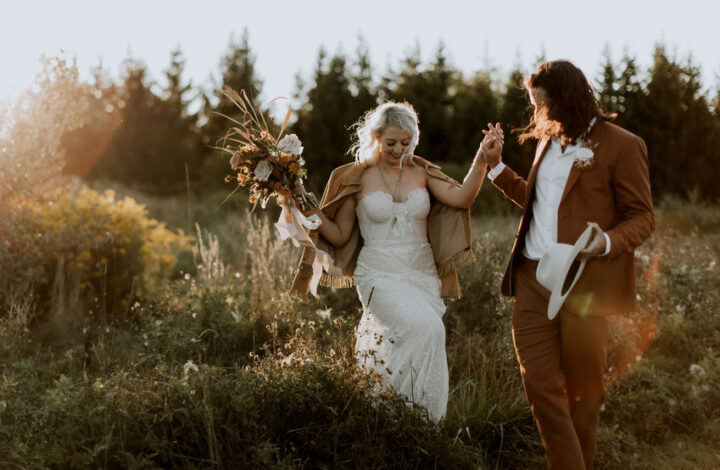 Photo by: Laura and Paige of Rust & Bark
Expressive colours
Gone are the days of traditional black, dark blue and grey for suits. Colour is everywhere now, and grooms seem to be loving it! We're seeing them rock suits in expressive colours such as shades of burgundies, including soft rose, plum and dark purple, and even venturing into a bright red cherry colour. 
For those who prefer a more demure look, dark greens, green blues, terracotta and even soft pastel shades of pink and light blue are gaining in popularity too. The point is, more and more grooms are expressing their personalities through what they wear, and we are here for it!
Large box patterns & micro prints
For grooms who aren't afraid to push the style envelope with their look,, say hello to large box patterns and micro prints. Prints with fine lines, squares, dots, or other patterns are appearing on jackets, vests, suits, and other accessories, adding a level of luxury and personality to the groom's wedding day look.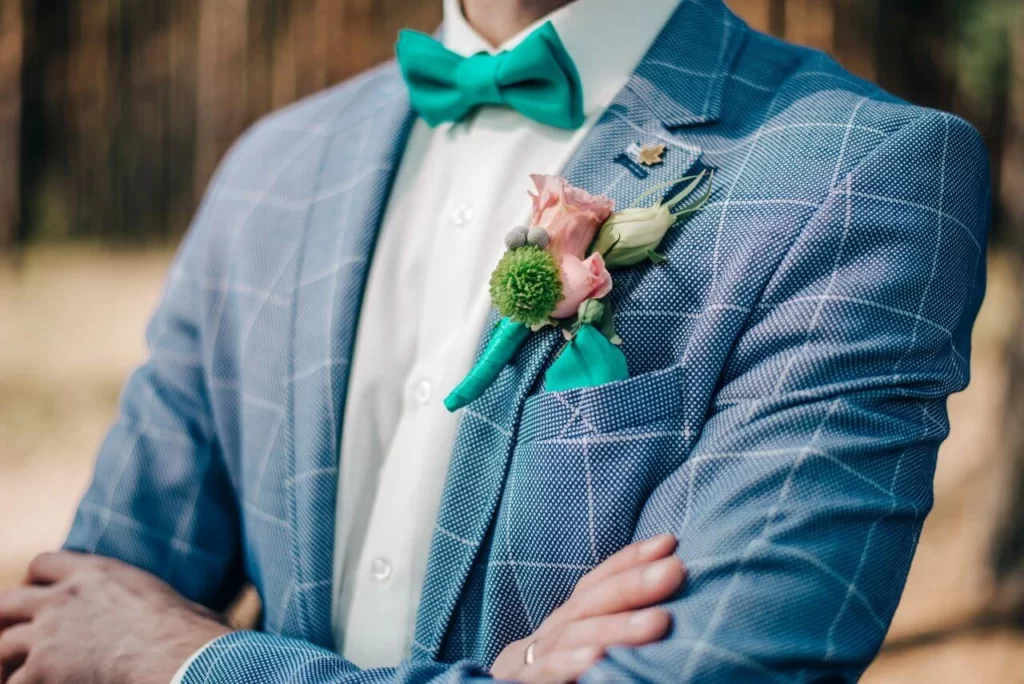 Floral suits
Floral suits for grooms are becoming an increasingly popular choice for those looking to add a touch of whimsy to their wedding day look. These suits come in various colours and patterns, from subtle pastels to bold, vibrant prints. They're perfect for outdoor and spring or summer weddings and can easily complement the bride's bouquet and wedding decor. 
Floral can be paired with a classic white shirt and tie to create a timeless look, or mixed and matched with different patterns and colours for a more eclectic vibe. So whether you're a groom who loves to make a statement or simply want to add a touch of fun to your wedding day, a floral suit is worth considering.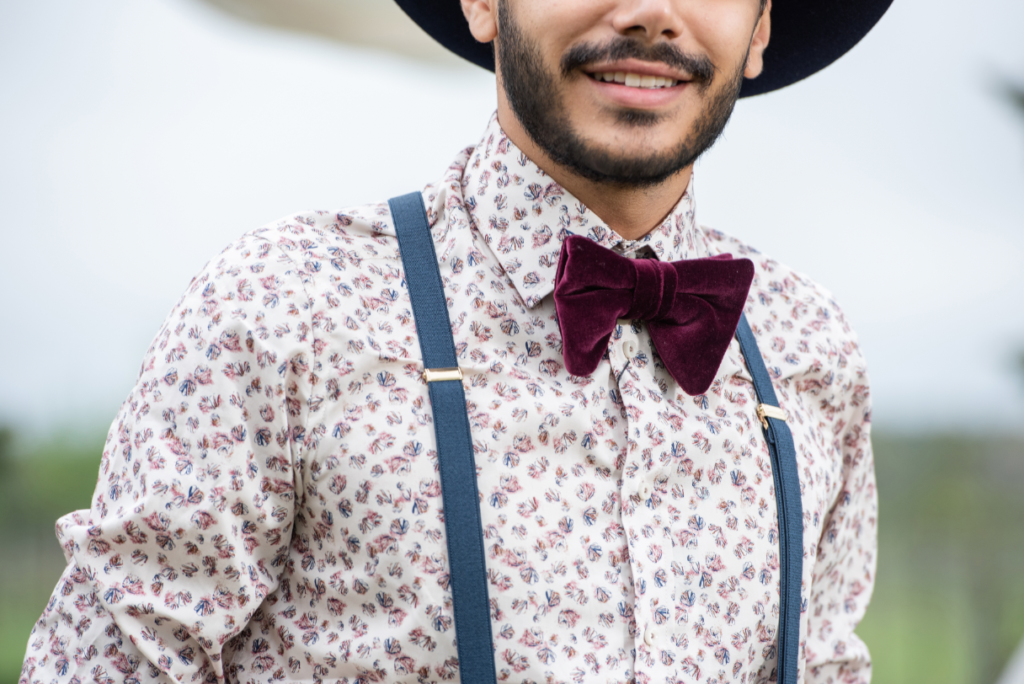 Earth tones
Earth tones have been a popular wedding colour for years, especially for couples getting married outdoors or those embracing the boho theme. Sand, beige, cream, white, light caramel, dark brown, gray-brown, and even shades of terracotta fall into this category and are perfect colours for suits for the groom in any season. 
Whether you're having an outdoor wedding, tying the knot at a dreamy castle or saying "I do" in the sand, suits in earth tones can be a subtle yet sublime look.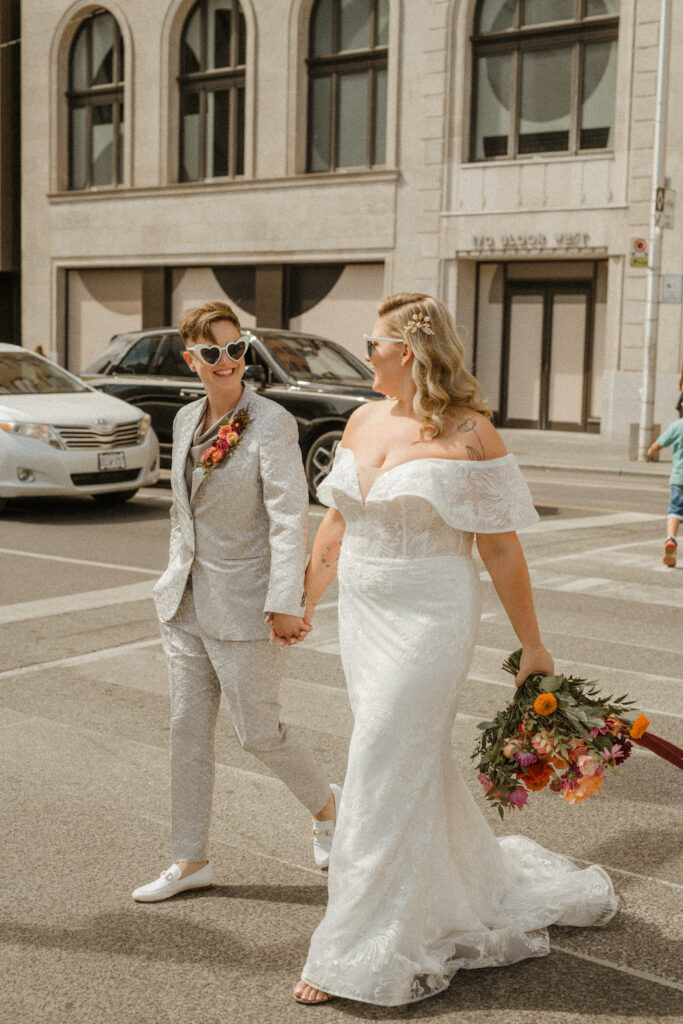 Wardrobe change
For many brides, being 'princess for the day' often involves changing into several different looks during the course of the wedding day. This could mean having two different gowns for the ceremony and the reception, or even having multiple dresses for the ceremony, the reception, the after-dinner dance party and the end-of-the-night farewell. 
While the grooms don't seem to have as many options, more and more are embracing a wardrobe change for the reception and the wedding exit. And we love it! This trend allows them to showcase their unique style and feel comfortable throughout the event. 
To pull this off, grooms can change out of their ceremony suit into a dinner jacket, ditch the jacket altogether and rock the suspender look, swap the dress shoes for sneakers, change shirts for something fun, or change out of their more formal jacket to a colourful groom suit to dance the night away. Anything goes!
Natural & sustainable fabrics
With more and more couples caring about the environment nowadays, it's only natural that sustainable fabrics are gaining popularity in groom wear. While eco-friendly wedding dresses have been available for some time, it's exciting to see more sustainable options become available for grooms. 
Opting for fabrics made from organic cotton or bamboo can help reduce the carbon footprint of your wedding while still keeping you stylish and on-trend. But it's not just about wearing eco-friendly fabrics; it's also important to choose wedding attire from companies that prioritize sustainability in their production practices because 'how' they make clothing has a tremendous impact on the planet. So, if the environment is important to you, do your research and go with a company whose values align with yours.