A luxurious wedding requires luxe wedding invitations. Your wedding invitation will contain valuable information for your guests, set the tone for your day and signify the start of the festivities
There are various ways to elevate your invitations so that they truly look – and feel – more luxe. Everything from the font to the colour scheme to the paper plays a part in creating beautiful and elegant wedding invitations. But one of the best ways to elevate the look of your invitations is to choose a proper printing technique. 
Since there are many different printing techniques, we're here to help you whittle down your options so that you're left with the one that best fits your overall vision for your big day.  
Letterpress
If you want your wedding invitation to look like a work of art, where every detail speaks of elegance, letterpress printing may be the best option for you. With this timeless technique, inked plates with your wedding details are gently pressed onto paper, creating a beautifully debossed effect that you can see and feel. It's a classic choice adored by couples who appreciate the finer things in life. 
In today's modern times, letterpress luxury wedding invitations begin with computer designs that are transferred to film as a negative and exposed to a polymer plate (the modern-day "metal" plate). Individual sheets of paper are fed through a press while the plate presses down on the paper, creating a deeply impressed picture that leaves the design and words looking clean and clear.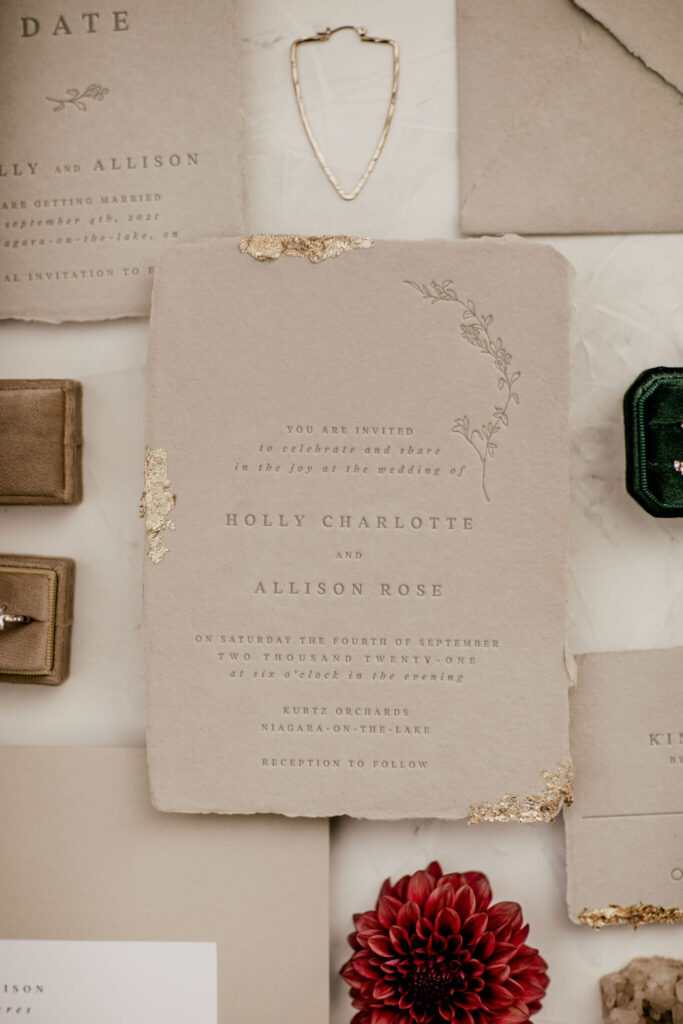 Engraved 
Engraving is considered by many to be the oldest form of printing, dating all the way back to the 17th century. One of our favourite luxury wedding invitation printing techniques, engraved invitations are raised on the front and indented on the back (the opposite of the letterpress technique). Engraved invitations are formal, regal, and immensely sophisticated.
The process of engraving luxury wedding invitations begins with a photo being etched into a copper or metal plate. That plate is then coated or filled with ink. Your invitation paper is then pressed onto the metal plate with tons of pressure, which creates raised lettering on the front and indentations on the back of the paper.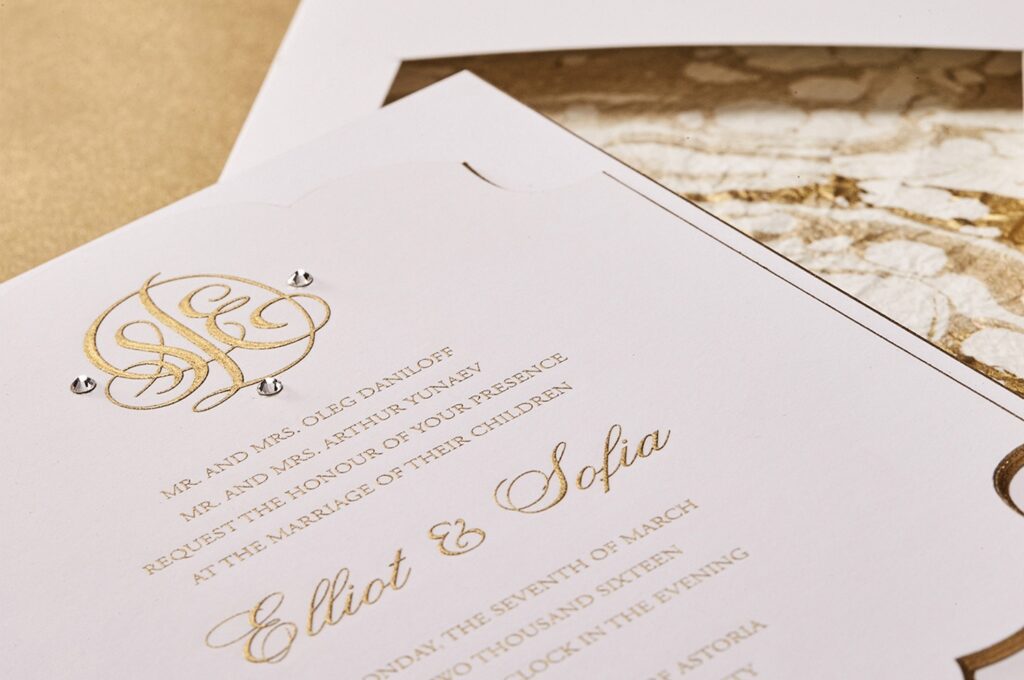 Foil
For those yearning to infuse their luxury wedding invitations with a touch of opulence, foil stamping is a beautiful choice. Unlike any other technique, foil stamping applies a glimmering metallic or coloured foil to the paper's surface, creating an interplay of light. It's the go-to option for couples who want their invitations to radiate a sense of glamour. 
The colour of foil, carefully chosen to complement the design and your wedding colour palette, is delicately pressed onto the paper through heat and pressure, resulting in a shimmering effect that catches the eye. With its ability to transform every detail into a dazzling focal point, foil stamping ensures that your wedding invitations are not merely pieces of paper but rather shimmering tokens that promise an event brimming with sophistication and extravagance.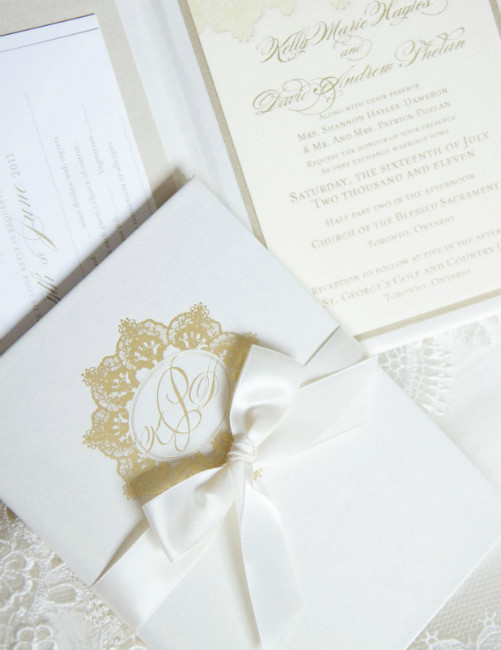 Embossing
Embossing is a luxury wedding invitation printing technique that appeals to couples seeking a touch of refinement. By raising delicate patterns, borders or monograms above the paper's surface, embossing creates an interesting texture on paper and a visual effect that's both subtle and sophisticated. 
Making embossed invitations involves a meticulous process where skilled artisans use specialized tools and plates to delicately press raised patterns onto the paper. This process adds a refined texture that elevates the visual appeal of the invitation, turning it into a tactile masterpiece and keepsake.