Are you ready to roll into your wedding day in style? When it comes to making a grand entrance, wedding transportation is the key to adding that extra bit of charm. From classic cars that exude timeless sophistication to modern, luxurious vehicles that scream contemporary chic, your mode of arrival can set the tone for your entire day. 
In this blog, we've rounded up our top 11 creative wedding transportation ideas, offering you inspiration and tips on how to make your grand entrance truly unforgettable. So, fasten your seatbelts and join us on this journey of wedding day glamour and luxury!
Horse and carriage
For a fairytale-inspired grand entrance, a horse and carriage is a perfect choice for wedding transportation. The clip-clop of hooves on the ground and carriage wheels rolling by will make you feel like you've stepped into a storybook. The grandness of it all will also give your wedding photos a regal, romantic look.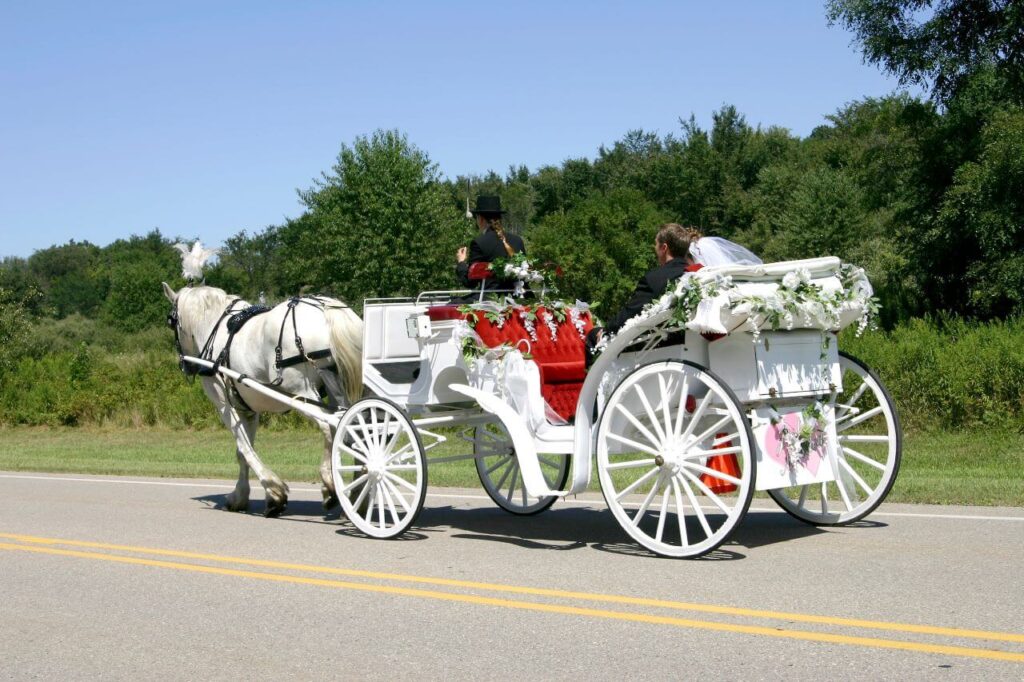 Vintage car
A vintage convertible like a 1960s Mustang or Cadillac oozes retro glamour and class. Imagine cruising with the top down, your veil billowing in the wind. For added decadence, hire chauffeurs in period attire. These timeless rides harken back to the golden age of luxury travel. Your guests will swoon at seeing you emerge from one of these iconic cars! 
Party bus
Can't decide between transporting all your guests or just the wedding party? A party bus or shuttle is perfect for both. Decked out with plush seating, music, lighting and sometimes even a dance floor, a party bus ensures the celebration starts before you even arrive at the venue.
Fire truck
If you want to make a bold entrance, a bright red fire truck will do the trick! Fire truck rentals can accommodate up to 20 passengers in an open-air back seat. Your photographer will love capturing your reactions riding up high, lights flashing and sirens blaring.
Helicopter
Arrive like the true VIP you are in a chartered helicopter. Imagine the reaction you'll get from guests when you touch down at your venue, rotor blades spinning. This is an especially great choice of wedding transportation when you're eloping in a remote location. Pure movie magic!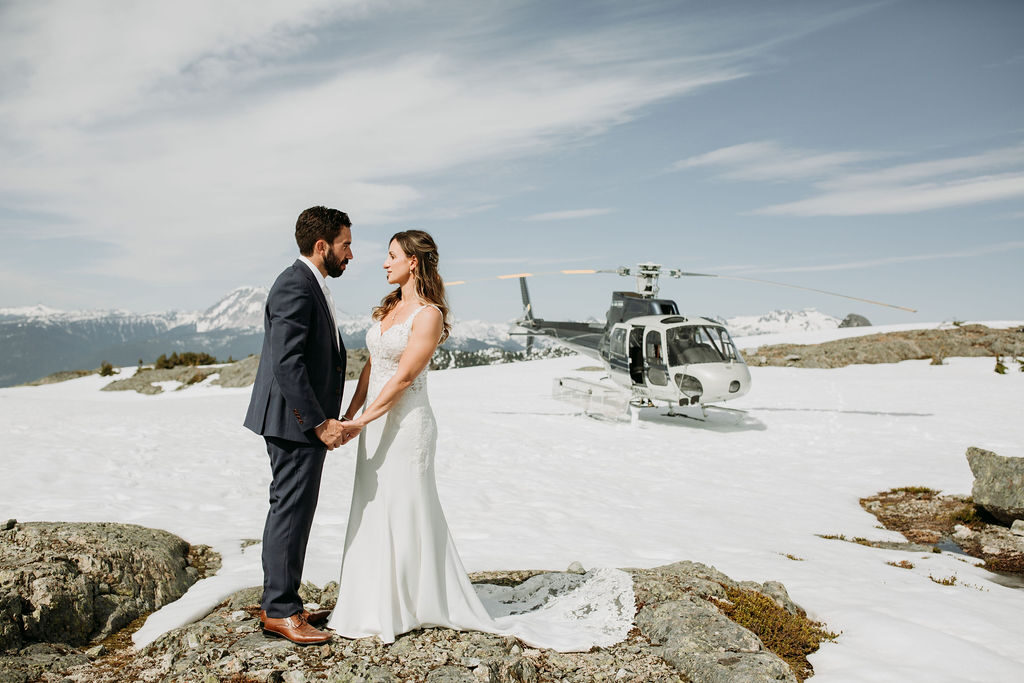 Stretch limousines
For the ultimate red carpet experience, rent a stretch limo. These extra-long vehicles, like Lincoln Town Cars, Cadillac Escalades, or Chrysler 300s, seat up to 20 passengers. Enjoy a glass of bubbly with your bridal party on the drive to the ceremony while listening to your favorite tunes.
Bicycle built for two
For an eco-friendly, whimsical ride, rent an extra-large tandem bike and pedal your way to the ceremony! This makes for fun and often hilarious wedding photos and perfectly sets the tone for a reception that's all about celebrating your unique personalities.
Hot air balloon 
Float high above it all for a bird's eye view of your venue on your wedding day. A hot air balloon ride before or after the ceremony is an unforgettable experience and makes for incredible photos.
Boat
For waterside weddings, arrive via sailboat or yacht, an ultra-luxe, glamorous choice straight out of a music video. For a more budget-friendly option, rent a paddle boat, a particularly sweet option when getting married in cottage country. 
Best practices for booking your dream wedding transportation
Booking luxury vehicles is necessary if you want to make a grand entrance on your wedding day. Here are some best practices to keep in mind:
Decide how many. Determine how many vehicles you need based on your wedding party size and transportation plans for guests. Do you need separate vehicles for the ceremony and reception locations? Will you provide return wedding transportation at the end of the night? Factor in travel time and any photo stops.

Select your style. Choose between classic or modern, fancy or casual. Options include limos, motorcoaches, luxury SUVs, vintage cars, and stretch Hummers. Test drive different vehicles to find what suits your style.

Book ahead. Reserve your vehicle at least 6-12 months before the big day. The earlier you book, the more likely you'll get your top choice and lock in the best rate.

Review the fine print.  Most importantly, carefully review all contracts before signing and ensure details like arrival times, addresses, payment schedules, and overtime charges are clearly specified.
For more wedding inspiration, follow us on Pinterest.