Kang moved from China to Canada when he was 9 years old. Mandy made the same trip when she began university. Thinking they had nothing in common, they bonded on a bunny hill during a snowboarding class and now love to snowboard together as a couple.
Mandy says the wedding was emotional. "We really enjoyed our wedding day and every second is a treasure to us. We had dreamed of it thousands of times, however, it's still very emotional when you actually see the person you chose for the rest of your life standing in front of you, and you know this is the moment that you want to remember forever – same as the first time we met on the slopes."
What cultural/personal traditions did you include?
Beautiful packaged candy boxes play a very important role in any traditional Chinese wedding. We decided to keep it as our guest favours even though we ended up with a western style wedding. Typically, wedding sweets represent "happiness" and "sweetness". The most traditional sweet is a hard peanut and sesame candy, and peanuts are a lucky gift for a new couple to have a large family. However, we switched the traditional candy into the bride's favourite chocolate and groom's favourite candy, given food allergy concerns and lack of peanut candy in Canada.
Did anything go wrong?
Yes, the backdrop shipment was delayed due to COVID and the lockdown situation, and it was stuck in China 3 weeks prior to the wedding. We were worried as the backdrop is one of the major décor pieces. However, our wedding planner and decor company worked very hard on it and brought it in just a week before the wedding. We couldn't be happier. Therefore, please plan early or have a backup plan if you decide to use something that needs to be shipped from overseas.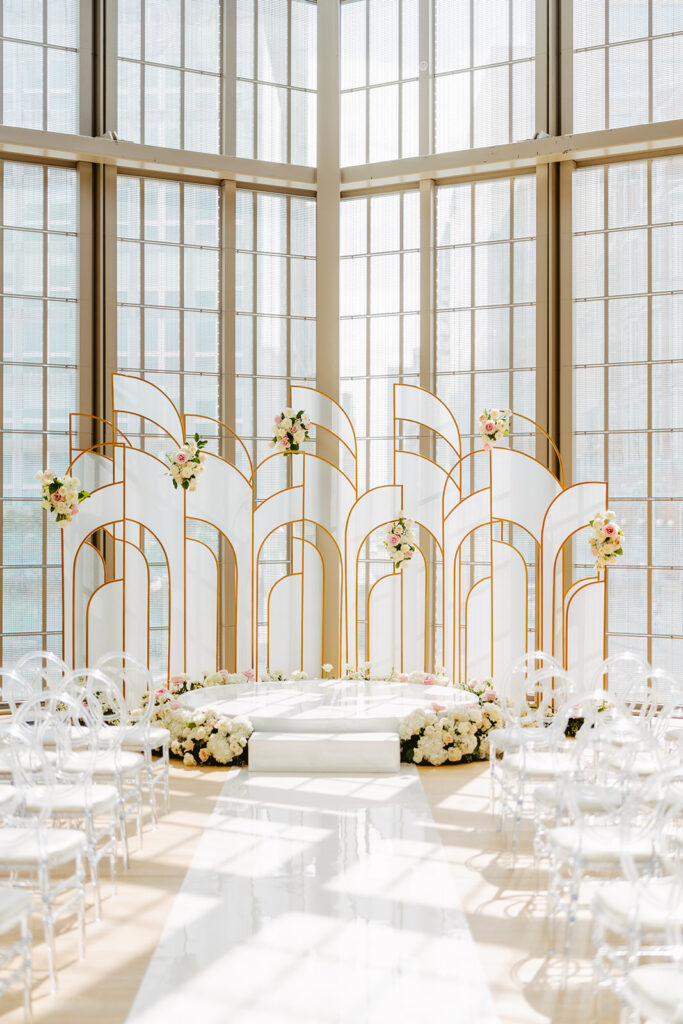 What will guests remember most?
The wedding ceremony. We had lots of wonderful feedback. They all said it was beautiful and touching. The venue is very modern and elegant, the décor is romantic and stunning and the new couple is truly in love. Bride also sang a surprise song to the groom in Cantonese, and lots of guests had tears in their eyes.
Photography: Palm Tree Studio
Planning: Erica Irwin Weddings & Events
Venue: National Art Centre, Ottawa
Wedding gown: Sottero & Midgley, With Love Bridal
Reception gown: Jovani, La Maison Prom & Evening
Hair: Showpony Hair
Makeup: One Fine Beauty
Florals, stationery & rentals: WEDECOR
Cake: Dulce Cake Design
DJ/band: Quality Entertainment
Officiant: All Seasons Weddings
Have you seen our Rosé Wedding Guide? Check it out!