Planning a destination wedding in the Caribbean while living in the Great White North? Now, that's a reason to get excited! 
For many of you planning a destination wedding, the Caribbean – with its year-round tropical weather, sun-kissed beaches and world-class hotels and resorts – will be at the top of your list when it comes to choosing a locale. Easy to get to and beautiful to boot, the region is home to more than 700 islands, islets, reefs and cays, each with its own unique charm and personality. But whether you choose to tie the knot in St. Lucia, St. Maarten or St. Kitts, one thing's for sure: you're guaranteed a dreamy, beachy wedding in paradise.
Aside from exchanging vows and lying on the beach, there's plenty more you can do to fill your days. Whether you're eloping or celebrating with family and friends, your destination wedding can also be a full-blown vacation, complete with daily activities and excursions that highlight the destination and foster togetherness. Oftentimes, you can book them on site while at your resort, or you can work with a travel agent to book local tours ahead of time. But for today, we're simply giving you some inspiration with a list of fun ideas to make your destination wedding in the Caribbean that much more fun and memorable.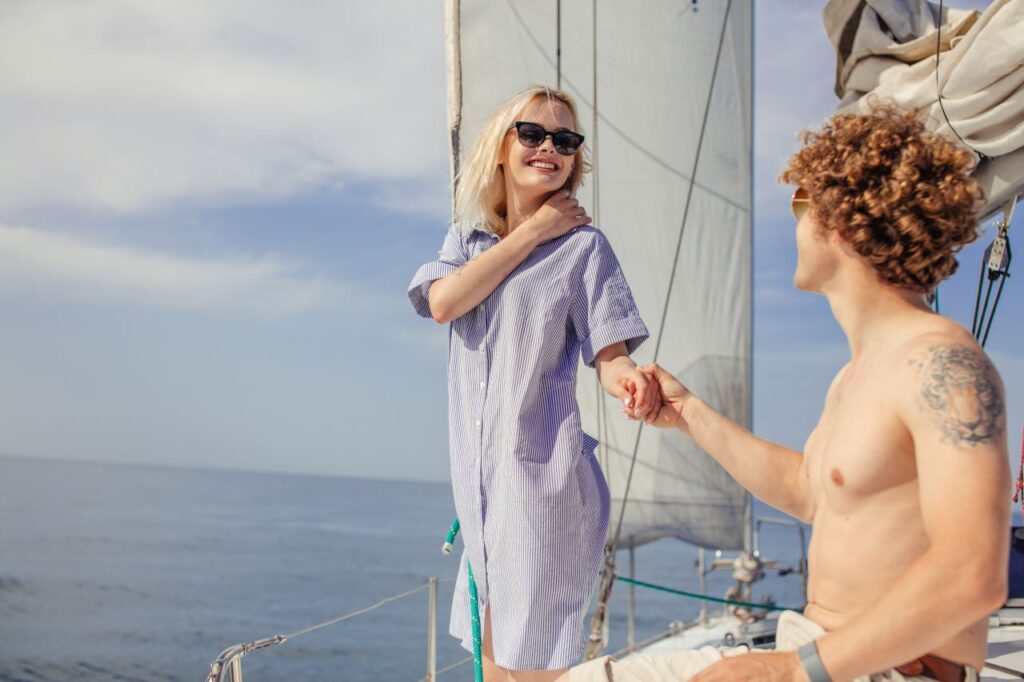 If you want to just relax 
Beach bonfire
Extend the magic of your Caribbean destination wedding with a beach bonfire that's sure to keep the good times rolling. Whether a pre-wedding gathering to ease pre-ceremony jitters, or a post-wedding bash to relive the joyous moments, a beach bonfire adds that extra touch of warmth and camaraderie. 
If bonfires are permitted on the island you're visiting, you'll most likely need a permit so check with local authorities ahead of time. Many resorts and boutique hotels also offer beach bonfires as an optional add-on – simply consult with the concierge to make arrangements. 
Sunset cruise
Who doesn't love a sunset cruise? Not to be confused with a party boat or 'booze cruise,' a sunset cruise on a catamaran or sailboat – particularly one in turquoise waters – will be one of the highlights of your destination wedding in the Caribbean. Plan one as a romantic excursion with your sweetheart or with your bridal party and guests. Whichever you prefer, it will create beautiful memories and photos. 
Secluded beach picnic
Another great option is a secluded beach picnic, with just the two of you relaxing with your toes in the sand and delicious local cuisine and drinks. This is a great way to unwind and reminisce about your wedding day. If staying at a resort, check with the concierge who can arrange everything you'll need for a romantic picnic on the beach. Or plan one on your own with just a blanket and a basket filled with goodies.
Romantic oceanside dinner for two
Imagine a secluded spot right by the water's edge, where the only sounds are the gentle lapping of waves and the rustling of palm leaves in the breeze. As the sun dips below the horizon, you and your partner can savour a delectable gourmet meal under the starlit Caribbean sky. 
It's an intimate and unforgettable moment to celebrate your love amidst the natural beauty of the Caribbean. To ensure every detail is just right, consider enlisting the help of a skilled wedding planner or resort concierge. 
If you want to be adventurous
Snorkelling or scuba diving
You'll be able to find great scuba and snorkelling locations throughout the Caribbean. There are plenty of local tour operators that can arrange half- and full-day excursions. Many resorts and hotels also offer scuba certification and guided wreck dives. 
Horseback riding on the beach
One of the most enchanting experiences you can enjoy during your destination wedding in the Caribbean is horseback riding on the beach. It's a unique blend of romance and adventure that captures the essence of the Caribbean's natural beauty. In some destinations, horses will even take you into the water, offering a cool respite from the heat.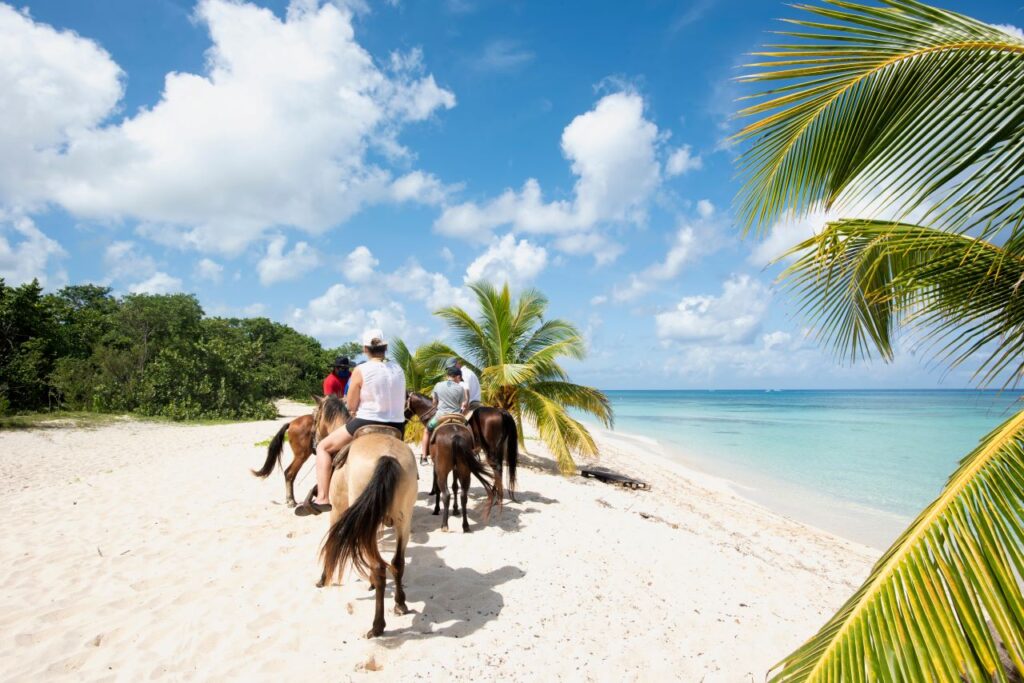 Kite surfing
Not for the faint of heart, kite surfing, also known as windsurfing, will kick up your adrenaline into overdrive. Cabarete in the Dominican Republic is one of the best places in the world to kite surf, particularly during the peak summer months.  
Hiking & trekking
If you're looking to venture off-resort, going on a hike is one of the best ways to experience the island. Lush and bio-diverse, the Caribbean is home to a plethora of natural wonders, from rainforests and natural springs, to waterfalls and cenotes. A hike will afford you views of many of these natural gems and, oftentimes, reward you with a refreshing dip at the end.